The developers of the Color Trend FX indicator claim that it shows in the graph the exact entry points to the market, exact exit points, the maximum possible benefit of a trade (for those who make profits according to their own system for outbound offers), points behind open positions as well as detailed statistics. Statistics make it possible to choose the most cost-effective trading instruments and also to determine the potential benefits.
Overview
The indicator does not redraw your signals, is easy to configure and manage, and is suitable for beginners, advanced merchants, and professionals. Color Trend FX is just one part of the business tool portfolio that has Alexey Minkov, the developer of this indicator, and will, therefore, be continuously updated and supplemented with new features, which will be available to all users. He is a very active developer and gives an excellent after-sales service to his clients, according to the opinions contrasted by us.
Color Trend FX Features:
Automatically determines market entry points
Automatically determines market exit points
Can be used in any symbol and deadlines
Ability to track open positions
Extended ticket statistics (separate for bids for purchase and sale)
Email notification, terminal alerts, and push notifications functions
The signs are not repainted
Signs strictly on the "Bar Lock"
Main Adjustments
-Accuracydelta – precision of the input filter. The lower the value, the more "noise" the signals.
-If the rating is large, the signal may be delayed.
-Days needed for calculation – total number of days for calculation.
-If your computer is not very up-to-date on hardware, you may be able to limit the number of bars for calculations
-Show extended statistics – shows extended statistics on offers.
-Delta to Draw Arrows (in Pips) – scrolling in pips to show the signs on the chart.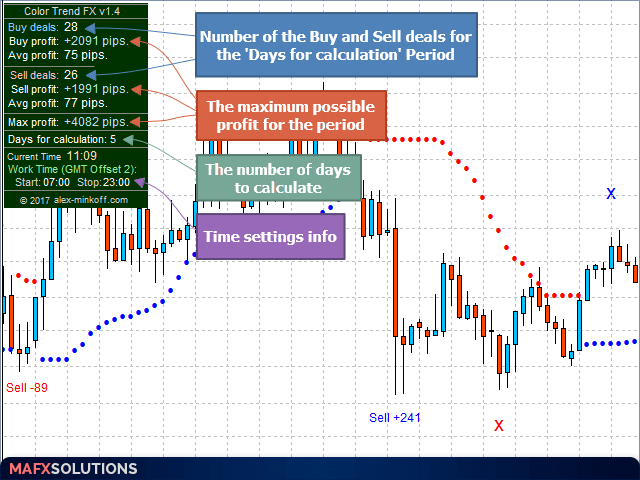 Important Note
The purpose of this instrument is to show precise entry points, points for final open positions, and exit points. It also shows statistics on the potential benefit for the current instrument and the time frame. It is not advisable to trade during important news, in order to avoid false entries. Trading in a low volatility market is not recommended.
The principle of using the average profit data in the current symbol and timeframe. By analyzing different pairs and time frames, you can choose the most cost-effective pair and the right time frame for your trading style. Knowing the average benefit of the current instrument and the timeframe, you can select the average profit level for the next operations.
Conclusion
In short, we talk about a very complete indicator and it can be very useful for a beginner trader, as it is a straightforward tool to use and to understand. This indicator can be found in the MQL market in the indicators section, at a price of 60 USD, is not available for rent, but it has a demo version so you can try it out and know it before buying it.
This Forex service can be found at the following web address: https://www.mql5.com/en/market/product/21331