Headquartered in Hong Kong, Capital Markets is a global ECN that has an office in New York and several other countries. One of the main pluses of using this broker has to do with their lucrative funding bonuses and cash-back offerings, which are available to VIP account holders. In addition, it offers a wide array of currency pairs, including major ones and exotics. Their commissions are burdensome at $7.50 per lot. VIP accounts do, however, enjoy refunds and discounts. Spreads range from 0.2 pips and upwards. If you mostly focus on major currency pairs, you will enjoy a tight and close spread. Exotics, however, have a larger gap between the bid and ask prices.
Overall, if you have enough capital to open a VIP account, this broker has plenty to offer. Traders who open a basic account aren't left out, but they need to put several factors into consideration. Regardless of whether or not you want to use their VIP offerings, this article will go over all you need to know about Capital Markets and if it is the right broker for you.
Account Types
Capital Markets offers a standard account, alongside three VIP packages (Gold, Platinum, and Black). All accounts — including the demo — are managed through the MT5 platform. To open an account, traders must provide a photo ID, proof of address, and financial information. The VIP packages are for traders that have a large amount of capital, starting from $50,000.
Basic Account:
Minimum Deposit: $300
Spread: From 0.2 pips
Commission: $7.5/lot
VIP Gold:
Minimum Deposit: $50,000
Spread: From 0.2 pips
Commission: 15% off of the basic $7.5 per lot
VIP Platinum:
Minimum Deposit: $100,000
Spread: From 0.2 pips
Commission: 25% off of the basic $7.5 per lot
VIP Black:
Minimum Deposit: $300,000
Spread: From 0.2 pips
Commission: 35% off of the basic $7.5 per lot

Spreads vary from one currency pair to another, with the lowest spread at 0.2 pips. However, they can also be much larger. For example, the GBP.NZD ticker has a 20.00 pips spread. Commissions are relatively high, especially when paired against others in the industry. VIP accounts, on top of discounted commissions, receive cashback and funding. Capital Markets also provide free consultations and 24/7 access to a personal account manager during the weekdays. This feature is ideal for inexperienced or new traders who are looking for guidance.
Platforms
Capital Markets gives all account holders access to MetaTrader 5 (MT5), a state-of-the-art trading platform. Signing up is for free and so are many of their technical analysis tools and features.
MT5 also gives you access to their store (where traders can purchase technical signals and robots) as well as a freelance network that helps account holders code their own automated trading algorithm. MT5 can be installed on Windows, Mac, Android, and iOS devices. You can access and manage your account from most countries. Since the platform was originally designed for Windows browsers, Mac users have to install the PlayOnMac and xQuartz software in order to use MT5. Both PlayOnMac and xQuartz are free of charge.
Leverage
Generally speaking, traders get floating leverage (up to a maximum of 1:500) with Capital Markets, which applies to the basic and VIP accounts. It is important to note that the 1:500 leverage is much higher than what most other brokers and ECNs have to offer. After you open an account, you can change your leverage by logging in and submitting a request.
Trade Sizes
You can place up to 100 orders at a given time, with a maximum volume of 100 lots per trade. This may be restrictive because Capital Markets doesn't have a stop out level that prevents traders from losing a significant amount of capital or, at worst, all of their funds.
Margin Call: 20%
Stop Out Level: 0%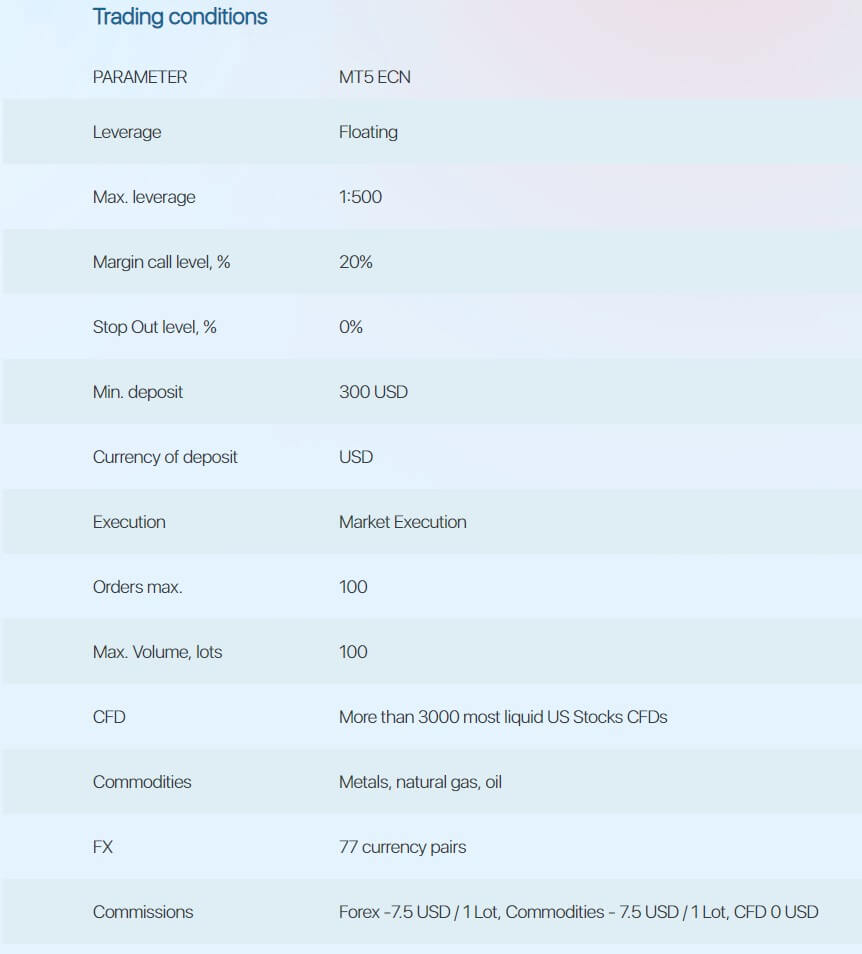 Trading Costs
Commissions are $7.50 per lot. VIP accounts get discounts, which are refunded at the end of each billing cycle. Traders must maintain the minimum balance for VIP accounts when the refund is deposited and on the last day of the monthly billing cycle. However, there are certain rules that trades need to meet in order to receive a refund.
First, you must have had the position open for at least two minutes (120 seconds), which means that very short term trades are not eligible and they require you to pay the full commissions. Second, the difference in price from when you opened the trade to closing it must be 0.05% or more. This is something to consider, especially if your strategy relies on "scalping" or moving stop-loss orders that can be right above the entry price.
The VIP commission refunds are 15% for Gold, 25% for Platinum, and 35% for Black. If you change from one account type to another, you get a refund based on your VIP status when you closed the trade.
Assets
Capital Markets' account holders (basic and VIP) have access to 77 currency pairs, alongside CFDs, indices, commodities, and metals. Currencies include all the major ones (USD, GBP, EUR, …etc.) and exotics, such as the Polish Zloty, Turkish Lira, Hungarian Forint, and others.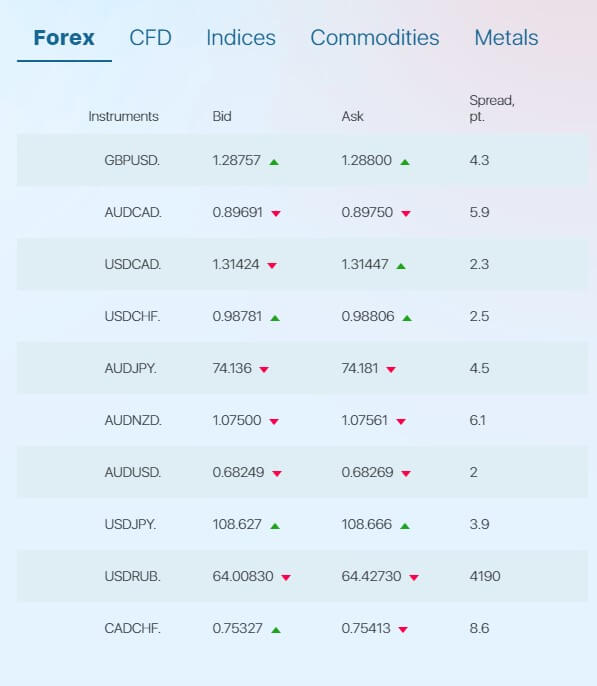 You can access more ForEx pairs than any other instrument on Capital Markets, apart from the more than 3,000 available CFDs. Indices include all the 3 major ones in the US as well as indexes from all around the European markets. Commodities are limited to natural gas, Brent, and Crude oil while silver, gold, and platinum are the only available precious metals.
Spreads
Spreads are the same for all accounts, starting from 0.2 pips. However, only 6 of the platform's 77 FX pairs have this low of a spread. In three of them, the AUD is the base currency, which is great if you trade the Australian markets. The other major FX pairs with a 0.2 spread are EUR.USD, EUR.RUB, USD.RUB. Amongst the highest are the British Pound vs. South African Rand (80 pips), the British Pound vs. Norwegian Krone (53 pips), and the Euro vs. South African Rand (44 pips).
Since there are over 3,000 CFDs on Capital Markets, the spreads vary by a great degree from one to another. Many indices have 0 spreads, but not all of them do. Commodities and metals, however, have a tight spread range that is similar from one instrument to another.
Minimum Deposit
To open a basic account, you need to deposit $300 or more. For access to VIP features, you need a minimum of $50,000 for Gold, $100,000 for Platinum, and $300,000 for Black. After you open an account, you can change the type of VIP membership by depositing or withdrawing funds.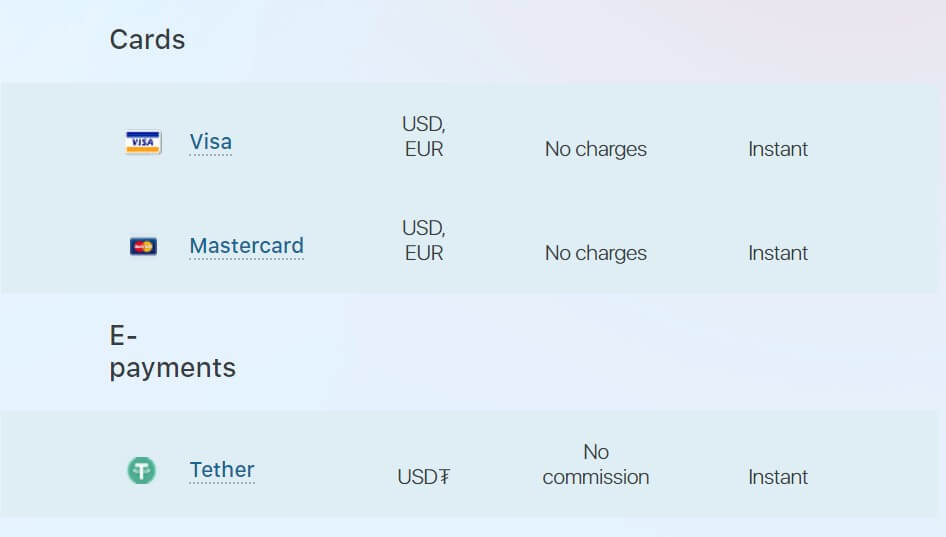 For example, a Platinum account holder with $120,000 enters a few bad trades and loses $25,000. Their balance goes down to $95,000. The trader can either deposit a minimum of $5,000 to maintain the Platinum features or switch to a Gold account. Similarly, if you initially deposit $250,000 and, several weeks later, transfer another $100,000 into your account, your Platinum membership is upgraded to Black.
Deposit Methods & Costs
You can make instant deposits into your Capital Markets account via Visa, MasterCard, or Tether. One of the perks about this is that they charge no fees. You can deposit funds in US dollars or Euros.

Withdrawal Methods & Costs
Account holders can use the same deposit methods (Visa, MasterCard, and Tether) to withdraw funds. In addition, Capital Markets charges a transfer fee that is 3% of your withdrawal amount, at least for Visa and MasterCard. Tether users are in luck because they aren't charged any fees.
Withdrawal Processing & Wait Time
Visa and MasterCard withdrawals take between 1 to 3 days and there isn't a faster alternative. For Tether, you might have to wait up to 7 days until the transfer is fully processed.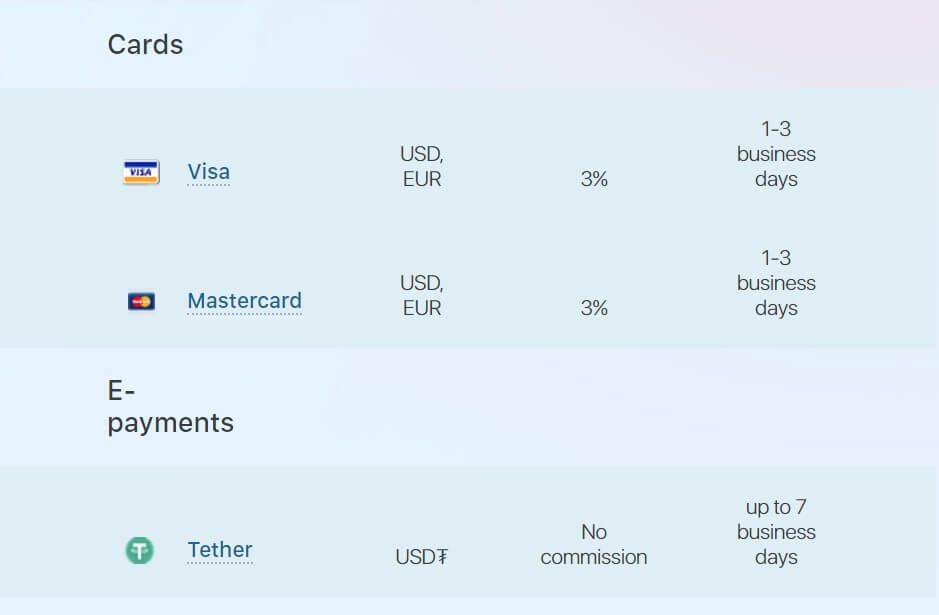 Bonuses & Promotions
The broker doesn't have any ongoing promotions or bonuses for regular account holders. However, VIP users receive funding based on the size of their deposit. VIP Gold members get a 20% cash bonus, VIP Platinum receive 30%, and VIP Black is entitled to 50%. For example, a VIP Black trader who deposits $400,000 gets $200,000 (50%) in funding when they open their account. This is a very generous and hefty promotion.
Not only is it difficult to find other brokers who have matching offers, but Capital Markets also doesn't have a cap on the maximum deposit amount needed to receive the bonus. Other brokers might only offer to fund up to a certain account balance. On top of this, Capital Markets have deposit cashback offers of 10%, 15%, and 20% for Gold, Platinum, and Black accounts, respectively. This is separate from the advance account funding offer.
Educational & Trading Tools
Capital Markets has a very comprehensive set of educational content and informative tools. Beginner traders have access to lists of market terms, alongside their definitions, and plenty of articles that will help them get started. Traders who are unfamiliar with the MT5 platform can download an easy-to-use manual from Capital Markets's website.
You can also view the daily and weekly economic calendars of several leading global markets. The quotes on the Capital Markets website are refreshed every 5 seconds and traders are provided with daily analytical articles and bimonthly market reviews.
Customer Service
Capital Markets is headquartered in Hong Kong and has a main branch in New York. VIP members work with a personal account manager — who is available around the clock on weekdays — and Capital Markets's partners provide free consultations to account holders. They also have office locations in London, Dubai, Moscow, Tokyo, and Sydney.
The broker can be contacted in New York and Hong Kong directly via phone. In addition, there is a standardized email that traders from all over the world can use to contact Capital Markets.
New York
Phone: +1 646 396 0555
Email: [email protected]
Hong Kong
Phone: +852 58086034
Email: [email protected]
Demo Account
Traders can open a demo account through MT5 and use it on all devices (MacBook, Windows, iOS, and Android). This is incredibly helpful if you are new to trading or never used MT5 before.
Countries Accepted
Capital Markets is headquartered in Hong Kong, but they serve traders across Asia, the Middle East, Europe, and North America. The website is operated by companies that are registered in the US, UK, and the Marshall Islands in the Philippines.
Conclusion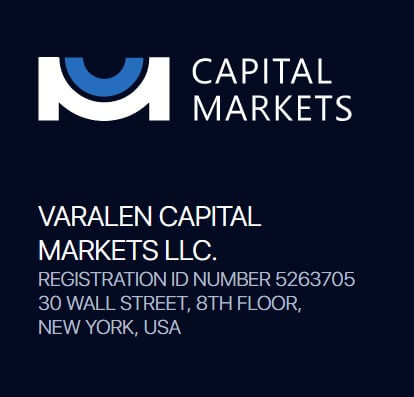 Capital Markets looks like a great broker when you look at their close spreads, funding bonuses, and a wide range of financial instruments that you can trade. While their largest offerings are there over 300 CFDs, traders can access 77 currency pairs. The number of available commodities, however, is limited. One negative aspect of Capital Markets is their commission. While VIP accounts get generous discounts, the minimum needed to open one is $50,000. Not many traders have access to that capital. Similarly, inexperienced investors who do have the required funding might not feel comfortable risking tens of thousands of dollars from the start.
In spite of this, Capital Markets offers valuable educational tools that all traders can benefit from. Beginners can find plenty of literature and study materials that are easy to understand on the broker's website. The economic calendars and accurate quotes are also a big plus. Trading is conducted on the MetaTrader 5 (MT5) platform, which is user-friendly and rich with technical indicators that you can customize. If you are new to the markets or MT5, the demo account is a perfect place to start.