CAP Channel Trading is an indicator that is available from the self-described technical analyst, speculator, software engineer, and company founder Mohammad Ali on the mql5 marketplace. It was originally uploaded in February of 2017 and most recently updated to version 5.50 approximately three years later.
Overview
This indicator is volatility-based, meaning that it measures the day-to-day price differences of products to determine levels of supply and demand within the market – essentially, this is a measure of price uncertainty, which tells us when we need to hold off on a trade to effectively practice risk management. This indicator displays channels, which surround the general price action of the charted instrument. Traders know that the market is overbought whenever the price is close to the upper band, and vice-versa when the market is oversold.
Following the developer's recommendation, traders would open a position when the price comes within 30 points closer to the channel border. This indicator was designed to be compatible with our favorite trading platform, MetaTrader 4, along with a plethora of other similar products. In response to user requests, the author has also published an EA that works with the indicator on MT4 or MT5.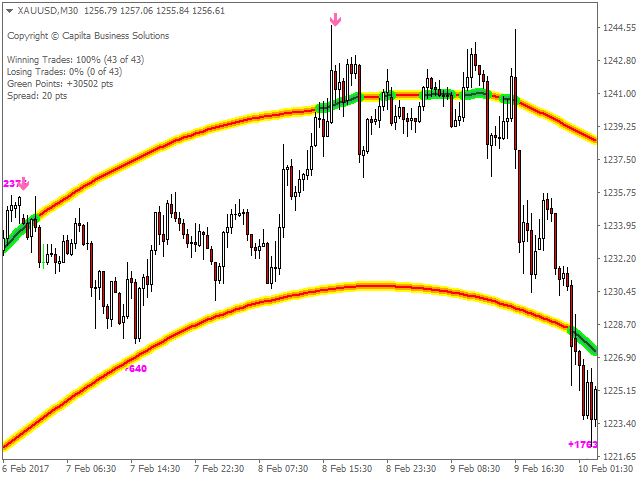 Service Cost
The indicator can be rented for $10 USD per month, or purchased for $30 with 10 activations. This is a fairly average cost for this type of product and the ability to rent it at a lower rate is also a nice touch. If you're interested in the EA that we mentioned earlier, then you'll wind up spending $129 for the total package. Traders should also note that a risk-free demo account can be used to test out both the EA and the indicator.
Conclusion
CAP Channel Trading is a volatility-based indicator that displays channels on the chart to let traders know when the market is overbought or oversold. It can also be used to determine the strength of a price trend. The indicator is available for a low price by itself, or traders can buy the EA as well. Taking a look at user feedback, we found some mixed reviews. Granted, this indicator has a 4-star rating, but we've included some reviews from both sides below to paint a clearer picture:
"Useless – REPAINT!" -Heiner
"Great indicator for H4 and D1 time frames, provides a good basis for knowing when to open trades, recommended!" -mwaschkowski
"Great indicator to find support and resistance. Highly recommended for index trading." -starheart
"The channel lines are repainting so the indicator looks better in the history review. It's pretty much useless in live trading."-xceed90
Overall, it seems as though half of the users state that they love this indicator, while the other half deem it useless because of repainting. This isn't only a few users complaining about repainting – even some of the 5-star reviews state that repainting is an issue. Taking everything into consideration, we wouldn't recommend completely marking this one off your list, but it might be a better idea to rent this indicator for testing before paying the full price, even if it is only a $20 difference.
This Forex service can be found at the following web address: https://www.mql5.com/en/market/product/20808