Cryptotrader is a trading robot that automatically performs trades on cryptocurrencies. The software runs via a flexible built-in scripting language that is based on Coffeescript. Although the software was launched in 2013, some secrecy still surrounds the creator, who goes by the anonymous name "pulsecat".
Overview
Cryptotrader was designed with the same goal of other trading robots and EAs, the robot buys low and sells high, thus earning profits for the trader. The service allows users to create their own trading strategies if desired, but doing so will require at least minimal programming knowledge and some experience. Otherwise, traders can choose from a variety of premade strategies within the Strategy Market.
We found strategies that suit both risk-takers and those that like to play it safe, so there's something for everyone. Thirteen major cryptocurrency exchanges are supported, including Bitfinex, Bitstamp, Poloniex, Coinbase, and more. Running two bots on the same account isn't recommended because they will compete for funds, but some exchanges will allow you to create a sub-account for this reason Whenever your bot buys or sells, you'll get an instant notification through email, or text if that is included in your plan.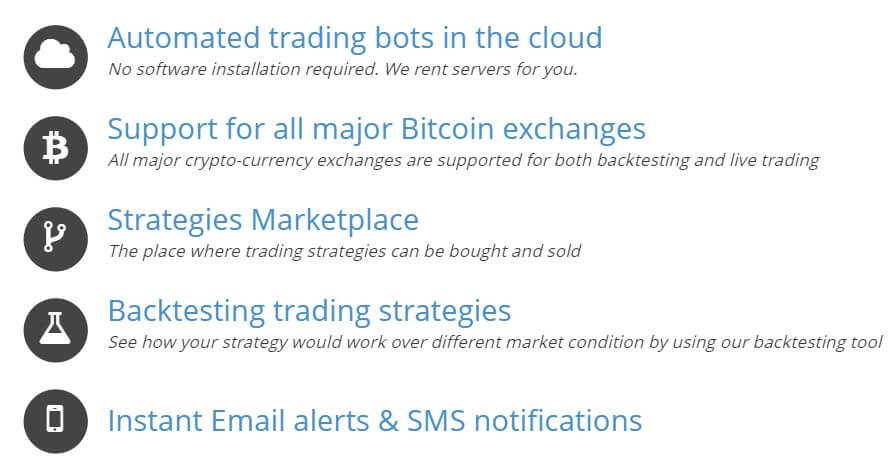 Cryptotrader offers different plans that affect the overall features you'll have access to. All plans offer backtesting and email alerts, but only some of them offer access to multiple trading instruments and margin trading. There are also some limitations for each account that restrict the maximum amount of account equity that the bot can operate with. Installation is not necessary because Cryptotrader is a cloud-based trading bot. Traders won't fall victim to limited storage space since downloads aren't required and bots can run continuously at any time in the VPS cloud.
Service Cost
The cost of trading with Cryptotrader can vary, based on certain factors like account type and whether you're planning on purchasing any strategies. A $250 deposit also needs to be deposited into the trading account to get started. Subscription packages come in Basic+, Regular, Pro, VIP, and Premium. We've detailed the monthly cost of each option below.
Basic+: From 0.0031 BTC per month
Regular: From 0.0044 BTC per month
Pro: From 0.0081 BTC per month
VIP: From 0.0154 BTC per month
Premium: From 0.0385 BTC per month

Translating roughly to USD, that comes out to around $15 per month for the cheapest plan and $200 per month for the most expensive subscription. Remember that there are some free services out there, so you'll have to decide if you'd like to add a monthly service charge to your list of reoccurring payments. If you decide to purchase trading strategies, then this will add to the overall cost. Experienced programmers can rent or sell their own trading strategies within the Marketplace, so this could very well pay your subscription cost if you're good at it. A backtesting tool is also available through each subscription that allows traders to test strategies in different market conditions before going live.
Conclusion
Cryptotrader aims to provide a convenient environment for automated trading. Traders are given the freedom to create their own strategies if they're up to the task, or users can simply rent premade strategies without much of an effort. One thing to consider would be the cost, as this software does charge a monthly subscription fee and you'll be paying extra for some premade strategies. Despite some secrecy surrounding the creator, this bot has been servicing clients smoothly for more than 7 years so far.
Other reviewers speak highly of the service, and it has received ratings of 8/10 or higher on several occasions. All sources point out that this particular trading robot is not a scam and that it follows legit practices, so there's no reason not to invest with Cryptotrader if the cost isn't a factor.
This Forex service can be found at the following web address: http://www.cryptotrader.org