Auto Trend Lines has been created by Semion Tremsin and was first uploaded to the MQL5 marketplace on the 6th of March 2015, it was most recently updated on the 25th of March 2020 and is at version 1.6.
Overview
Auto Trend Lines was created for the MetaTrader 4 trading platform and was designed to show the resistance and support levels within a chart.
The indicator uses three points to draw its levels:
-Identified points are marked on the chart.
-The indicator shows the breakthrough price for both bullish and bearish trends (if found).
-You can specify how many bars the indicator shall look in order to identify supporting points.
You can also select the timeframe that you want the indicator to work with so you can have it showing details for a timeframe other than the one you are looking at.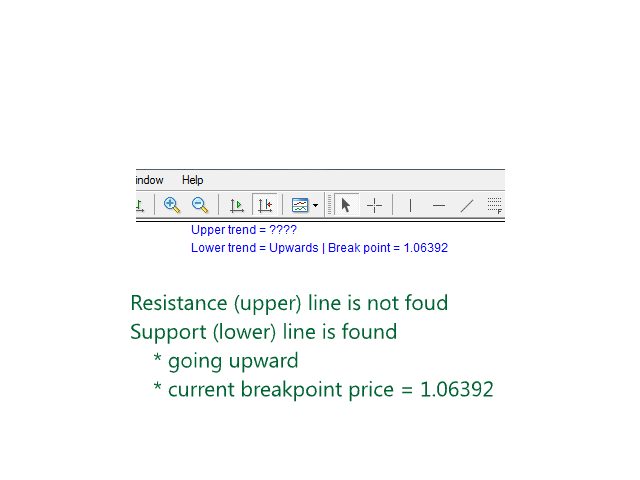 Service Cost
The Auto Trend Lines indicator can be purchased for $30 to purchase it with a one-off payment, this version does not have any limitations and can be activated 5 times. There is also the option to rent the indicator, you can do this on a monthly basis which will cost you $10 per month, or for a six-month rental, it will cost you $19.99.
There is a free demo version available, but as there is no information on the site about the free version it normally indicates that it may only be used within the strategy tester of MetaTrader 4.
Conclusion
Unfortunately, there are no user reviews for the Auto Trend Line indicator which means we cannot see how the people who are using the indicator are finding it or if it is doing what it is meant to do. There are a number of comments from people who have purchased or rented it, most are simply asking for a bit of clarification, the developer has answered all queries promptly including ones in MArch 2020 which show that it is still being actively supported by its creator which is a good sign. Due to there being no reviews, we would suggest trying the free version, also send any questions you may have to the developer so you can be sure that the indicator is right for you before you make a purchase or a rental.
This Forex service can be found at the following web address: https://www.mql5.com/en/market/product/8389