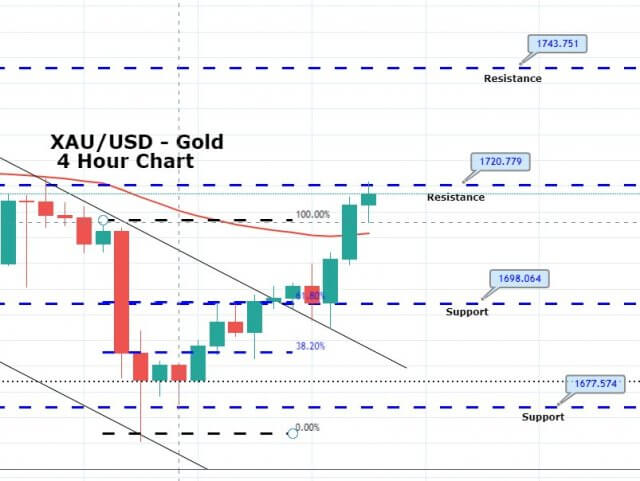 On Tuesday, the safe-haven extends its previous session bullish moves and soars to 1,715 level after dipping to $1,698, mainly due to the broad-based U.S. dollar bearish bias ahead of the U.S. Federal Reserve policy meeting. The gold's bullish bias could also be attributed to the risk-on market sentiment backed by the growing optimism over a sharp V-shaped economic recovery from the coronavirus pandemic, which recently dominated the US-China tussle. The yellow-metal prices are currently trading at 1,715 and consolidate in the range between the 1,700 – 1,725. However, the geopolitical tensions in Korea, Libya, and concerning China turned out to be the key factors that is keeping a lid on any additional losses in the gold, at least for now.
The conflict between the United States and China remain on the aggressive track as Trump administration continues to urge for the bill to sanction Chinese policymakers involved in Xinjiang human rights violation. The Dragon Nation did not give any major heed to the Trump administration's recent push to remove the punitive tariff on the American lobsters, which eventually exerted some downside pressure on the risk sentiment during the initial Asian on the day.
The earlier heavy risk-tone could also be attributed to North Korea's decision to leave all inter-Korean communication from the South, and the tensions in Libya weigh on the risk sentiment earlier.
Apart from the US-China tussle, China's Ministry of Culture and Tourism declared a warning against Australia's travel caused by the increasing racist attacks. On the flip side, the China-India war is getting worse and remains on the cards as China recently put the Rising Star in command of forces in border face-off against India.
Daily Support and Resistance
S1 1663.08
S2 1679.26
S3 1688.42
Pivot Point 1695.45
R1 1704.6
R2 1711.63
R3 1727.82
On the technical side of the market, the precious metal gold is heading north, and it may target the next resistance level of 1,720 level. Bullish trend continuation and breakout of 1,720 levels can lead to higher gold prices until the next target level of 1,732. The MACD histograms are becoming bigger and bigger, demonstrating an upward trend in gold while the precious metal has just crossed above 50 periods EMA which also supports buying. Let's consider taking buying trades over 1,710 to target 1,722. Closing of candles and sign of bearish reversal below 1,722 will help us capture a quick sell trade in gold today. Let's wait and watch. Good luck!