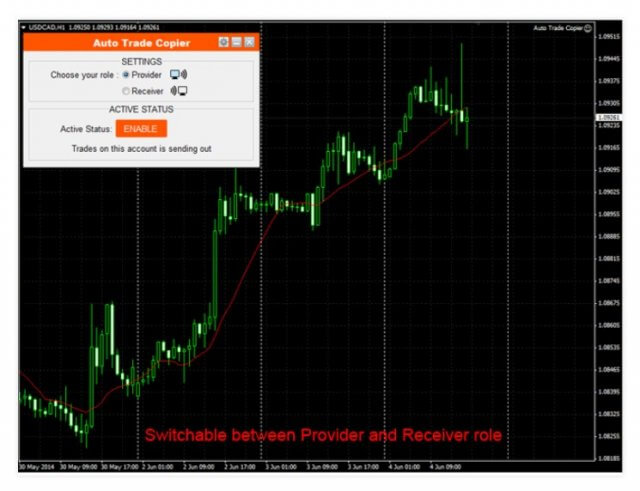 The Auto Trade Copier for MetaTrader 5 is a piece of software that can be found on the MQL5 market, it is designed to copy trades between multiple trading terminals. The current version of the software is version 5.74 which was last updated on the 14th of March 2020 (this may have changed by the time you are reading this review).
Overview
The Auto Trade Copier for MT5 is designed to allow you to copy different rates between multiple different MetaTrader 5 and MetaTrader 4 accounts or terminals.
There is a whole host of features available in this piece of software including:
Copy between MT4 and MT5 accounts.
Switch between Provider or Receiver role within one tool.
One provider can copy trades to multiple receiver accounts.
One receiver can copy trades from multiple provider accounts.
The receiver's account can still trade manually or use other EAs without any conflict.
Auto recognizes and synchronizes symbol suffix between brokers.
Multi lot size setting options.
Allows filtering copy either SL or TP or exit point.
Allows filtering which type of orders will be copied.
Allows inverted copying.
Drawdown protection.
Each account can act as both Provider and Receiver, so accounts can copy to each other in 2 ways transmission. This is like a trade sharing network. Copy SL/TP modifications, not only Entry and Exit, so it's more secure for a receiver in the case the connection is lost or terminal is down. There is also a wide range of settings and parameters that can be changed, some of them include the ability to choose a role (receiver/sender), set lot sizes, set max lot size, choose to send buys/sell orders, filter entry levels, and more.
Service Cost
The current price to purchase this software is $79, you are also able to rent it on a monthly basis which will cost you $39 per month. There is also a free demo version available to test, however, there are some limitations such as the receiver only being able to use the minimum lot sizes.
Conclusion
There are currently 8 different reviews available on this product, there are 5 reviews that are 5-star and 3 reviews that are all 1-star, so a mix of working and not working.
"Fantastic Copier, great work VU Trung Kien. From the different copiers, this one is the best, fully customizable, and more. Thank you!!!!" – 5-star review.
"The robot is raw, the robot does not copy the transaction in the market." – 1-star review, translated from Russian.
So as you can see, there is a range of opinions on the software, so we would recommend using the free demo version before purchasing anything, just to make sure that it has the features you require and also you are able to get it functioning properly.
This Forex service can be found at the following web address: https://www.mql5.com/en/market/product/4920