If you are looking to find something different this is a good sign. You will do well in forex simply because you do not want to repeat what others are doing, including the mistakes. However, being different sets you on a harder road, most of the trading activity will not resemble anything else out there. All the things you come up with will result in a unique trading system specific to you, there is a limit to how much you can learn from others on this road. Still, you ought to do well, you do not belong to the 90% majority of beginner traders that lose wanting to walk the easy path to success. If you set your goals high, be ready to work towards them. Let's dive into what is considered a unique approach to forex, something that may catch your eye.
Renko Charts 
These do not work like regular charts and candlesticks at all. It is a completely different philosophy that aims to cut all the redundant information from a chart. It is dumbed down if you want to describe it like that but in a good way. After all, simple strategies and systems are often the most effective. 
Renko charts present the price action uniformly, and simpler versions of Renko charts do not have a timeframe, they have a pip movement scale. Now, before you get all confused, Renko charts are made of bars, similar to the candlesticks except they represent a number of pips the price has moved. How much pips one Renko block will hold is up to you to set up. So, if the price hasn't moved 20 pips up or down, for example, a new bar will not be drawn on the chart. Consequently, timeframe does not exist, just the pip per bar setting. If the price is ranging in the 20 pip zone for a long time, do not think the Renko chart is not working.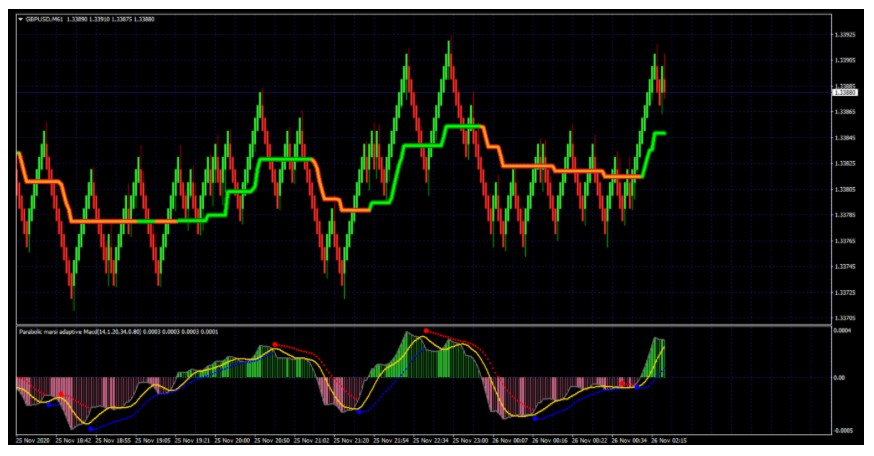 Setting Your Renko Pip Settings
Getting the chart simple is a good thing and a bad thing, it actually depends on your personality. Do you like to analyze and go into details or do you like simple answers? Deep analysis might make traders indecisive and even set in the wrong direction while simplicity might not present all hidden truths about the market (pure Price Action analysts cannot see what they need on Renko). Renko is an innovative approach to trading, it defies the traditional analysis. However, it does not mean you cannot be a scalper or a midterm trader. As scalpers like lower timeframes on standard charts, investors might like the weekly. With Renko, all this scaling is in one setting – how much pips movement one bar represents. 
Lower pip settings are for scalpers, the chart will move faster. Higher pip settings will generate a bar only once the price is really moving, so it may take a while. Just understand, Renko follows the price, there is no definite time when the Renko bars show up. If you like to trade on a daily timeframe usually, waiting for a candle to close at the exact time of day might be your routine. This routine does not apply to Renko trading. You have to be ready to act when the price is moving and the bars are piling up. Of course, most Renko charts have the alert option, including some other custom indicators with the same function so you do not have to worry about missing the action.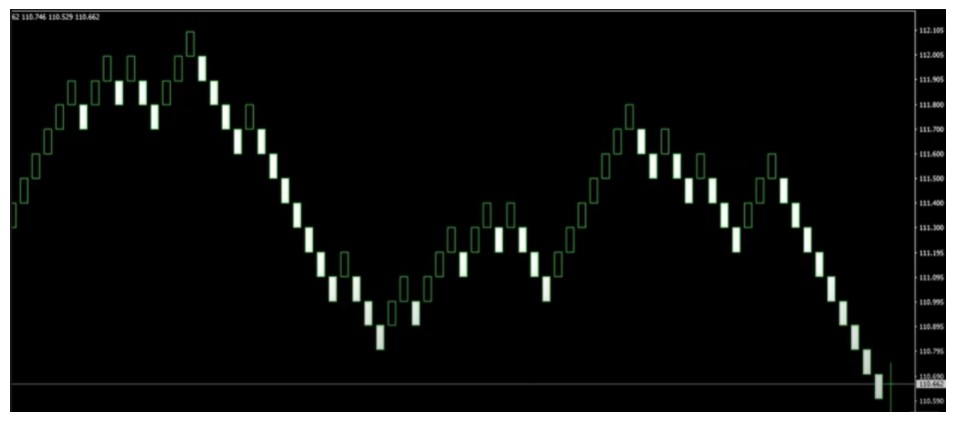 With a 10 pip Renko setting above (it is hard to distinguish lower and higher pip settings just by looking at someone's Renko chart), understand that Renko follows the momentum. By this, we mean with the 10 pip settings a reverse bar can only form if the price moves 20 pips. Notice a clear downtrend on the right side of the picture, a black upward bar will form only if the price moved 20 pips up, while the white bar needs only 10 pips in the downtrend direction to continue. So, it is double the set value. This is done to confirm the trend is losing momentum. Renko is thus designed to show exit points too. 
Renko Pros
Renko is the noise reduction king. If you are looking for black and white answers, Renko will serve. Technical traders love indicators for reasons they are based on numbers, numbers are crisp, there no fuzzy logic with them. Renko can be regarded as a digitalized chart that helps traders decide. 
Indicators based on price levels such as Fibonacci and others do not make much sense with Renko. One more reason why Renko is innovative, it will stimulate you to find unique rules and indicators that can match up with Renko. This leads us to the next pro point.
Renko requires the rules you can make up to the point Money Management does not need anything else. Pretty neat, traders do not have to bother a lot to create exit points, where to scale out, measure volatility, volume, trailing and all other info Renko just eats up. Of course, you will have to try out what rules work for you, for example, try the two bar rule, exit, and enter when two consecutive bars appear. 
Renko Cons
The truth is, you will need more than just Renko. Even it looks great, a ranging chart might destroy what you have built-in trends before. Whatsmore, Renko is not adjustable except for the pip settings. So the odds are you might need some more tools or rules like in the picture above to get it right. 
As rigid as it is, Renko will work better on some trading assets than with others. Once you set up your bar pip value and the rules, all is set for that strategy. There are no messing with it now. You have to be present when the bars appear, and no one knows when it is going to happen. This is probably going to mess with the routine part of trading. However, all this is adaptive to how many pips you set, you can turn trading on and off whenever you like. 
Renko Indicators
All indicators work differently with Renko, they pull the data off the Renko charts after all. This also means indicators that you once discarded as junk on a regular chart could make wonders on Renko. Switching to Renko trading is very different from what you used to do, probably you will have to test all the tools once again. The work will pay off as you are not following the herd that loses. 
To start, go to the classic forex resources such as forexfactory.com, or forex-station.com where they have Renko dedicated sections. Installing Renko might require to do some research but it is easily done on MT4. 
Interestingly, Renko can also be combined with regular charts as an overlay. The example below is a Renko Shade indicator combined with a Vortex oscillator.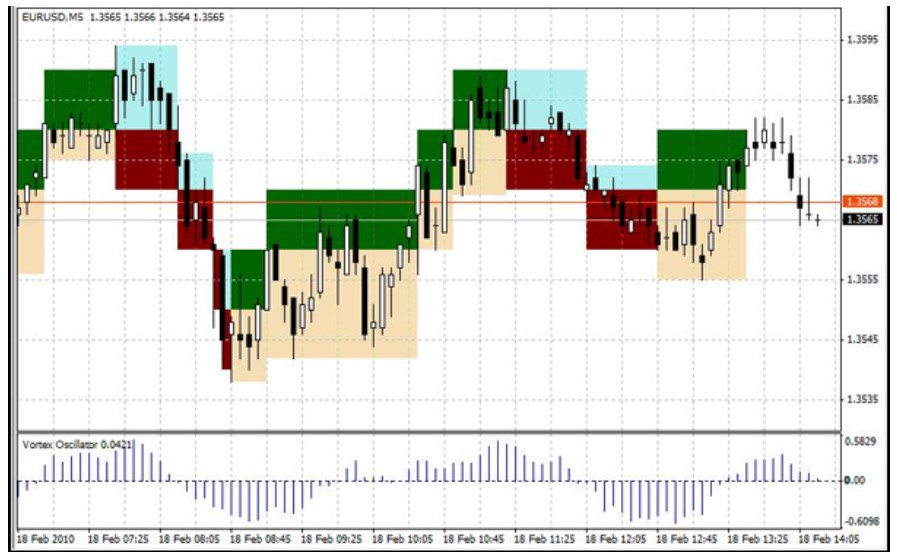 And below is a Renko dedicated indicator that measures how much time was needed for a Renko bar to form, called renkoAM. Some traders use it to create exit or entry rules.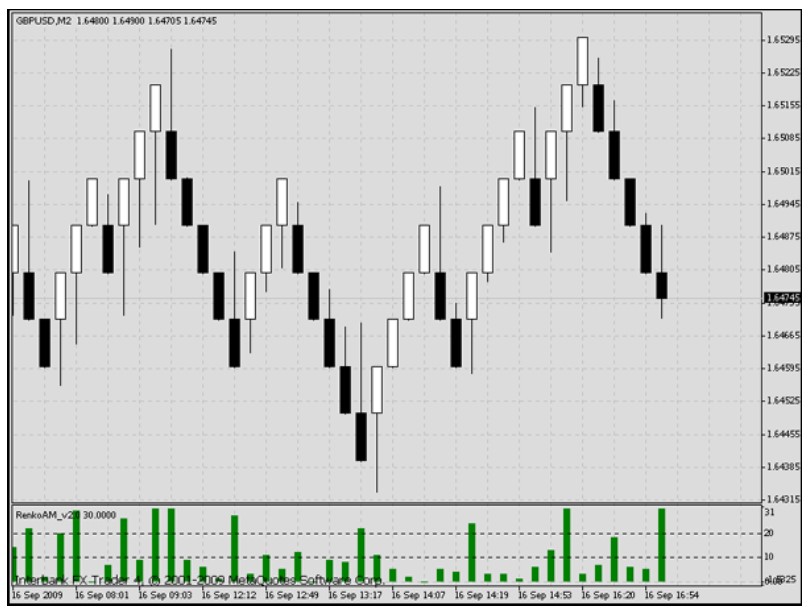 That being said, do not be surprised if you plug in the good ol' MACD indicator and start to get excited as the results just keep the account pumping up. Rarely an indicator is designed to be used on Renko and no one knows the results of this formula. But you can, test it out. If it turns out to be a pip making machine, the secret of the holy grail is all yours.