Introduction
The previous lesson covered what the Commitment of Traders report is. In this lesson, we will focus on how and where you can retrieve the COT report. The COT report is prepared and published every Friday at 3.30 PM ET by the US Commodity Futures Trading Commission. However, you can access the latest report and those from previous issues at the CFTC website.
The CFTC publishes beforehand the release schedule for the COT report. This schedule can be accessed here. The commission also keeps an archive of all past reports. The historical Commitment of Traders reports can be accessed here.
For forex traders, reading through the COT report might seem cumbersome. If you are interested in trading the forex market using the COT report, some economic calendars make available relevant snippets of select speculative net positions from the report. Below is a screenshot from Investing.com showing the latest release of the COT report on September 18, 2020, at 3.30 PM ET.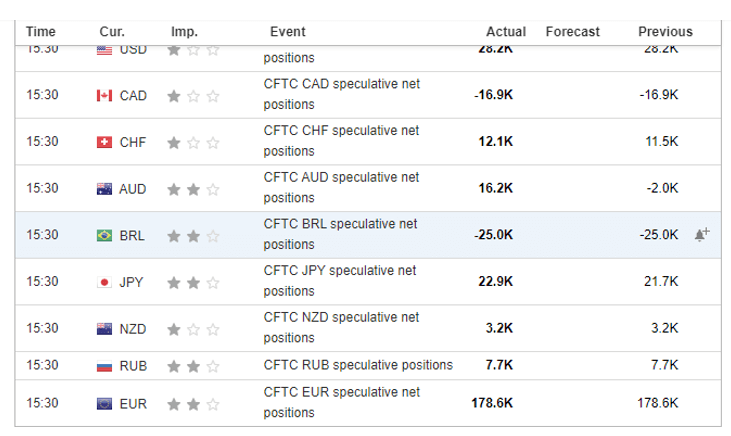 If you are interested in an in-depth review of the latest Commitment of Traders report, below is a step by step procedure of how to access it.
Step 1: to view the latest COT report, go to the CFTC website.
Step 2: After accessing the CFTC website, the next step is to find the right report for the forex market. The CFTC published multiple Commitment of Traders reports. These reports include markets other than the Chicago Mercantile Exchange that also contain other non-futures derivative contracts.
The COT report that has data on the forex market is the 'Current Legacy Reports.' Under the 'Current Legacy Reports,' select the formats belonging to the Chicago Mercantile Exchange.  Below is a screengrab of the from the CFTC website.
To access the COT report, select 'Short Format' under the 'Futures Only' tab.
Alternatively, if you want a more comprehensive report on the future positioning of traders in the financial sector, you should look at the 'Current Traders in Financial Futures Report.' Below is a screengrab from the CFTC website showing this section.
Step 3: After opening the ' Short Format' of Chicago Mercantile Exchange section of the COT, the next step is to identify which currency you are interested in.
Although it looks disorganized, searching through the report is relatively easy. Use the 'search function' of your browser to bring up the 'search box.' Type the currency you want to analyze. In this case, we searched for the CAD. The search results will appear, as shown in the screengrab below.
I hope you found this guide informative. Please let us know if you have any questions in the comments below. Don't forget to take the below quiz before you go. Cheers! [wp_quiz id="89672″]