Introduction 
The London session, also referred to as the European session, is the session where a significantly high amount of trading happens. The London session opens at 3:00 AM EST and is rigorously traded for eight hours straight.
There are several big financial institutions in Europe. So, the trading volume in the FX market during this session is extremely high. Due to this, many retail traders also show massive participation during this session. Hence, the London session was named the forex capital of the world.
There are thousands of transactions every minute during this session. As per sources, 30% of all forex transactions are executed during the European session.
In the previous lesson, we saw the average pip movement in the Tokyo session for some majorly traded currencies. The average there came to around 53. Now, coming to the London session, the average is much higher than the Tokyo session. The number stands at 72. During this session, the FX majors, as well as minors, tend to move by large amounts.
The below table gives you an idea of the average pip movement for some intensively traded currencies.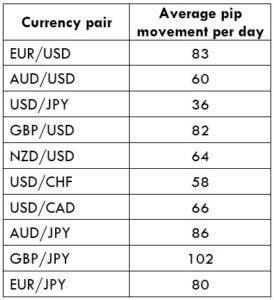 More about the London Session
As mentioned, London is considered as the Forex capital of the world. The majority of the volume in the market comes during the London session. Hence, there is high liquidity during this session.
The London session opens during the closing time of the Asian market. During the Asian session, the market usually goes through a consolidation phase. But, when London opens its shops, the consolidation comes to an end, and the market begins to move in a trend state. However, during the middle of this session, the market slows down and begins to consolidate. This could perhaps be due to the fact that the traders are waiting for the New York market to open. It has also been observed that the market reverses its direction at the end of the session. This could mean that the large players are booking their profits.
As far as trading in this lesson is concerned, this is the ideal session for the trend traders. A trend trader can analyze the markets during the Asian session and gear up to take trades when the London market opens.
The best currencies to trade during the London session
It is clear from the table that we can trade any pair in the market. There is sufficient liquidity in most of the currency pairs. Specifically speaking, one can keep a close eye on pairs such as EURUSD, GBPUSD, USDCHF, USDCHF, GBPJPY, EURJPY, etc. Moreover, as there is a heavy volume of trading in these pairs, the spreads here are very tight.
Thus, this brings us to the end of this lesson. In the next lesson, we shall discuss the New York session. For now, test your learning by taking up the quiz below.
[wp_quiz id="46939″]