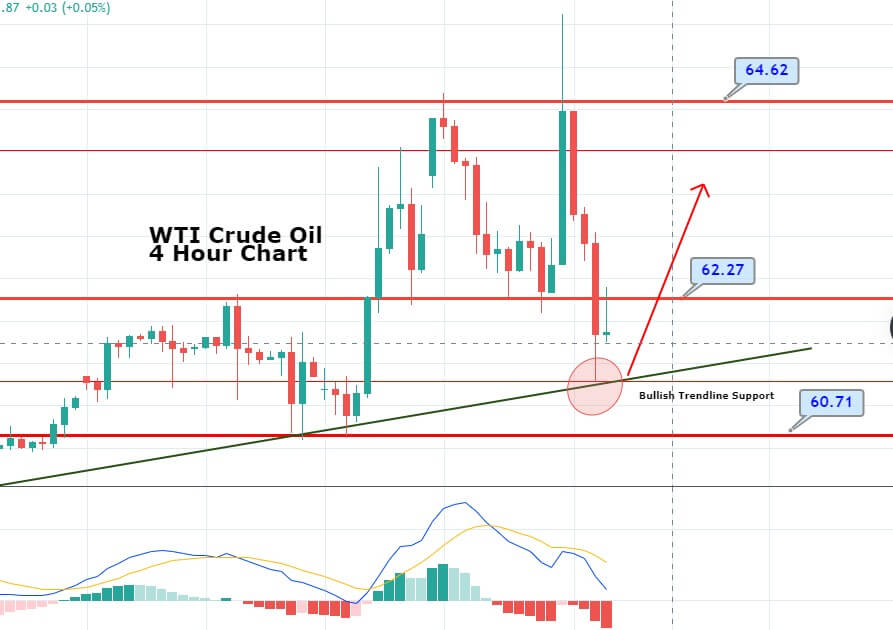 Earlier today, the WTI crude oil prices hit the bullish track and climbed to 1.3% to $63.53, mainly after Iran attacked two United States airbases in the wake of U.S. airstrike that killed the Iranian general last week, flashing worries regarding the escalating conflict between the United States and Iran.
The U.S. crude oil later fell from $63.53 to trade around $62 during the European session. Crude oil prices soared as much as 5% earlier in the day following the news, but gave up all of their increases following in the day as Iran's foreign minister announced it had "settled proportionate steps in protection" and is not attempting war.
Supply worries extended due to an intensifying conflict between the United States and Iran after the U.S. airstrike killed general Qassem Soleimani last week. In total13 missies have been reported launched at the Ain Assad Air Base. White House answers they are aware of the attack, and U.S. President Trump has been briefed and is monitoring the situation.
It is worth to mention that the United States President Donal Trump will make a statement tonight. With this, the U.S. Defense Secretary Esper and U.S. Secretary of State Pompeo have arrived at the White House. On the other hand, Iran's guards warn the U.S. any aggression against Tehran will get a worse response.
Meanwhile, the American Petroleum Institute reported that crude stockpiles dropped by 5.9 million barrels for the week ended Jan. 3, compared with a plunge of about 11.5 million barrels reported for the week before.
Whereas, the Energy Information Administration is expected to report a decline of around 3.6 million barrels when it publishes official figures tomorrow.
At the Sino-US front, the improvements on the Sino-U.S. trade front also remained as the focus. The two nations were reportedly going to sign a phase one trade deal on Jan. 15.


Daily Support and Resistance
S3 57.4
S2 60.7
S1 62.71
Pivot Point 64.01
R1 66.01
R2 67.31
R3 70.62
Looking at the 4-hour timeframe, the WTI prices are holding around 62 after violating the support level of 62.30. Crude oil is now facing support around 61.30, which is extended by an upward trendline. The WTI prices are likely bouncing off above this level to target 62.30.  
On the chart above, we can see the WTI seems to form a Doji candle, which is followed by a strong bearish bias. Typically such candles drive bullish trends in the market. I will consider taking buying positions above 61.20 to target 62.27. Above 62.30, the U.S. Oil can soar up to 63. Good luck!