The cryptocurrency market got a well-deserved consolidation phase after the big moves to the upside it made over the past couple of days. As far as daily price changes go, Bitcoin's price went down 4.88%. It is currently trading for $7,899. Meanwhile, Ethereum lost 3.74%, while XRP lost 3.55% on the day.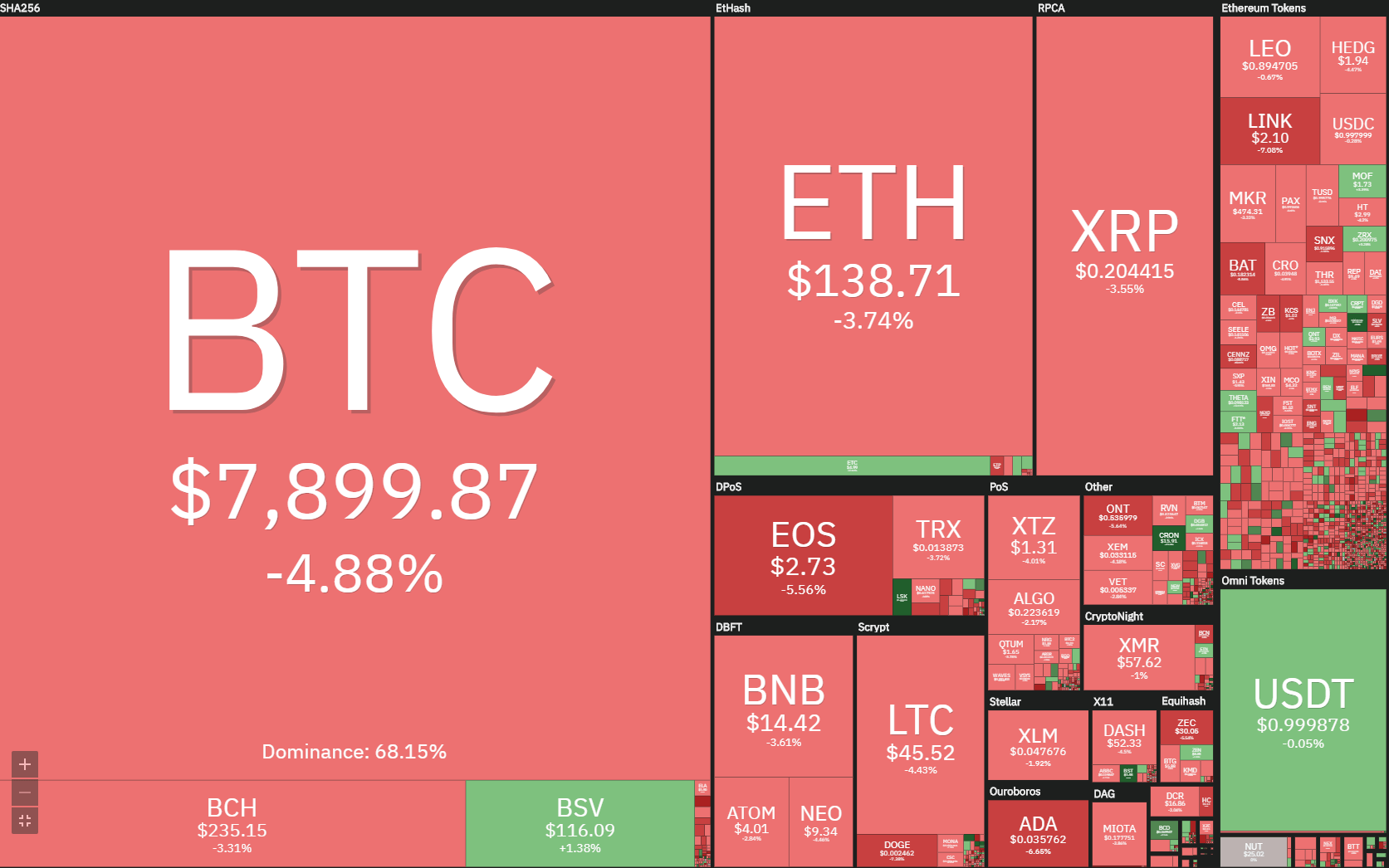 Lisk gained 23.41% on the day, making it the most prominent daily gainer. On the other side, Centrality lost 11.45% of its value when compared to yesterday, making it the biggest daily loser.
Bitcoin's dominance fell quite drastically in the past 24 hours. Its dominance is now at 68.15, which represents an increase of 0.84% from yesterday's value.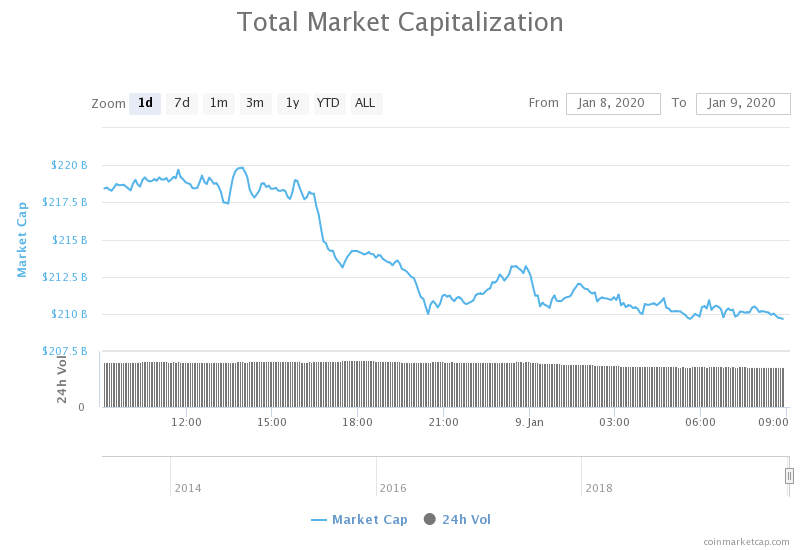 The cryptocurrency market capitalization decreased in the past 24 hours. It is currently valued at $209.65 billion. This value represents an increase of $8.83 billion when compared to yesterday's value.
What happened in the past 24 hours
China announced that its nationwide blockchain network called the Blockchain-based Ser­vice Net­work (BSN) would be operational in April 2020. This is only six months after it's testing phase started.
This project is fully backed by Chinese government policy. It is created to provide a platform on top of which new blockchain projects could be made, but also to help with the development of smart cities and the digital economy as a whole.
_______________________________________________________________________
Technical analysis
_______________________________________________________________________
Bitcoin
Bitcoin is following the price movement that most analysts predicted so far. Even though it fell under the 200-day moving average (1-day time-frame) which it was under since November, this doesn't have to be considered bearish at all. After creating an almost perfect head and shoulders pattern and breaking it to the upside, the true confirmation of a successful move would be a retracement to the neckline and then a burst in upwards momentum. This price movement seems exactly like a pullback that was expected.From a fundamental standpoint, Bitcoin is more and more bullish as the tension between the US and Iran rises.
Bitcoin's price went under $8,000 and broke the $8,165 and $7,790 resistances.
Key levels to the upside                    Key levels to the downside
1: $7,990                                           1: $7,780
2: $8,165                                           2: $7,530
3: $8,640                                           3: $7,415
---
Ethereum
Ethereum didn't have an additional day of gains, which resulted in it falling slightly less than Bitcoin. The consolidation above the $141.15 support line continues until the bearish pressure pushed the price below support.
Ethereum's RSI moved away from the overbought territory and is currently in the lower value range. Its volume, on the other hand, is still above average.
Key levels to the upside                    Key levels to the downside
1: $141.15                                            1: $130
2: $148.5                                            2: $128.1
3: $154.2                                            3: 122.1
---
Ripple
XRP did not have a day last time we reported, as it was falling in price while other cryptocurrencies were either rising or consolidating sideways. However, XRP might have found a strong support line to consolidate at. After creating a downtrend line, which dates from two days ago, XRP managed to find its support at $0.205. The price is currently right at that level and is testing it to the downside.
XRP's volume lower than yesterday, while its RSI moved out of the overbought territory and is currently moving towards oversold on all time-frames.
Key levels to the upside                    Key levels to the downside
1: $0.211                                           1: $0.205
2: $0.221                                           2: $0.1978
3: $0.227                                           3: 0.1892