Vader Forex Robot is the name of a Forex Expert Advisor or an automatic trading robot that is developed by Forexrobottrader.com. Some reviews talk about this robot as a scam, let's check it out.
What are Forex Signals or Indicators?
Many Forex indicators are developed to give traders trading signals that are more or less accurate as well as consistent. With a sound indicator system, traders can spend less time monitoring the market.
Traders receive expert advice from these robots, which is why they are called Expert Advisors (EAS). Indicator suppliers sell Expert Advisors. It is prevalent for an EA Forex provider or a trading signal provider to start with claims that you are going to become a rich man. This is because many traders look for the easiest way to trade effectively and make more profit.
But traders have to be careful to believe everything that is said in the business environment. There's always someone who's meant to cheat and take your money. It is very necessary to take into account what is offered, and the evidence that they give us, in order to try to discover a good EA.
Vader Forex's EA says it is "unstoppable" on its website. Many incredible features are said about this EA. Vader Forex Robot is defined as "powerful, intelligent and highly accurate".
It is also commented on their website that they promise very high performance, with proof of their performance over the years. Trading is entirely automatic, and traders do not have to worry about trading. Impressive numbers are published on its website to attract customers. Sellers are popular in the Forex market as well, presenting the product with a certain degree of legitimacy.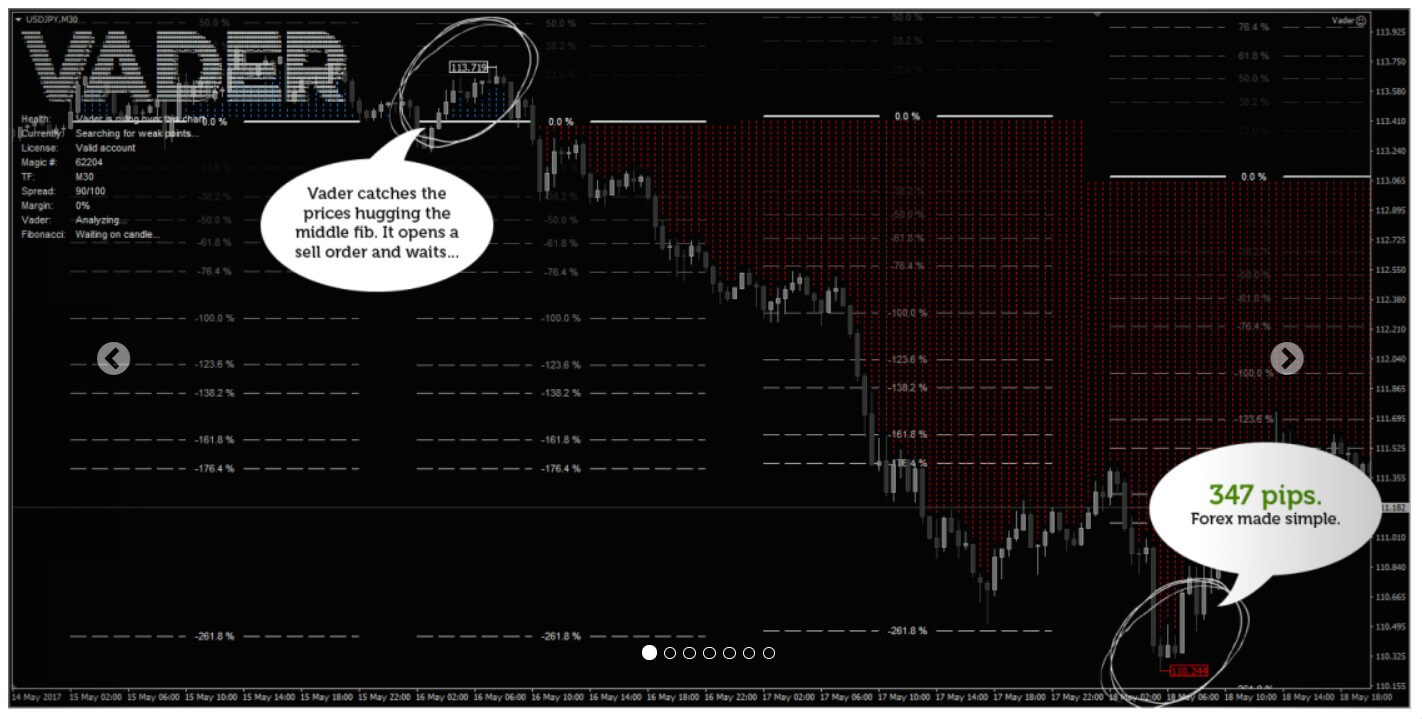 How the Vader Forex Robot Works
Vader Forex Robot is said to use Fibonacci's daily levels as a tool to find good trades. Cutting a chart into small pieces to discover predictable trades. Vader Forex Robot runs a new software called Gryphon Trading Engine 3, which has more than 30 new features, updates, and enhancements.
There are also signs of oversold and oversold. This feature is about negotiating prices as they move away from the middle zone and have to return to it. A default optimized setting for more than 20 currency pairs is available, and no adjustments are required. The chats can be downloaded so that the trader can do ex-post analysis.
Detecting trend changes is another of the robot's capabilities, and you can combine this function with Fibonacci levels. Automatic Stop Loss and Take Profit levels are set using a smart algorithm based on Fibonacci and momentum levels.
Robot Price, Reviews, and Support
Today, traders are offered a 50% discount, so the Vader Forex Robot EA now costs 99 USD instead of the usual 199 USD.
On the Vader Forex website, we found positive feedback; however, we preferred to find out more on third-party websites. After reviewing several sites, most reviews are negative, especially the most recent ones. This is somewhat discouraging and causes the image of the company to be damaged.
Also, when we want to know the results, many are posted on the website, but there is no information about them on verifiable third party websites. This is another negative point for this robot.
To access customer service, customers must subscribe to the Newsletter, so that they can obtain information on a regular basis.
Conclusion
The price of the Vader Forex Robot is quite competitive, and the company provides some details about the strategy used. However, the multitude of negative reviews spoils the image of Vader Forex Robot. The absence of verified results is something necessary for the purchase decision of any trader, and we do not know this fact of Vader Forex.