Smart Robot MT4 can be found within the MQL5 marketplace under the experts heading. It was created by Mahmoudibarmas Mehdi and was first uploaded on the 11th of October 2018, it had its most recent update on the 15th of March 2020 and is currently at version 2.5.
Overview
Smart Robot MT4 is an expert advisor that was created for the MetaTrader 4 trading platform. The robot is based on scalping, Elliot Waves, and also includes additional filters such as RSI and Stochastic. The EA can be run using all symbols and with all timeframes. It will combine Elliot waves, Scalping, RSI, and Stochastic in order to find trends and scalp them.
There are some recommended usages from the developer:
You can run this EA on several charts and symbols.

Try using a different Magic-Number input for each chart.

If you attach the EA to multiple charts, increase the KLot setting to reduce your risk.

Smart Robot works on Hedge accounts.
There are plenty of parameters and settings available, some of these include time frames, trade types, when to stop trading, minimum distance to new trade, magic numbers, take profits, stop losses, averaging distance, averaging volume multiplier, trailing stops, break-even settings, news filter, and more.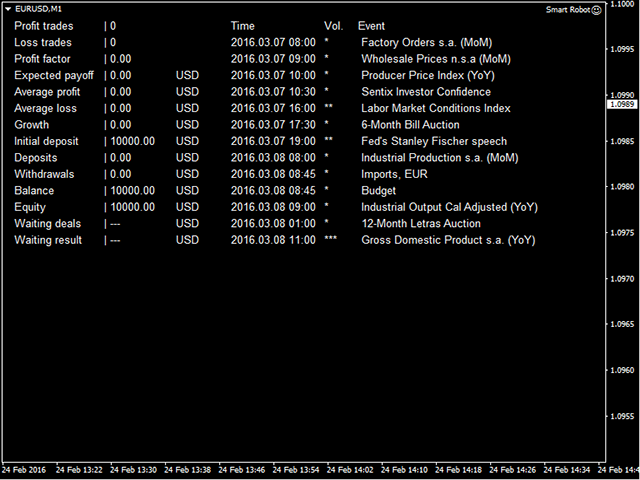 Service Cost
The expert advisor will cost you $196 to purchase it outright, this will then give you 5 activations. You are also able to rent the expert advisor, this will cost you $49 per month, or the three months it will cost you $98.
There is also a free version available, the details of the demo are not known, it will have some limitations and may only be usable with the strategy tester of the MetaTrader 4 trading platform.

Conclusion
Unfortunately, there aren't any user reviews at the time of us writing this, so we do not know how people are finding it and if people feel that it is doing what it was designed to do. There are a few comments, the developer has replied to them in a prompt manner and some were quite recent which shows that it is still being supported by the developer which is good. Due to there being no reviews, we would suggest trying out the free version, if this doesn't give you a good idea of how it works, contact the developer with any questions so you can be sure that it will work for you before you make a purchase or a rental.