20FX Intelligent Fighter can be found on the MQL5 marketplace, it is currently under the Experts heading and was uploaded on the 7th of April 2020. It was created by Muhammad Asif, the EA is still at version 1.0 as it has not had any updated.
Overview
FX Intelligent Fighter can be used with the MetaTrader 4 platform, it claims to be the best EA for maintaining a profitable account over a period of years. It combined different algorithms with an added AI system that will only find profitable entires. (Please note that it is impossible to only have profitable trades).
The creator claims that the EA will be able to make an average of 35% yearly, this was done off just two years of backtesting though. It is recommended that the EA is used on the GBPUSD currency pair with a broker that offers low spreads on that pair.
The EA will only place one trade at a time, it does not use strategies like martingale, grid, hedging, or multiple trade systems. There are a couple of parameters available, these are the lot size to use and magic numbers.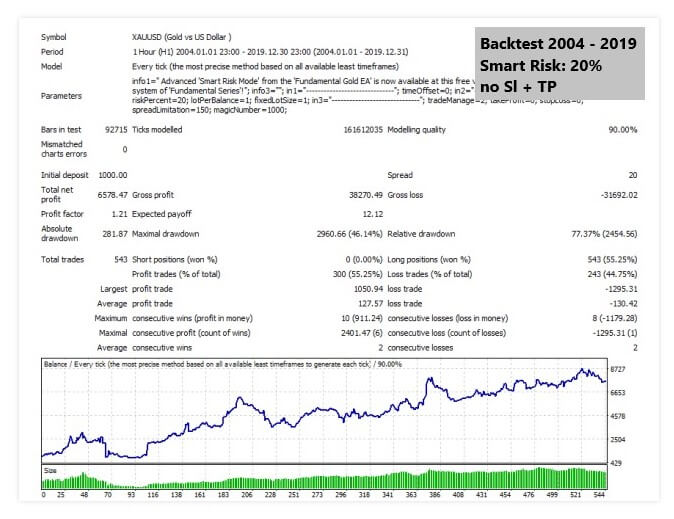 Some recommendations from the developer:
1. The recommended lot size for $1000 Balance is 0.05 so you can increase/decrease lot size respectively.
2. Backtest results are based on closing all open positions after one year so It is recommended to close all your positions "manually" after 1 year you have started this EA.
Although there is a very low drawdown with this EA backtest results not guarantee to be 100% accurate when EA played on a live account, so please remain mentally patient and calm.
Service Cost
The expert advisor can be purchased with a one-time payment o $300, this will allow you to activate the EA up to 5 times. There are also a number of different options to rent the EA, this can be done on a monthly basis, it will cost you $50 to rent it for the month, for three months it will cost you $100, for six months it will cost you $150, and for a one-year rental, it will cost you $200 for that period.
A free demo version is available, but this can only be used with the strategy tester within the MT4 platform rather than on a live account.
Conclusion
There are currently no user reviews or ratings so we do not know whether people are finding the expert advisor profitable or whether it is doing what it is intended to do, there are also no comments from users so we do not know if the developer is offering support, due to this we would recommend contacting them, just to make sure they will be there should you decide to get the EA and then need some support.
This Forex Indicator is currently available in the MQL5 marketplace: https://www.mql5.com/en/market/product/48047