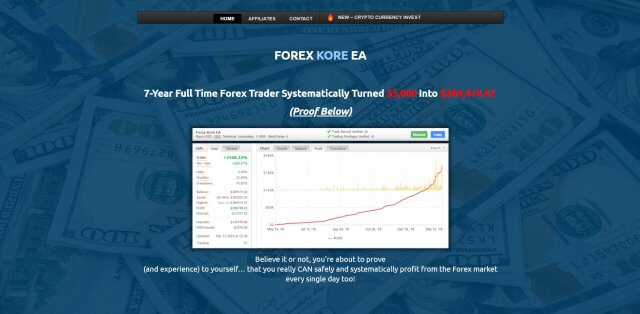 Forex Kore EA was created to trade automatically, without requiring any effort on the trader's behalf by analyzing the past market in order to make decisions about which strategy to use and to predict future market patterns. The company behind the software is somewhat of a mystery and can only be contacted by submitting a ticket from the product's website. 
Overview
Forex Kore is a fully automated trading robot that uses adaptive market analysis to make predictions about the current market based on past market patterns. This helps the robot decide which type of strategy to use based on the market's current situation. It is advertised as being "simply the most advanced robot available to the public", although this statement is more opinion than fact. Here are some of the software's features:
Can trade in multiple (9) currencies simultaneously 

Precisely enters and exits trades at the correct price

Volume tracker

Easy installation

Designed to be "self-teaching"

Money-management tool helps to minimize risk
The product's website claims that it was able to turn $5,000 into $384,474 with 7 years of full-time trading. They then go on to post photo evidence to seemingly prove this statement.   
Service Cost
If you open a cent account, you can deposit as little as $50 to get started using this robot. You'll also need to pay $129 to purchase the trading software through what appears to be a one-time licensing fee. A 60-day money-back guarantee is also featured on the website for clients that are not satisfied with the product.
Conclusion
Forex Kore EA was designed to be 100% fully functioning without requiring any effort on the trader's behalf. If claims of being the most advanced robot and turning hefty profits are true, then traders won't have to put in much effort to become successful. The cost is fairly small; however, we were concerned about the information we found online after doing further research. Here are some user reviews:
"Support does not exist, I have three open tickets on their website, none that have a response. The EA traded fine for a while but has now stopped completely and the Experts tab is full of errors." -fxfatcat

"From my own experience they just won't reply to your emails once they realize they aren't going to get more money out of you." -Joe
As you can see, customer support is not always responsive and has even completely ignored some of its customers. This makes us wonder if Forex Kore EA actually honors its advertised 60-day money-back guarantee, or if support would simply ignore any trader asking for it. We aren't saying that this is a product to stay away from completely, but don't trust everything you read on the website, and be sure to keep a close eye on the robot if you choose to buy it.