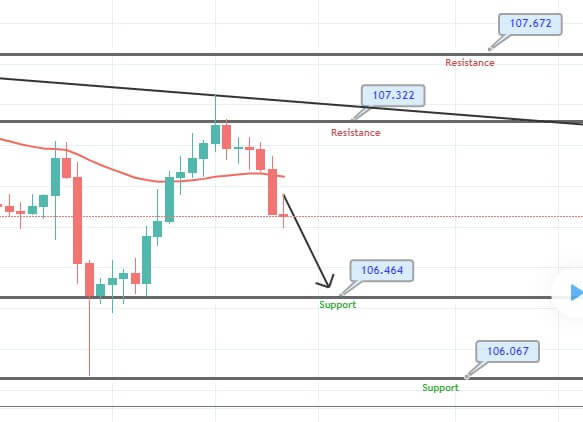 The USD/JPY pair was closed at 107.195 after placing a high of 107.450 and a low of 106.829. Overall the movement of the USD/JPY pair remained bullish throughout the day. The USD/JPY jumped to fresh weekly high around 107.45 regions on the back of increased demand for the US dollar despite the risk-off market sentiment.
At 9:30 GMT, the All Industries Activity from Japan came in line with the expectations of -6.4% in April. From the American side, the Core Durable Goods Orders for May surged to 4.0% against the 2.1% of expectations and supported the US dollar. The Durable Goods Orders for May also increased to 15.8% against the 10.3% forecast and supported the US dollar. The Final GDP for the second quarter came in line with the expectations of -5.0%.
However, the Unemployment Claims from the US last week exceeded 1.480M from 1.320M of expectations and weighed on the US dollar. The Goods Trade Balance also showed a deficit of 74.3B against the expected deficit of 68.0B and weighed on the US dollar. The Prelim Wholesale Inventories for May decreased to -1.2% from the expected 0.4% and supported the US dollar. However, the quarter's final GDP Price Index also came in line with the expected expansion of 1.4%.
The mixed data from the United States could not overcome the greenback's strength on Thursday, which came in after the growing market worries related to surge in the number of coronavirus cases, which could trigger the fresh lockdown measures in the US. The economic recovery in case of renewed lockdown will become slower, and this raised the US dollar due to its status as a global reserve currency.
Meanwhile, the traders were rather unaffected by the selling bias around the equity market in the absence of risk sentiment, which tends to increase the safe-haven Japanese Yen and decrease the currency pair USD/JPY gains. Even the reduced US Treasury bond yields also could not affect the USD/JPY pair's bullish move on Thursday.
On US-China front, the White House Advisor, Peter Navarro, said on Thursday that if China failed to fulfill the clause of phase-one deal related to increased purchases of American Lobsters, then the US will impose new reciprocal tariffs on China seafood industry. China committed to purchasing $150M worth of American Lobsters in the phase-one trade deal.


As we can see on the 4-hour timeframe, the USD/JPY has crossed below 50 periods EMA at 107.050 level, which was supposed to work as resistance later. While the recent candles were closing below a strong resistance area of 107.322, therefore, we decided to take a sell trade to target 106.654. Here's an update on the trade plan. 
Entry Price – Sell 107.054    
Stop Loss – 107.454
Take Profit – 106.654    
Risk to Reward – 1
Profit & Loss Per Standard Lot = -$400 / +$400
Profit & Loss Per Micro Lot = -$40/ +$40