SFXCapitals is an international foreign exchange broker that is based out of New Zealand.
"SFXCapital started as a broker, providing the foreign currencies trading solution with the highest quality, full functionals. The unique technology is built for the approaching the primary and minor market which bring the real and special value. SFX develops a unique business method that is created for the individual's demanđs. It is also giving standardized support, supervision, and implementation reasonable for individual investors for a wide range of trading options."
That is the statement from SFX, we will be looking deeper into the services on offer to see if they live up to that statement and so you can decide if they are the right broker for your trading needs. For the purpose of this review, we will not be looking at the binary options side of this broker and instead will be focusing only on the foreign exchange trading instead.
Account Types
The website does not have an account comparison page and from briefly looking through it we did not see any information that would make us believe that there is more than one account type (for forex trading). So as we go through this review, everything that we write is relevant to the single forex trading account type that is available, if there are any differences we will outline them in each section.
Platforms
As we are only looking at the forex trading side of the broker, the only platform available is MetaTrader 4. MT4 is equipped with everything that you need to become a successful trader. It provides the necessary tools and resources to analyze the price dynamics of financial instruments, make the trade transactions, create and use automated trading programs (Expert Advisors). The platform is also usable as a desktop download, mobile application, and WebTrader within your browser. Compatibility with thousands of indicators and signals can help your trading analysis as well as automatic trading, with multiple chart windows and timeframes you can customize the experience to suit your trading style.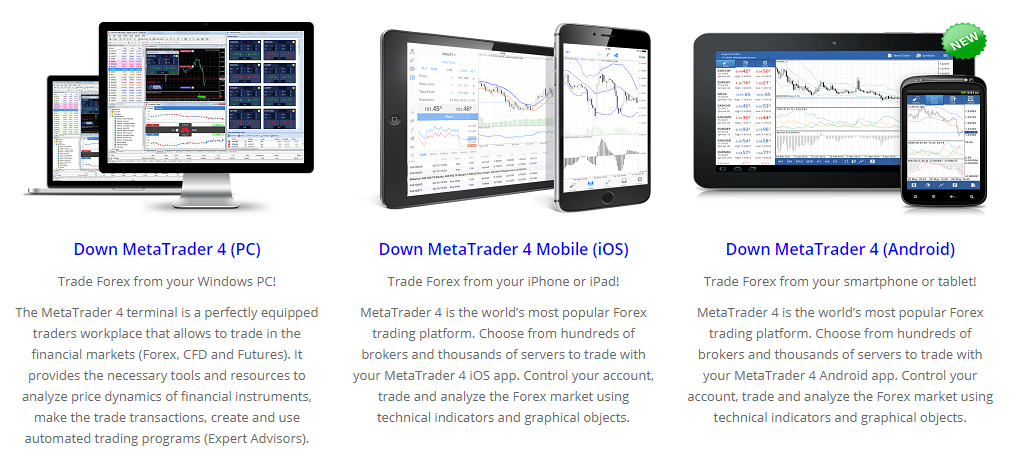 Leverage
The maximum leverage available is 1:100 which is a lot lower than the standard 1:500 that a lot of brokers are now aiming for. You can select the leverage that you desire when first opening up an account and should you wish to change it on an already open account you will need to contact the customer service team with your request.
Trade Sizes
Trade sizes start from 0.01 lots and go up in increments of 0.01 lots so the next trade would be 0.02 lots and then 0.03 lots. We do not know what the maximum trade size is and there isn't any indication as to how many open trades or orders you can have at any one time.
Trading Costs
There is no mention of any potential fees available on the site so this leads us to believe that there aren't any present on the available trading accounts. There are however swap charges which are fees charged for holding trades overnight, they can be both positive or negative and can be viewed within the MetaTrader 4 trading platform.
Assets
We do not have a full breakdown of the available assets, instead, all we know is that there are Forex pairs, precious metals, and US stocks available to trade. It would be good to have a product specification available as many potential clients will want to check to see if their preferred instruments are available before signing up.
Spreads
Spreads are not stated on the site, and as there is not a product specification available then and the demo account available does not mimic the conditions so we cannot even take a guess at what the spreads may be, we do know that they are variable, which means they will move with the markets, but we do not know any more information than that.
Minimum Deposit
There isn't any information about deposits so we do not know what the minimum amount required to open up the account is or what the minimum is for any subsequent top-up deposits.
Deposit Methods & Costs
There is no information on funding available so we do not know which methods are available or if there are any added commissions or fees, this is disappointing as new and potential clients need to know how they can deposit their funds into the broker and also if it will cost them to do so.
Withdrawal Methods & Costs
Due to there being no funding information, we also do not know what methods are available to withdraw or how much it will cost, again this is vital information that needs to be present, as the last thing you want is to deposit and then find that you cannot use the same method to withdraw and then be stuck, it is also important to know of any potential fees for withdrawing as it may not be worth it if there are high fees.
Withdrawal Processing & Wait Time
We do not know the expected processing times but would hope that any withdrawal requests would be fully processed within seven days of the request being made, we cannot say this for sure though.
Bonuses & Promotions
There don't seem to be any bonuses or promotions running at the time of writing this review, there may be some in the future, if you are after bonuses then you should contact the customer service team to see if there are any coming up that you could take part in.
Educational & Trading Tools
This is another respect of the site that seems to be missing, we could not locate any additional tools or educational material This is a shame a lot of brokers are now looking to help their clients improve on their trading skills through education or helpful tools, so it would be good to see SFX Capitals do something similar. We did find one basic Forex video on the site, however, and have included it below.
Customer Service
There doesn't seem to be a customer support page or contact us page, instead, there is just a singular email address at the very top of the page, this is disappointing as clients and potential clients need a way to get in contact with the broker in case of queries or issues. There may be a way to contact them from within the client portal, but then details should be publicly available too.
Email: support@sfxcapitals.com
Demo Account
Demo accounts are available by opening one up within the MetaTrader 4 trading platform, however, the trading conditions won't mimic those of SFX Capitals so they are really that helpful, it is often good when the demo accounts conditions are the same as the live conditions as they allow you to test the conditions and strategies without any real risk.
Countries Accepted
There isn't any information surrounding accepted countries on the website so if you are thinking of signing up we would highly recommend contacting the customer service department prior to opening an account up, just to ensure that you are in fact eligible for an account to trade with SFX Capitals.
Conclusion
There is a lot of information missing on the site, we do not know what the true trading conditions are or the costs of trading, we also do not know what the available funding methods are, this is vital information as clients need to know how they can get their money in and out of the broker and also how much it will cost them to do it. We also do not know which instruments and assets are available and even more worryingly, there is only a single email address available to get in contact with the customer service team. With all of this information missing, we would have to recommend looking elsewhere for a broker to use.