JMI Brokers AG is a Swiss legal corporation that has a registered office in ZUG (Registration no.  334-229-499) however they are licensed as a Financial Services Provider by Vanuatu Financial Service Commission (license no. 15010). JMI Brokers is incorporated in St. Vincent and the Grenadines as an international business company (registration no. 2375 IBC 2019). 
According to their About Us page, this broker has managed to become a prominent financial services company with a vast client base in the Middle East, Europe, Gulf, North Africa, and the Far East. JMI Brokers offer retail, institutional, IB, and also White label clients the opportunity of trading a variety of assets on automated trading platforms. Clients can choose from three account types, as well as a swap-free option for clients of the Islamic faith. They offer tight spreads, low margin, 24hour support, competitive 2-way pricing, transparency, instantaneous auto trade executions, hedge capability, and flexible lot sizes. 
Join us as we delve into their website, which is brimming with information, as we discover what this broker has to offer to those interested in opening up an account with them.  
Account Types
Clients wanting to open up an account with JMI Brokers have 3 account types to choose from namely; the Micro Account, the Standard account, and the Professional account. 
The Micro account is the cheapest account to open as it has a minimum deposit requirement of $100. This account is ideal for those traders wanting to trade smaller transactions (1k or 0.01 Lots). Like the other accounts, clients using the Micro can make use of leverage of up to 1:400 and they can trade Forex, Precious Metals, Equity Indexes, and Energies. This account can also be opened as a swap-free account that is catered towards clients of the Islamic faith. 
The Standard account is slightly more expensive to open as its minimum requirement is $500. This account comes with low trading rates with spreads being around the 2Pip mark on the major currency pairs offered by this broker. This account is fee-free however the leverage offered is lower than that of the mini at 200:1. This account also comes with fully automated margin liquidation and no capital gains on tax profits. 
As the name implies, the Professional Account is ideal for experienced traders that have been in the trading industry for quite some time. The minimum deposit requirement for this account is quite steep at $50,000 and the leverage offered is the lowest from the three accounts at 100:1. Spreads on this account are quite low as they start at 2Pips on EUR/USD, USD/JPY, and AUD/USD.
Here is a breakdown of each account's main characteristics. 
Micro Account
Minimum deposit requirement: $100
Spreads starting from NA
Commission: No
Leverage: 1:400
 Standard Account
Minimum deposit requirement: $500 to $5000
Spreads starting from 2Pips
Commission: No
Leverage: 1:200
Professional Account
Minimum deposit requirement : $50,000
Spreads starting from 2Pips
Commission: No
Leverage: 1:100

To open up any of these accounts customers are asked to download the Customer Account Agreement, which you can find on the site, read the full document, and sign once you are happy with all the terms and conditions which are placed by JMI Brokers and send over the documents required (Proof of Identity and Proof of Address). Unlike most brokers, this one actually opens up the account for the customers themselves after all documents are verified. Once the account is created the broker sends a confirmation letter containing the username and password for the customer's account. After the customer signs this off and sends it via fax or via email, the customer would be able to fund the account and start trading. This does seem like quite a long process; however, it shows a level of seriousness from the broker's side. 
Customers can also opt to have several sub-accounts belonging to their main account. This can be done by simply filling in the sub-account form and sending it via email to the broker. 
You can find more information about the above-mentioned accounts on the broker's website. 
Platforms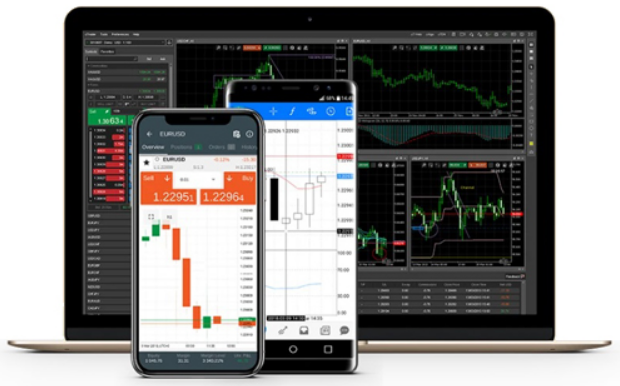 JMI Brokers offer the popular MT4 platform to their clients. This platform is popular worldwide for a number of reasons such as, it is multilingual so that helps in eliminating communication problems, market watch, a multitude of charts that can be very beneficial to traders, especially those just starting out, trailing stops, and a trading terminal and so much more advantages that we can never list them all. This broker also has a number of Key features explained in detail on their Platforms page, which can be beneficial for those who are new to trading or those who have never used the MT4 platform before. This platform can be used on desktop, Iphone, and Ipad devices, Android, and also windows mobile. 
Leverage
This broker offers different leverages according to the account type the customer has chosen to open. The highest leverage can be found on the Micro Account which has a high quite a leverage of 400:1. The Standard account has a leverage of 1:200 and the lowest leverage is available on the Professional account at 1:100. 
Trade Sizes
It appears that the Micro Account is the only one that allows clients to trade small sizes starting from 0.01 Lots. The other 2 accounts seem to have a minimum trade size that is equivalent to $100,000 for Major Forex Currencies. There is no information regarding the maximum trade size available on the three available accounts offered by JMI Brokers. 
Trading Costs
We confirmed via live chat that none of the accounts have commissions or fees associated with them. This is also stated on their site, but we wanted to be certain that this is the case. It seems like this broker makes all its profit via spreads and not by imposing commission on each trade, however, on their Trading products page we did see mention of a commission rate, however, no clear explanation of how much this commission would be was mentioned. 
Assets
JMI Brokers has quite a variety of assets available for trading including over 25 Forex currency pairs as well as Future (OTC) Currencies, Silver and Gold as precious metals, Natural Gas and Light Sweet Crude Oil for Future (OTC) Energies, E-Mini Nasdaq 100, E-Mini S&P 500 and Dow Jones as Future (OTC) Indices and quite a long list of CFDs including CitiGroup Inc., Ebay Inc, General Electric and American Int. Group Inc just to mention a few. You can find the full list of available assets including their contract sizes, exchange, cost of point, and trading hours on the broker's Trading Products page. 
Spreads
Spreads available on the Micro account are not explained however both the Standard and the Professional accounts have a list of the average spreads customers might encounter when trading on these two account types and their spreads seem to be quite similar. 

The popular EUR/USD currency pair has a spread of 2 Pips on both the Standard and the Professional account, which is slightly higher than the industry standard. You can find a full list of the spreads one should expect when trading with this broker, however, the information on the list might not be 100% accurate to the market conditions encountered when placing your trades. 
Minimum Deposit
The minimum deposit requirement is different for each available account. The cheapest one to open up is the Micro account that requires only $100 to start up. This requirement is quite affordable to those just starting out in the industry as well as those traders that are not intending to trade very big lots. The Standard account has a minimum requirement of $500 whilst the Professional account has a very high minimum deposit requirement of $50,000.
Deposit Methods & Costs
This broker accepts deposits via multiple payment methods including, Visa, American Express, MasterCard, Neteller, Bank Wire, Coin Base, Epay, and advcash just to mention a few. There is no available information regarding any fees or commissions that might be applied to deposits. However, when speaking to their customer support we were informed that there are no added fees for funding your account. Customers can only deposit funds via deposit payments in their own name. 
Withdrawal Methods & Costs
Customers can withdraw their funds using any of the above-mentioned payment methods. Their customer support informed us that there are no commission fees applied to any withdrawal method apart from fees that may be incurred by the customer's respective banks. 
Withdrawal Processing & Wait Time
Unfortunately, there is no information regarding the processing and wait time customers may encounter when withdrawing their funds so we cannot comment on this for the time being. 
Bonuses & Promotions
At the moment, this broker does not have any promotions or bonuses on offer, however, check their website every now and again to see if any have been added.
Educational & Trading Tools
JMI Brokers offer a very extensive Education Centre that is made up of a number of articles that are short, to the point, and easy to understand. These articles cover a number of topics such as; Forex pricing, understanding currency pairs, basic concepts of technical analysis, moving averages, diversification, ideas on trading news, and pattern recognition just to mention a few. This educational center can provide a good basic understanding of trading for beginner traders that are still discovering this diverse and ever-evolving industry.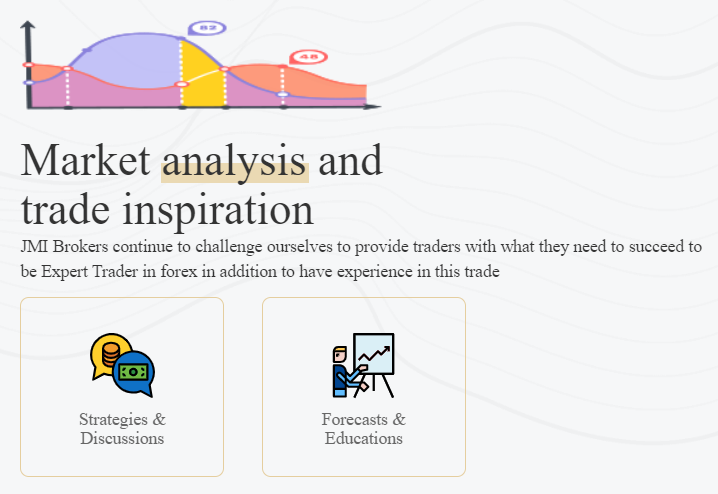 Apart from the education contact available, this broker also offers daily fundamental analysis as well as a daily technical analysis to help their customers make the right choices when trading on their JMI accounts. 
Customer Service
Customers wanting to get in touch with this broker can do so via telephone, email, FAX, live chat, or by requesting a callback. We had a very pleasant experience on their live chat as we were assisted by a friendly and well-informed customer service agent. Their live chat response is quick, and we were given answers within seconds. 
Telephone- + 971 44096705
Fax – +971 44096740
Email – backoffice@jmibrokers.com
On the JMI Brokers website, you can also find the contact information of their Egypt office. 

Demo Account
JMI Brokers does offer a demo account for clients to test out their trading conditions. We could not find any specific details about this demo account apart from a simple online form that customers must fill in to create their demo account. 
Countries Accepted
JMI Brokers do not have any restrictions and accept customers from all over the globe. 
Conclusion
JMI Brokers is a regulated broker with offices in Dubai and Egypt. Their website, which is quite user-friendly, has a lot of information including an extensive education center. The broker offers 3 types of accounts that should cater to traders of different levels and on these accounts customers can trade a very large number of assets. They also offer swap-free accounts catered for Islamic clients, as well as a demo account for customers to test out. Their minimum deposit requirements vary according to the accounts and they do not charge any commission for depositing or withdrawing funds. They offer the most popular trading platform available, the MT4, and their customer support is very quick and efficient.