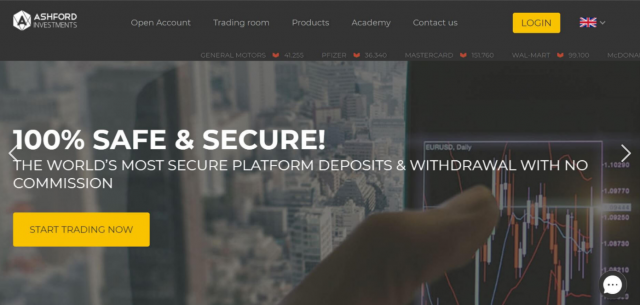 This is one of the unknown, unregulated brokers that come as a different brand every once a while from Bulgaria. Bulgaria is a well-known nesting place for Israeli outcast Binary Options companies of unethical practices. Ashford Investments used to be a former Binary Options brand that now offers CFD trading on a specialized web-accessible platform. Typically for brokers that behave more like a portal for deposits than as brokerage, Ashford Investment content is full of promotional, promising, manipulative words used when nothing substantial and tangible can be presented.
Ashford investments' website is also small, having just a dozen sloppily-made pages that contain a lot of text and little information about the company, trading conditions, or arguments. It is confusing how the homepage contains some feedback from Binary Options but the broker is not offering these instruments. According to the broker, they have the world's most secure platform, a few dreams-come-true testimonials, and easy profits. This Ashford Investments review will reveal if this is true, all the positive and negative sides based on which investors will know if there is a considerable risk dealing with this broker. 
Account Types
The broker does not have a clear presentation of what their account types deliver and what is the difference. What we know is there are 4 account types, Silver, Gold, Platinum, and Diamond. The starting account allegedly made for beginners has a very steep minimum deposit requirement few will accept considering the reputation of Ashford Investments. Whatsmore, the account comparison boxes are not finished for the website. The text that is aimed to assist in choosing the right account is targeting the client's perceived minimum deposit and needs, finalizing with the manager's assistance. Accounts stated in the registration form are differently named, Standard, Premium, and VIP, with the option to select GBP, EUR, or USD as a base account currency. There is no information about what trading conditions are the visitors signing up for but we will try to obtain some info from the platform in the next section.
Platforms
Ashford Investments does not feature any other platform except the web-accessible one with integrated profile and financial modules. This is easy access, low feature platform with several limitations. Starting with the chart window which is positioned in the center of the screen and reminds of TradingView charting, it is limited to only 5 timeframes, M1, M5, M30, Daily, and Weekly. Windows are not resizable but  Chart types are settable to Bars, Candles, Hollow Candles, Heikin Ashi, Line, Area, and as a Baseline. The indicators range is solid with over 90 at the disposal and available for customization.
Similarly to the TradingView you can add or compare other instruments on the same chart. On the left side, there are multiple drawing and measurement tools but much less than the usual TradingView charting. On the left side of the screen is the instrument watchlist categorized into 5 switchable groups with bid and ask price levels but without the spread indication or anything else. Search Box is positioned above and works as you type. On the right of the chart window is the order panel with evident trading size calculated in account currency, not lots or units. The minimum you must invest is 25 USD, EUR, or GBP depending on your account currency.
Stop Loss order cannot be set lower than 10% of your investment and not less than 25 currency units. Pending orders are supported but with similar limitations as with the Stop Loss. Pending order executions are based on the price level only with the trade expiration option. The leverage is displayed in the order panel, but there is no other information about the trading conditions. Finally, the lower part of the screen holds the orders overview with selectable tabs to view Open, Pending, and Closed orders. None of them display anything about the trading costs. Some bugs leave you unable to select other instruments.
Automated trading is not supported and the broker sets limitations to fast traders. According to the Terms and Conditions, the trading position is valid and counted on the volume only if the order remains open for at least 1 minute. Having a simplified charting widget from TradingView with a good amount of indicators but Risk Management defined by the broker with minimums degrades the value offered by this simple platform. This practice is indicative of unethical broker behavior. 
Leverage
Interestingly, Ashford Investments has 1:20 leverage for all assets in the platform. The leverage is presented as a multiplier of the invested amount, not reducing the amount of investment needed. This further complicates how traders manage risk, especially with the minimum deposit amounts. 
Trade Sizes
Trade size is set to 25 account currency minimum investment for all assets in the platform. Additional trade steps have the same investment amount limitations. 
Trading Costs
Ashford Investments does not charge commissions and the swap information is not displayed in the platform or any kind of instrument specification. According to the legal documents we have found that the swaps are calculated in percentages charged on working days. Like with other trading elements, this is another unusual practice. Commodities have 0.0041% overnight charge on the open trade amount, Currencies 0.00495%, Indices – 0.007%, Stocks – 0.021%, Cryptocurrency – 0.5%, and ETFs – 0.01%. Therefore, positive swaps do not exist. 
There are other fees described in the legal documents. Ashford Investments has multiple fees applied to various types of trading inactivity. Every account without trading activity more than 3 months will be charged a maintenance fee defined at the broker's discretion every month. Whatsmore, if a client does not log in for more than 45 days all profits or bonuses will be removed. If a trader receives a bonus, trading activity is measured by volume and the client will have to reach it to avoid cancellation. The minimum trading volume that must be reached needs to be equal to or higher than 10 times the bonus received from the broker. 
As we go further, we see another very ambiguous statement about trading activity. To cite the clause, "If the client does not perform any trading activity or the volume of the trading activity is very low for any period defined by the Company, the Company reserves the right to charge the trading account with a dormant trading commission, at a rate determined by the Company as follows": Inactivity for 60 days – 100 Units, 90 days – 200 Units, 120 days – 500 Units, 150 days – 1000 Units, 180 days – 2000 Units, 210 days – 4000 Units, and 240 days – 8000 Units. Finally, the broker states that they will remove any funds in the account after 12 months of inactivity and set it to the dormant status. 
Assets
Ashford Investments has an average instrument range overall. We have experienced a changing number of assets offered, some were erased from the list at one moment and others appeared, while other parts of the sessions showed another set. It is unclear what is happening with the positions left open on these occasions. According to the platform, Forex has a total of 36 currency pairs. Traders that seek more exotics or crosses will find better offers with other brokers. Notable exotics in the list are USD/RUB, USD/MXN, USD/PLN, EUR/ZAR, and EUR/RUB. 
Precious metals offer is not minimal, it consists of Gold, Silver, and Platinum. They are placed in the commodity set. 
Indexes range is below average compared to other brokers. There are a total of 7 Indexes and some of the majors are missing, such as the S&P 500, but there are also rare Indexes. Notable are AEX, IBEX, and VIX.
Stocks range holds a total of 60 companies. They are diversified across different countries and industry sectors. Most of the traders will like and recognize these major world companies on the list.
Commodities range is not limited to just two Oil types, WTI and Brent, but there are a total of 7 assets excluding precious metals. Traders will also find What, Sugar, Soybeans, Corn, and Coffee.
Cryptocurrencies offer the best category in terms of the number of instruments offered. Certainly, the most interesting assets to beginner traders are crypto and stocks as that is what is the closest to them. Ashford Investments has a total of 63 instruments in the crypto set. This is way more than what other brokers can offer. Bitcoin and other major coins are used in most pairs as a quote but also USD, GBP, EUR, and even CAD from fiat currencies. This way the range becomes unique and extended. Notable rarities are Ardor, BTC/CAD, Civic/BTC, Florincoin, Lisk, Gamecredits, Golem, Navcoin, NXT, Tether, OmiseGO, AUGUR, Steem, Stratis, Monero, Cardano, Zcash, 0x, and more. This is probably the best part of Ashford Investments. 
Spreads
The spreads are floating and have to be manually calculated as the platform or the website does not present them. Shortly, the most liquid currency pair, EUR/USD has 4 points spread, GBP/USD – 1 pip, USD/JPY – 1 pip, USD/CHF – 6 points, AUD/USD – 5 points, and NZD/USD – 6 points. The majors' spreads are average compared to the industry offer. Non-major pairs have some surprisingly tight spreads, such as for the GBP/NZD with only 1 point, NZD/CAD – 1 point, USD/SGD – 1 pip, CAD/CHF – 1 point, and so on.
Spreads from 1 point for minors are usually offered by DMA STP brokers connected to the interbank market, and charging the commission, which is not the case with the Ashford Investments. Exotics have unusually low spreads, for USD/MXN the platform shows only 1 pip spread, USD/PLN also 1 pip, Scandinavian pairs have around 1 pip spread. We have never seen spreads distribution like those with this broker. The spreads are very unusual and very competitive on the exotics. 
Precious metals spreads are very competitive. Gold has only 2 pips floating spread,  while 1Silver and Platinum have 1 pip. These precious metals spread values are the best in the industry. 
As we go to other categories, we encounter no spreads for the Indexes. We do not know a single broker who has 0 spreads constantly on all Index instruments. Cryptocurrencies spread starting from 1 point and do not behave as a floating type. We find these spreads too tight to be real, especially for coins with multiple digit prices and just 1 point spread. It is unlikely for the Ashford Investments to have sustainable business out of their inactivity fees since there are no commissions and unrealistically tight spreads for the majority of assets. 
Minimum Deposit
As stated by the broker, Silver Account requires a $2000 minimum deposit. Other accounts do not have minimums specified. Note that the accounts selection during the registration is not consistent with the ones stated on the web page. 
Deposit Methods & Costs
According to the Client Login page, only credit/debit cards are accepted. Costs related to deposits are not disclosed if any. 
Withdrawal Methods & Costs
There are no mentions of the costs for any method. Any profits gained above the initial deposit will need to be withdrawn by wire transfer. The withdrawal form will ask for the withdrawal reason and an agreement you will only request one withdrawal at a time. It looks like the only withdrawal methods are by card and wire transfer. The minimum withdrawal amount is $50 for card and 100 for wire transfer. 
Withdrawal Processing & Wait Time
According to the Terms and Conditions, the withdrawal procedure takes 24 working hours. It may take 5 to 7 additional business days for the funds to come to the target account.
Bonuses & Promotions
Bonuses offered are the classic additional funds allowed and withdrawable after certain trading conditions and volume is met by the trader. The trading volume required is the bonus amount times 20,000. We are not sure how the volume is calculated since the trades are not calculated in lots. Any profits made before the conditions are met will be nullified and the bonus will be canceled. Note that the broker also has a minimum activity required in the bonus is accepted by the client, as mentioned in the Trading Costs section of this review.
Educational & Trading Tools
The Academy section of the Ashford Investments webpage has a lot of unprofessional marketing phrases and mentioned e-books, videos, and courses offered for live accounts. Judging by the broker's use of words, we can assume that the educational content is similar.
Customer Service
Customer service is available only by phone and email. The phone is an IP protocol phone number and not tied to a location. We have not received any reply in 24 hrs by email.
Demo Account
The demo account is not promoted or available meaning the only way to try the service is by applying for a live account and depositing at least $2000.
Countries Accepted
The United States and Japan are the mentioned countries not able to receive the services of this broker. Note that the Ashford Investments website filters and blocks many countries and we had to use other methods to access the site. It is our impression that the broker is open only to countries with higher GDP per capita. 
Conclusion
This section of the Ashford Investment review will address the critical issues that play a dominant risk factor to investors. We have investigated Teres Media Limited, the company that owns the website, to easily find relations to many scams conducted and a name on many regulatory authority bodies fraud warning lists, such as FCA, ASIC, etc. The benchmark sites are full of negative reviews but the broker is responding to them, mostly in denial. The website is full of red flags starting with unethical promotion, terms, unprofessional content, restrictive platform, no transparency on any key elements, information inconsistencies, and so on.
Interestingly, the Teamviewer app seems also to be used with clients. This practice is very risky to the client's privacy and sensitive information stored on their computers. As for the customer reviews, the most common problem with this broker is the withdrawal denial, manipulation by the agents, delay of withdrawals, hidden fees, false promises, trading manipulation, phone calling abuse, etc. These brokers, or better to say deposit web pages, act as a net for naïve internet roamers, victims of email phishing, or commercials that type in their phone numbers. At that moment they became a lead for several calling centers located in cheap labor countries such as Serbia, and other Eastern European countries close to Bulgaria. IP phone callers will use stage names and push the client to deposit. The appearance of these kinds of brokers ruined the image of the brokerage industry.