This is a new brand that has been operating since 2018 under the SVGFSA regulation, but in 2020 traders will recognize a legit CySEC regulated broker with a full grant to cover EU clients. NBH Markets EU is owned by Fidelis Capital Markets (Cyprus) Ltd or SN Financials Ltd and another brand domain is nbhm.com. This domain is regulated by SVGFSA and offers different conditions not allowed in the EU. The broker is defined as having an NDD STP execution model, with orientation for an optimal environment also for MAM.
There are statements about having the execution time of 100ms for all accounts, a sign that the broker does not discriminate but also provides transparent, verifiable info. The website follows a mild style, without gimmicks, and very good information on trading conditions. Although some promotional phrases are present, such as being the leader in the industry, innovative and superior technology, etc, transparency is very good, as expected from a regulated broker. Spreads are presented for each instrument and for each account type, insurance coverage confirmation, clear examples, comparisons, a good FAQ page, and generally more info than we usually expect to be published on the website.
Highlights of NBH Markets EU is solid regulation, having a partnership with Trading Central (free signals), Lloyd's of London Insurance protection of up to $5,000,000, and both platforms support from MetaQuotes. As far as the ratings go from reputable broker benchmark sites, NBH Markets EU does not enjoy a lot of attention, especially since the new regulation license. Considering it is still a young brand, it could be that the marketing is not in full effect. We will review NBH Markets EU to present you with the best decision-making facts and uncover if this new brand could be a rising star in the industry.
Account Types
All the information about the account types is easy to find as NBH Markets EU has a clean and informative comparison page. Demo Account is the first thing mentioned on this page, a good signal the broker is looking for long-term clients. There are 3 account packages, Standard, Pro, and Elite. At a glance, they are not much different from the trading conditions but mostly on the trading costs. What is also eye-catching are the huge gaps in the minimum deposit amount. The Standard Account has a reasonable minimum deposit but a bit higher than most other brokers ask for an entry tier account.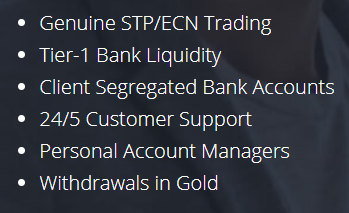 Trading costs differences are just with the commission, spreads are the same except for the Elite Account for which they are a bit tighter. Interestingly, the accounts comparison table also states Stop levels, something most brokers are not considering as important, but for fast trading strategies, it is. The leverage is the same for all accounts as the broker is under the ESMA directives.
The Pro Account requires a very high minimum deposit requirement without a major benefit except for a bit lower commission. Even the spreads comparison table does not show any differences from the Standard Account. Elite Account has the biggest deposit requirement and somewhat lower commission and spread. All other conditions are the same for all accounts. News trading, hedging, and scalping are all allowed on all platforms. USD and EUR base currency accounts are available only.
Swap-free accounts are available but with a limitation. As per the NBH Markets EU  statement, swap-free trading positions may be held for a maximum of 5 days, beyond that period the normal Overnight Fee will apply.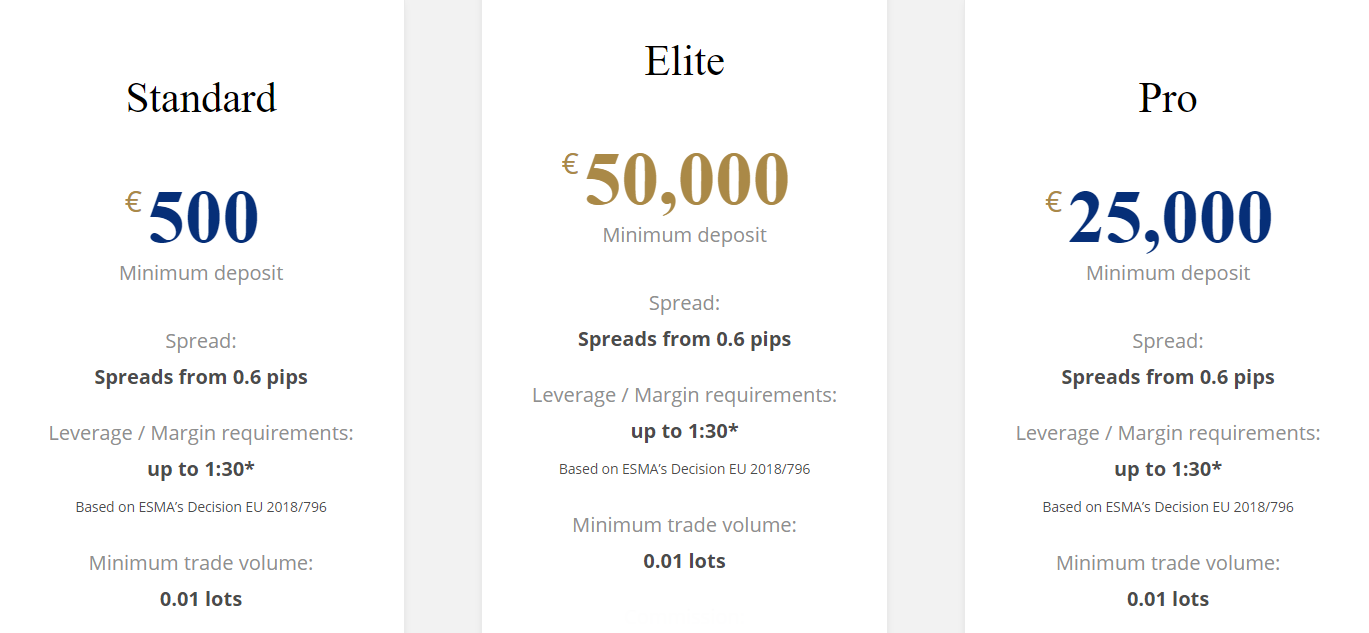 Platforms
NBH Markets EU has both MetaTrader 4 and MetaTrader 5 platform pages. MT4 platform licenses are discontinued and new brokers will have to rely on MT5. The MT4 platform does not have all the features MT5 has but most will appreciate the support MT4 has with indicators and Expert Advisors. MT5 is better overall, but traders do not think the offer is substantial and good enough to forgo the vast indicator and EA availability MT4 has built over the years. These platforms are available for Windows, Mac, and also on mobile devices running on Android and iOS. Web-accessible should also be available for those wanting a quick view without any installation but the NBH Markets EU offers only one option – MT4/5 for Windows and mobile devices. For mobile devices only via the link on the login page.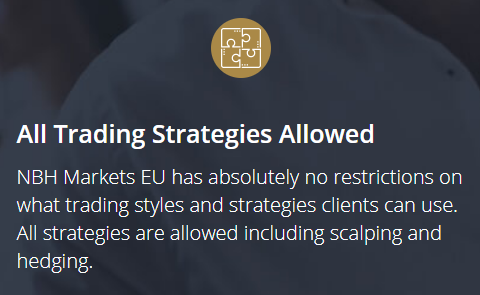 To our surprise, the page dedicated to the MetaTrader 4 platform is providing a download link with an MT5 installation, named as MT4. While the MT5 page link is downloading a different EXE file by name and size, we are not sure if this is an error or if the MT4 is not supported. Probably the new EU branch does not have the MT4 license as it is a new company under CySEC from 2018.
At this point a major problem is evident. On the NBH Markets EU Login page, there is a request to open an account but only for the MT4 platform. Since the above problem with a link only for the MT5, even when on the right web page, it does not look possible to open an account. For this reason, we will not publish the direct market conditions within the platform but what is stated on the website alone. 
VertexFX platform is also mentioned on the NBH Markets EU website, but there are no dedicated pages or any links to the VertexFX platform. 
Leverage
Per ESMA 2018/796 regulations no instrument can have a leverage of more than 1:30. Since NBH Markets EU is under the CySEC regulation that adheres to EU directives, the only option to have leverage higher than 1:30 is by becoming a Professional category trader. This is done via the request and a trader will have to pass the requirements. These are posted on the Elective Professional Client Procedure page of the broker's website. Note that by becoming a Professional category trader, you will cancel some benefits Retail traders have. For example, you will not be eligible for the Investor Compensation Fund that ensures clients up to €20,000 or the CySEC, no negative balance protection, and other published benefits Retail traders have. 

We were unable to check directly what is the instrument's specific leverage from the platforms but based on the strict presentation regulation, any invalid data should be quickly corrected. Based on tables on the website, the majority of Forex currency pairs do not have the full 1:30 leverage. Only majors like the EUR/USD, USD/JPY, and the rest have 1:30, while all others are set to 1:20. This includes the exotics like the USD/MXN, USD/TRY, and others. Spot Gold against the USD and EUR has leverage up to 1:20 and Spot Silver has 1:10. Indices and Energies have a fixed margin per lot, therefore special leverage conditions, all lower than 1:30.
Trade Sizes
Trade sizes for all accounts types are in micro-lots, or 0.01 lots. Since all the instruments hold the standard contract sizes, there are no surprises as to how much a trader can minimally trade. The maximum trade volume size is set to 100 lots and for the Elite Account, this can be set to other levels. Stops level is set to be 10 points or 1 pip. This Stops level is low enough even for scalping techniques. To those not aware, the Stops level defines the range around the Bid/Ask price in points where a trader cannot place Stop Loss or Take Profit orders, therefore forcing the trader to move these orders further away. A Margin call is set to 100% level and Stop Out is at 70% for all account types.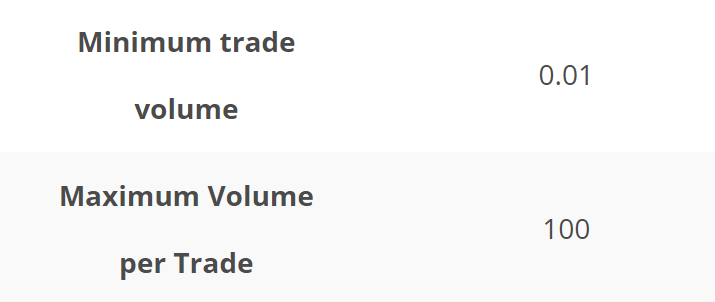 Trading Costs
NBH Markets EU is a commission-based broker used on a low spread NDD STP execution model. This means the broker should offer very competitive spreads from the direct interbank market access and earn their profits from the commissions. For the Standard Account, the commission is the highest at $8 per lot traded. Pro Account commission is lowered to $ 5 per lot traded and the Elite Account has a different calculation, $20 per million units traded. Since 1 lot is 100,000 units in Forex currency pairs, this means Elite Account has a $2 commission per lot traded. As for other costs not related to spreads, negative swaps are the only left if you are not applying for the Islamic, Swap-free account. 
Swaps are tripled on Wednesdays and there are positive ones. They are calculated in points. For a quick insight of the swap levels, the EUR/USD the long position swap is -9.9 points and a positive 3.96 points on the short, GBP/USD has -7.37 on the long and 0.09 on short, AUD/USD is all negative with -3.74 on the long and -0.11 points on the short, USD/JPY has 2.52 long and -8.47 short and the USD/CHF is with 3.96 on the long side and -9.9 points on the short.
Some all negative swaps pairs among the minors are for the EUR/CHF with -1.87 points on the long and -3.74 on the short, AUD/NZD with -4.29 on the long and -1.98 short, GBP/AUD with -6.93 long swap and -4.95 points short, or -8.47 long side and -4.84 short for the GBP/NZD. The biggest swap is for the Scandinavian pairs and exotics like for the EUR/TRY with -317.13 long and 157.68 points short, EUR/ZAR with -448.03 long and 247.32 points short, and USD/MXN with -444.95 long side swap and 175.95 points short side. 
Spot Gold against the USD has a -13.75 points long side swap and a positive on the short with 2.97 points. Against the EUR, spot Gold has 3.15 points on the long and -15.4 points on the short. For some traders interested in holding a position longer, this could be a good option to select a side with a positive swap on the same asset but a different quote currency. There are no other fees stated by the broker.
Assets
As a young brand, NBH Markets EU offers just 4 categories of assets, Forex, Precious metals, Energy assets, and Indexes. The best offer is the Forex with a total of 44 currency pairs. The most interesting are the exotics, USD/MXN, USD/ZAR, USD/TRY, EUR/ZAR, EUR/TRY, and the Scandinavian pairs.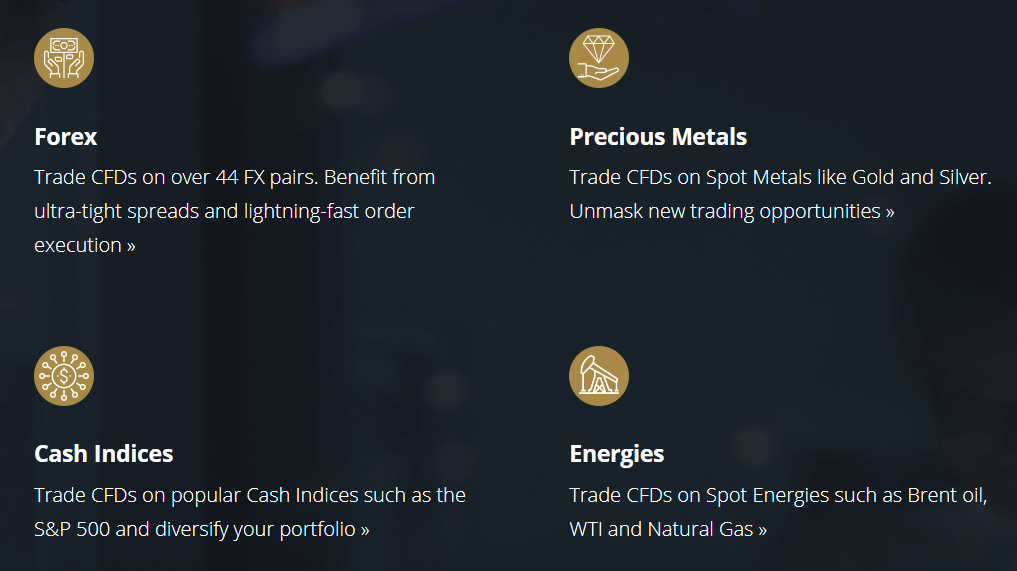 Precious metals are limited to spot Silver and Gold. A nice addition is spot Gold against the EUR so traders can have some other options between the two most liquid currencies. Commodities range is limited only to the energy assets. Both Oil types are present, WTI and Brent with the addition of Natural Gas. Indexes range is comprised of cash contracts CFDs adjusted for benefits and costs. There are a total of 10 indices and all are well known. Notable indexes are IBEX, CAC 40, EUSTX 50, and ASX 200.
Spreads
Interestingly, the website seems still incomplete so we have found some inconsistencies with the spread values on different pages. One page will promote from 0 pips spread and the other will state from 0.6 pips. We will mention the ones published in the instrument table. All spreads are a floating type. Standard and Pro Account features spread from 0.6 pips but there are differences in the average values. The disclosed average values do not have period calculation mentioned. EUR/USD has an average spread of 0.6 pips meaning it rarely goes above or there are some times when it is lower. USD/JPY has 0.7 pips, GBP/USD 0.9 pips, AUD/USD 0.7 pips, USD/CHF 0.8 pips and NZD/USD 0.9 pips.

From the minors the biggest spread is with the GBP/NZD and GBP/CAD with 2.4 and 2.3 pips average spread. Exotics have competitive spreads. For example, USD/TRY has 6.7 pips, USD/MZX 10.1 pips, EUR/TRY 18.6 pips and the wide spread is for the EUR/ZAR with 41.8 pips on average. XAU/EUR has 34 pips spread, which is competitive, and XAU/USD is even better with just 16 pips on average. Elite Account spreads are about 20 to 50% tighter than what Standard and Pro Accounts have.
Minimum Deposit
The minimum for the most affordable Standard Account is $500. Considering the leverage for Retail Traders of 1:30, this is an optimal entry amount. For the Pro traders will need to have at least $25,000. A huge step up but without any substantial benefit. The final, Elite Account requires $50,000. 
Deposit Methods & Costs
According to the Client Login panel, there is only one option for a deposit, Bank Wire transfer. This means the broker still has not established connections with the e-wallets and other payment processors. In the Deposit and Withdrawal page and the FAQ, Credit/Debit cards are also mentioned but these are not available from the Members Area. All deposits of $5,000 and more do not have any costs associated.
Withdrawal Methods & Costs
Same as deposits, only the Bank Wire channel is available for withdrawals currently. Note that the FAQ and other pages on the NBH Markets EU website mention Skrill, Neteller, and bank cards but in practice, they are still not implemented at the moment of this review. There are no fees charged by the broker.
Withdrawal Processing & Wait Time
Bank wire transfers will take 3 to 5 business days according to the broker.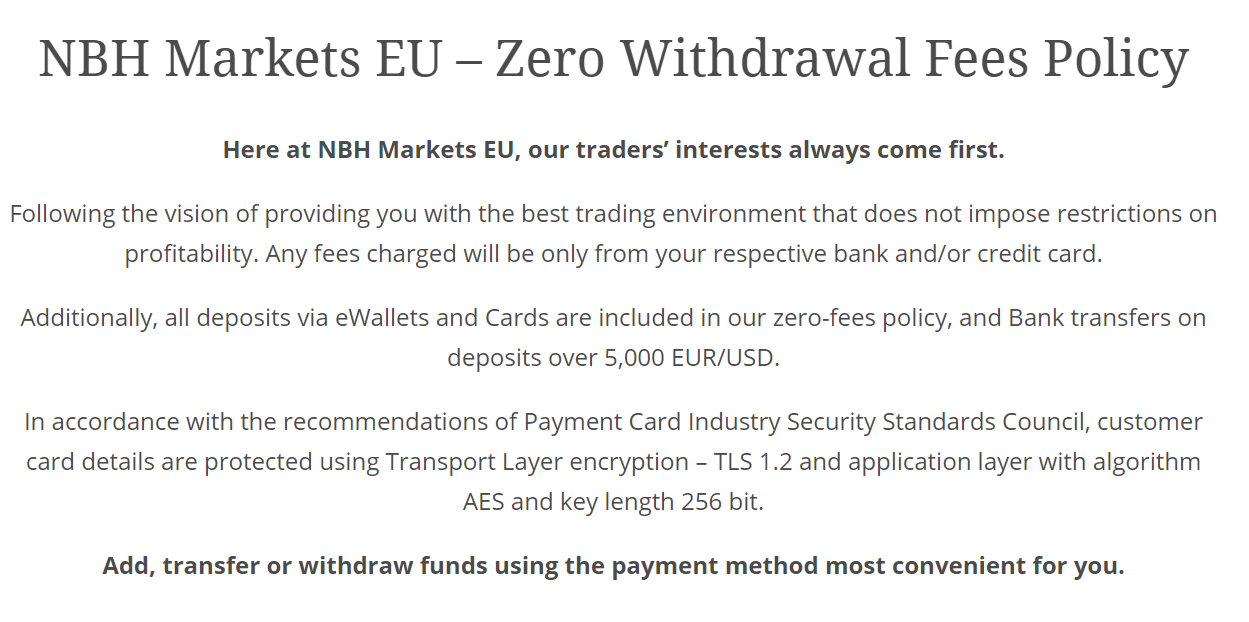 Bonuses & Promotions
Bonuses and promotions are available only on the other NBH Markets domain, nbhm.com. This EU domain is not allowed to have such practices. 
Educational & Trading Tools
Unfortunately, NBH Markets EU does not offer any educational content on their website. There are no Economic Calendars or other tools except what is integrated into the MT5 platform. Trading Central service connection is also mentioned but we have not detected any kind of this signal service content. This is probably still in construction. 

Customer Service
NBH Markets EU does not have a chat service. The broker can be contacted only by phone and email. We have not received an answer from this broker in 24 hours. There is also a Callback request form. Note that Facebook and other social media pages are related to the other NBH Markets domain under the SVGFSA regulation.
Demo Account
This broker does now offer demo accounts. These are free of charge and feature some of the benefits shown below.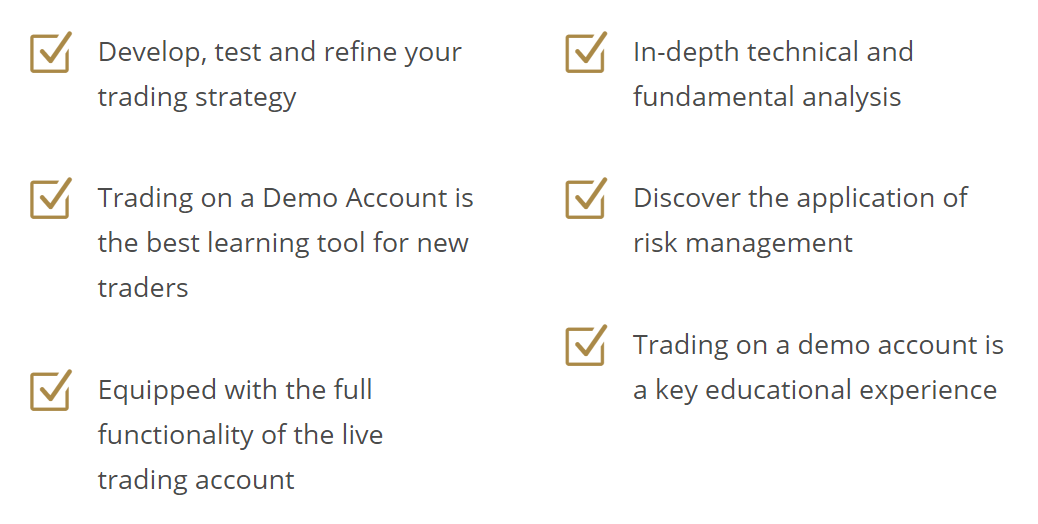 Countries Accepted
According to the CySEC license and the NBH Markets EU website, clients from Bangladesh, Belarus, China, Egypt, Hong Kong, Indonesia, Kazakhstan, Lebanon, Malaysia, Mexico, Nigeria, Qatar, Russia, Saint Vincent and the Grenadines, Switzerland, U.A.E., Ukraine, Vanuatu, and the EU are eligible for services. 
Conclusion
We will conclude the NBH Markets EU review with additional information we have found critical for making an investment decision. We have noticed this broker has an 85.19% losing clients rate, a higher figure than the average in the industry. Still, we are not sure for what period is this calculated as at the current state NBH Markets EU cannot receive any new clients. It is not known when the broker will fix all the issues with the platform and the Members Area but for now, we can expect a solid regulated broker in the future. Some additional values certainly need to be incorporated, be it in a form of Signal service, VPS, spreads, assets range, special tools, indicators, or EAs if NBH Markets EU wants to stay competitive. The CySEC license has some requirements to be attained so we can expect something new from this broker soon.