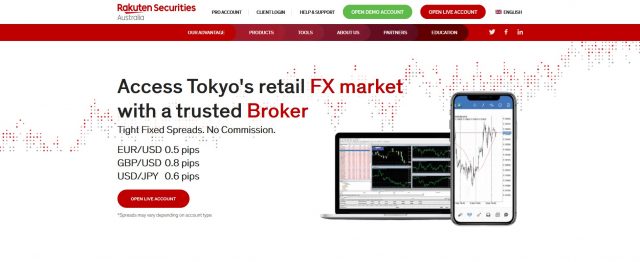 Rakuten Securities is an Australian-based foreign exchange broker. Their aim is to focus on the fundamentals of being a good broker, highly competitive spreads, excellent local customer support, and the enduring strong principles of Rakuten, Inc. by which to run our business. We will be using this review as a way to find out what services are on offer and to help you decide if they are the right broker to use.
Account Types
There are two different accounts available, we have outlined their key features and requirements below, strangely they don't have specific names so we will name them Account 1 and Account 2.
Account 1: This account requires a minimum deposit of $50, it comes with a maximum leverage of 1:100. Trade sizes start at 0.01 lots and it uses fixed institutional spreads. There are 40 currency pairs to trade along with Gold, Silver, and Indices. There is no added commission on trading when using this account.
Account 2: This account requires a minimum deposit of $50, it comes with a maximum leverage of 1:400. Trade sizes start at 0.01 lots and it uses fixed institutional spreads. There are 40 currency pairs to trade along with Gold, Silver, and Indices. There is no added commission on trading when using this account.
*NOTE* Additional accounts (Retail and Pro VIP) have been added since the original Rakuten Securities review was completed. See the details for those accounts above.
Platforms
Rakuten Securities uses the MetaTrader 4 platform. There are also two social trading platforms available to use, the first being ZuluTrade and then AutoTrade. ZuluTrade hosts the largest social trading community, where Myfxbook AutoTrade is a next-generation trade copy service owned and operated by Myfxbook. 
Leverage
Both accounts come with different maximum leverage, one account has a maximum of 1:30 while the other 1:400. The leverage can be selected when opening yo an account, it can then be changed by contacting the customer service team with your request to change the leverage.
Trade Sizes
Trade size starts from 0.01 lots and goes up in increments of 0.01 lots so the next trade would be 0.02 lots and then 0.03 lots. The maximum trade size for forex pairs is 20 lots while it is 10 lots for Gold. We do not know how many open trades or orders you can have at any one time.
Trading Costs
There are no added commissions on any of the accounts from Rakuten Securities as they use a spread-based system. There are however swap charges, these are interest fees charged for holding trades overnight, they can be both positive or negative and can be viewed within the Metatrader 4 trading platform.
Assets
Unfortunately, there is not a product specification available, the online information that we know is that there are 40 currency pairs, Gold, Silver, and indices available to trade, we do not know any more than that.
Spreads
There is also very little information on the available spreads, the information that we do have is just that they offer fixed institutional spreads. Fixed spreads mean that they do not change with the markets, however, the FAQ states that during bank holidays or periods of low liquidity they will turn into variable spreads.
Minimum Deposit
The minimum deposit amount required to open up either of the accounts is $50, we do not know if this amount reduces once an account has been opened.
Deposit Methods & Costs
The main methods available are NAB, Neteller, Skrill, UnionPay, and Instant Transfer. When using Skrill you also gain access to the use of Visa, MasterCard, Maestro, Amex, and Bitcoin. There are no added fees for deposits, however, you should check with your bank or processor to see if they will add any fees of their own.
Withdrawal Methods & Costs
The same methods are available to withdraw with, we have listed them below along with any applicable fees added to them.
Neteller – 2% fee

Skrill – 2% fee

China UnionPay – No fee

Instant Transfer – No fee

NAB – AUD $25.00, USD $25.00, EUR €20.00 or GBP £15.00. Domestic AUD Withdrawal fee waived

Withdrawal Processing & Wait Time
We have outlined the expected withdrawal processing times for each available method.
NAB – Domestic: 1-2 business days (International: 3-5 business days)

Neteller – Up to 1-2 business day

Skrill – Up to 1-2 business days

China UnionPay – Up to 3 business days

Instant Transfer – Up to 3 business days
Time will vary depending on the processing time of the method or bank used.
Bonuses & Promotions
It does not seem that there are any active promotions at the time of writing this review. This doesn't mean that there won't be any in the future, so be sure to contact the customer service team to see if any are coming up if you are looking to get any bonuses.
Educational & Trading Tools
The educational side of the site offers some analysis and features to help you trade. The first is surrounding real-time trading ideas, this is coming from tweets that tell you potential trade setups. There are daily market updates in video format but these have not been updated since May 2019. The long-term insight section again has not been updated since April 2019 but should show you potential long-term trade ideas. There are also technical levels and trading ideas which again have not been updated recently. 
The Autochartist MT4 plugin Identifies the best technical charting setups on all available currency pairs. You can select the probability of the price action moving into the target area with Autochartist backtested charting software. Autochartist offers features to help with your trading, it can identify and react to market movements, check the quality and competitiveness of your broker's pricing, manage your cash exposure, optimize your stop loss and take profits, capitalize on known outcomes of news events and identify and react to market movements that are not typical.
Customer Service
There are a number of different ways to contact Rakuten Securities, You can use the provided postal address, phone number, skype username, or WhatsApp number.
Address: Suite 5, Level 9, 3 Spring Street Sydney NSW 2000, Australia

Email: info@sec.rakuten.com.au

Phone: +612 9247 2483

Skype: Rakuten Securities Australia

WhatsApp: +614 5187 4916

Demo Account
You can open up a demo account that allows you to test out the markets and strategies without risk to your own capital. You can select leverage of 1:100 or 1:400 and the account comes with a balance of 10,000 in either AUD, GBP, USD, or EUR. We do not know if there is an expiration on the account though.
Countries Accepted
There isn't any specific information but the following statement is available from Rakuten Securities:
"The information on this website may be accessed worldwide. This information and the products and services referred to on this website are only intended for recipients located in jurisdictions where the use of or access to the information, products or services does not constitute a breach of any law or regulation."
If you are interested in an account and are not sure of your eligibility, we would recommend contacting the customer service department to find out prior to opening up an account.
Conclusion
There are two accounts available but they don't seem to have any differences apart from the available leverage. Of course, we did not have enough information on the spreads to know if there was any difference regarding them. We also do not know what assets are available as there wasn't a full breakdown which is a shame as many potential clients like to see if their preferred instruments are available before signing up. There are plenty of methods to deposit so that should be an issue and there are only fees for some of the withdrawal methods.