UOB Kay Hian is a foreign exchange broker that is based in Singapore. There isn't much on the site in regards to their history, instead, there is a single page indicating what some of their main selling points are, they include impeccable credentials, insightful research, user-friendly platforms, competitive rates, an extensive range of products and holistic investor educations. That is what they say about themselves, so we will be using this review to look at what is really on offer from UOB Kay Hian.
Account Types
There isn't an online account comparison as there is just the single account type, in order to open one up you will need to go directly to the offices in Singapore, and to be eligible you must be a Singapore citizen, Singapore permanent resident, or have an employment pass. As we go through this review we will look into the services in different sections, anything that we outline will be relevant to the single account type available.
Platforms
There are three different trading platforms available, we have briefly outlined them below.
UTrade Platform
The UTrade platform allows you to trade and purchase stocks listed in Singapore, Malaysia, Hong Kong, China, and the US. A few of its main features listed are its ability to change the way you trade, have access to research insights, invest smarter with sophisticated tools, interact with live price charts, access your statements online and to trade more and enjoy exciting rewards.
CFD Platform
The UTrade CFD Pro platform allows you to trade CFDs, a few of its main features include the ability to track market activity with live quotes, create watchlists, perform smart search, you can check your portfolio, monitor margin requirements, and oversee your order book.
Forex Platform
This platform uses MetaTrader 4 which is one of the most used platforms around the world. When using this platform with UOB you get access to 44 currency pairs, seamless and advanced orders, transparent trades, a user-friendly experience, deep liquidity, access to automated trading, configurable trading tools, and access to community trading, the platform can also be used as a desktop download, mobile application or WebTrader.
Leverage
The maximum leverage available is 1:20 which is mentioned on the Levergeaed Foreign Exchange page. There is no other mention of leverage on the other asset pages so as far as we know this is the maximum leverage available. On the same page, it does also state that there is high leverage so we are not sure if they consider 1:20 as high, or if there is, in fact, higher leverage available.
Trade Sizes
We could not locate any information regarding the trade sizes, either the minimum or maximum, or even how many trades you are able to have at any one time.
Trading Costs
There are commissions charged when trading but we are currently not sure exactly what they are, we just know that they are present on all instruments except for forex and metals, where there is no added commision., we would expect swap charges to be present but we cannot say for sure as there is no relevant information about them.
Assets
There doesn't seem to be a full breakdown of the available assets, instead, all we have is a few different categories which are bonds, CFDs for equities and indices, EFTs, equities, and Forex currency pairs. There isn't a break down of the instruments within them so that is all that we do know, there are 40+ currency pairs available, but no list of what they actually are.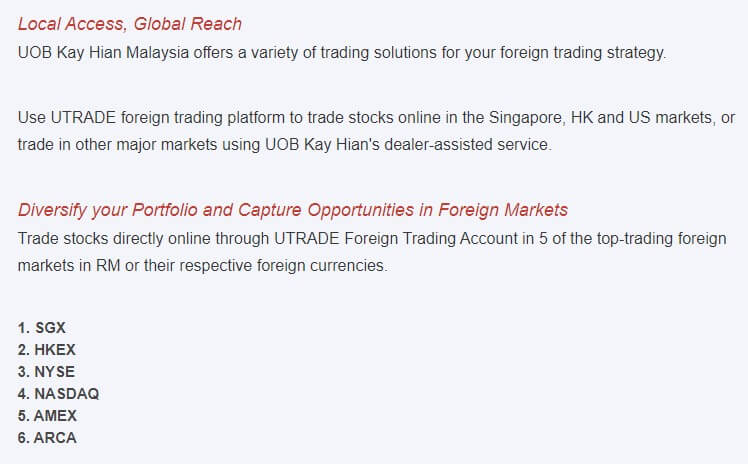 Spreads
When trading forex the spreads are starting from as low as 0.8 pips, this is the starting figure and as the spreads are variable, when there is added volatility or less liquidity in the markets, the spreads can often be seen higher than this figure. Different instruments will also have different spreads, so while they may start at 0.8 pips for some, others will start higher at 1+ pips.
Minimum Deposit
This is yet another aspect that we do not have any information about, nowhere on the site that we could see did it state what the required amount is to open up an account.
Deposit Methods & Costs
There was a mention of bank transfers on the site, but no solid information on the available methods or any added commissions for depositing. As you are required to be there in person to open up an account we would expect electronic payment providers to not be accepted and more formal processes of bank transfers to be the only real option.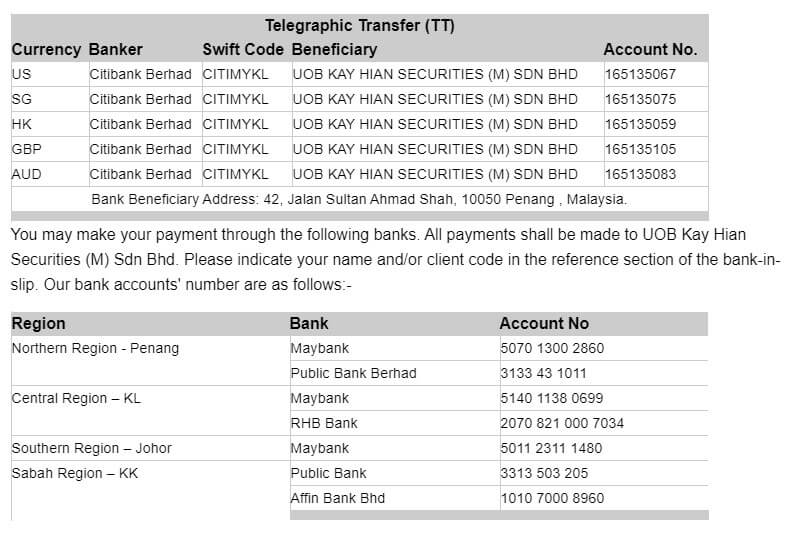 Withdrawal Methods & Costs
There is no information pertaining to withdrawals, so we do not know which methods are available or if there are any added fees from UOB Kay Hian when withdrawing.
Withdrawal Processing & Wait Time
As we do not know which methods are available to withdraw, we also do not know how long it will take for withdrawals to fully process, we would hope that it would be within 7 days of a request being made but we cannot say for sure.
Bonuses & Promotions
There are 14 different promotions active at the time that we are writing this review, far too many for us to go over, but we will take a look at a few of them just to give you an idea of the sort of promotions that are available. 
Alternative Product Promotion
When you trade CFDs and leveraged products you will earn points, when you trade you gain points for the commissions on CFDs or for each 400,000 volume traded on forex and metals. You gain 3 points for every 400,000 volume traded and the smallest prize will need 1,000 points to earn it. So it will take a while to achieve.
50th Anniversary Lucky Draw
Every $100 deposited gets you an entry into the draw, there are monthly draws for $2,000 and then a grand draw in August for $50,000.
Educational & Trading Tools
There are a few different tools available, they include things called the CahrtGenie, ShareXplorer, Stock Alerts, StockScreener, and TechAnalyzer, they are all different ways to help you analyze and watch the markets for trades. Ther is also a research page which has different previews and news from around the trading world, we could not see the quality of it as you are required to log in to view it properly.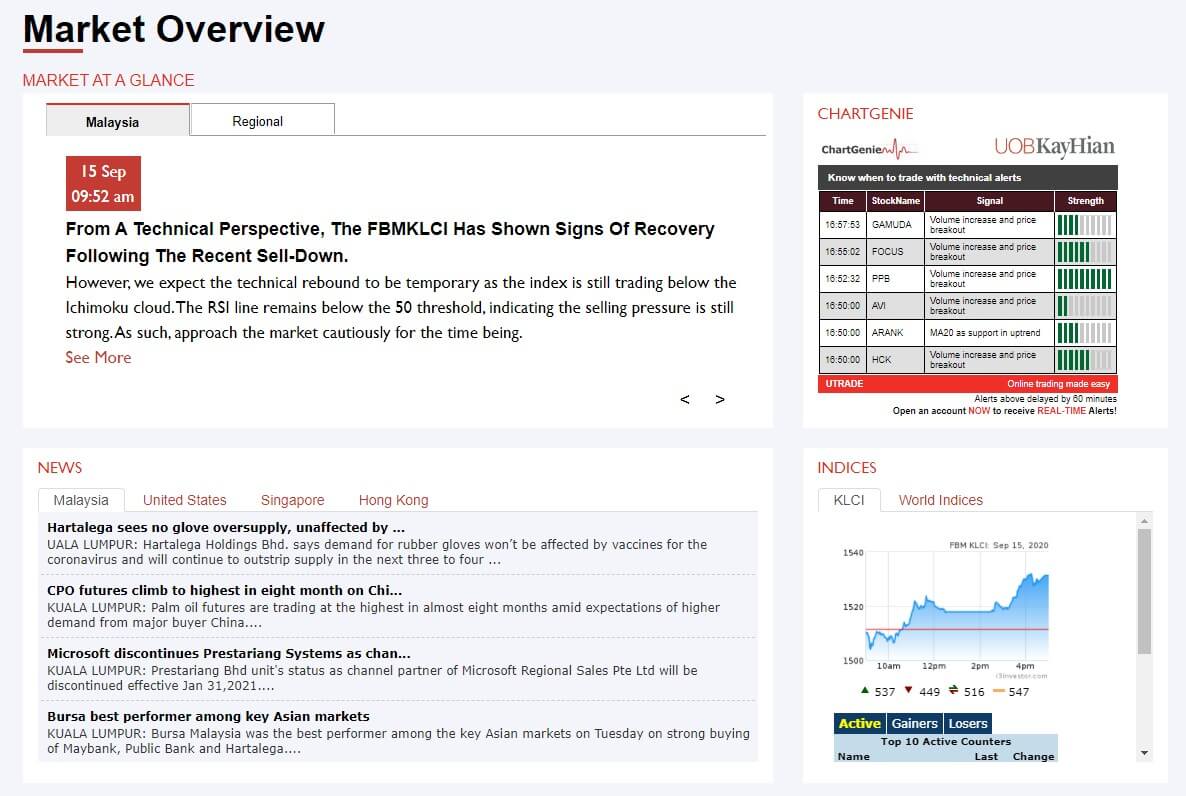 Customer Service
There are plenty of ways to get in contact with UOB Kay Hian, their customer support team is available from 8:30 am to 6 pm from Monday to Friday. You are able to contact them using an online submission form, fill it in and you will get a reply via email, you can also use the provided postal address, email address, or phone number.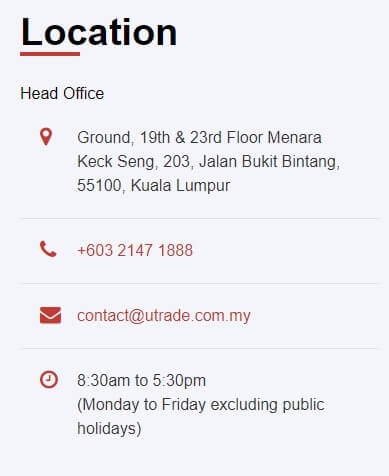 Demo Account
There may be demo accounts available but there isn't a way to open one up from on the website. As you need to go in person to open up an account you will most likely need to do that before you are able to open up a demo account. If demo accounts are available, they would allow you to test out the market without any real risk.
Countries Accepted
The following message is displayed at the bottom of the website: "This site is not directed at residents of the United States and countries belonging to the European Economic Area and is not intended for distribution to or use by any person in any country or jurisdiction where such distribution or use would be contrary to local law or regulation."
Conclusion
UOB Kay Hian is clearly targeting their brokerage services to those that are living in Singapore, and this is obvious due to the fact that you need to live there in order to open up ana account. There isn't a whole lot of information on the site and we assume this is due to them being a slightly more physical based broker so most of the information you will most likely get from them in person. The trading conditions are not fully known, and neither is the full breakdown of available assets. So if you are from Singapore then visiting them could make it worthwhile, but for those living in a different country, you will need to look for an international broker to join.