Cycle Finder Pro was uploaded by Raymond Gilmour on the 13th of December 2016 and is currently located on the MQL5 marketplace. It received its most recent update on the 22nd of March 2020 and is currently on version 3.8.
Overview
Designed for the MetaTrader 4 trading platform, Cycle Finder Pro is a chart reading indicator that has been designed to look for price action, cyclicity, and time frame correlations. The indicator will work on any time frame and all market symbols, it will look for specific patterns such as Head & Shoulders if all points match then a signal will be created. There are two adjustable parameters available, these are the marker offset for H/L values in pips and the ATR multiplier.
Service Cost
The Cycle Finder Pro indicator can currently be purchased with a one-off payment of $49, this will get you unlimited access to a version without any limitations. There is also the option to rent the indicator, this can be done on a monthly basis and will cost you $29 per month.
There is also a free demo version, it will have some limitations and may only work with the strategy tester, but we cannot say for sure as the information is not present on the site, we would recommend trying it out regardless just to see the quality of the software you may be purchasing.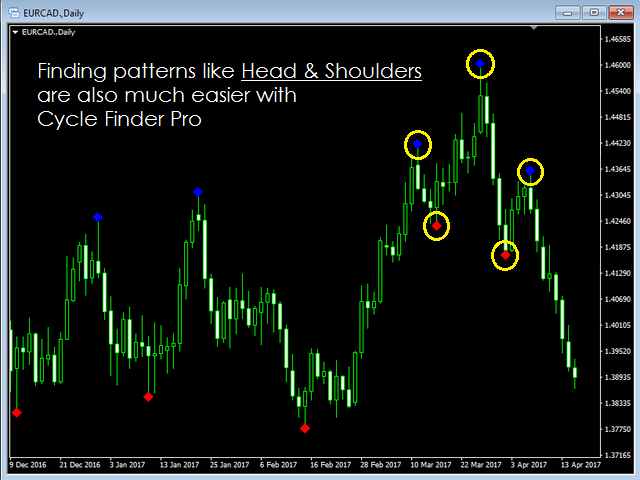 Conclusion
The Cycle Finder Pro currently has eight different reviews, all very positive giving it an overall rating of 5 out of 5.
"This is an excellent indicator and highly recommended to put the odds in your favour whatever current system/method your are already using. Thank you Mr Raymond Gilmour for sharing this concept and coding it. Hope this is not too much to ask – but would you consider adding a multi-time-frame feature? Very much appreciated." – A 5-star review.

"I love this indicator, it is saving me a lot of time and provides confirmation where there is doubt. I'd been drawing zig zag lines to mark cycles and it's great to see the back of them, leaving a clean view with neat indicators. What's not to like?" – A 5-star review.

"Hi Raymond. Thank you for your indicator. Been playing with it all day and its great for spotting trend and cycles. I know I still do not read charts consistently and this has showed me many I have been reading wrong. This will save me so much money. Thank you again." – A 5-star review.
So the reviews are all very positive which is a great thing to see, in terms of customer support, the developer has been replying to most comments quite promptly, there haven't been any comments for a while so it is not clear whether they are still actively supporting the indicator, due to this we would recommend sending any queries that you have to them and see how the support is before you make a purchase or a rental.