Stochastic with AMA filter is an indicator that offers a simultaneous stochastic indicator (oscillator) with signal line filtration by means of the adaptive moving mean (АМА). The developers of this indicator have also added a multicolored signal line display feature. In addition, signal line values below the specified minimum level or above the specified maximum level can be highlighted.
The parameters of this indicator are as follows:
Period K – period K of the stochastic oscillator

Deceleration – the period of deceleration of the stochastic oscillator

Price field – Stochastic Oscillator Used Price Mode

Maximum level – maximum level value

Minimum level – minimum level value

Showcoloredama – enable/disable color signal line display

Showarrowsupdn – enable/disable the display of color signal line in dot form

iPeriodAMA – Period of smoothing

Fastestama – fasting period АМА

Slowstama – slow period АМА

dSMT – power for calculation of АМА

Methodama – АМА smoothing period

Arrow up – signal line growth symbol code

Arrow down – signal line drop symbol code

Arrowext – code to highlight signal line values outside the minimum and maximum levels

Add digits – increasing the number of decimals in indicator values

Activate alert message at line crossing

Activate alert notification at line crossing

Activate alert sound at line crossing

Alert sound file name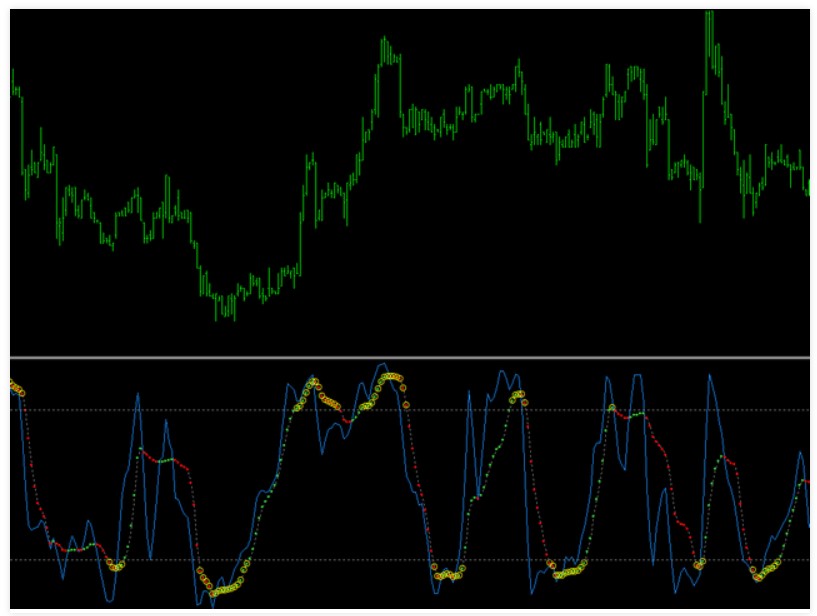 Yellow circles are the indicator values above and below the oversold and overbought levels. To enable the display of arrows (colored dots), change the parameter ShowArrowsUpDn.
The price of this indicator, available on the MLQ5 market is only 30 USD. As affordable as it is to purchase the indicator outright, there is a cheaper option which is to rent it for the price of 10 USD for a period of one year. 
At the time of this review, only one user review was provided by user Chao Tang:
"Good trading indicator. Thank you, inventor!"
Although the indicator was created in February 2015, it has hardly any user comments or reviews on third-party websites, so we cannot make an assessment that takes into account users' views. Fortunately, it is available at a very affordable price which allows for use without much financial risk.