Market Reverse Signal is an indicator created in March 2018 by developer Evgeny Belyaev. Evgeny Belyaev tells us that this arrow indicator, called Market Reverse Signal, generates input signals in the direction of the trend, without drawing again. Its operating algorithm is based on an original proprietary method that combines multiple tools for technical analysis of the market.
Overview
This technical Forex indicator makes it possible to find potential trend reversal points (when the trend changes direction) and to receive market entry signals when the trend is beginning to form.
The main advantages of this indicator are:
Suitable for both scalping and intraday trading.

It eliminates the need to draw again.

Works in all time frames, ranging from M1 to D1.

User-friendly functionality.

The indicator has an integrated alert with the possibility of sending messages to the email and the smartphone when a new signal appears.
Market Reverse Signal Usage Recommendations:
Buy sign: Buy when the indicator arrow is directed upwards.
Sell sign: Sell when the indicator arrow is headed downward.
Recommended trading symbols include GBP/USD, AUD/USD, USD/JPY,USD/CHF, EUR/JPY,  and EUR/USD. It can also be used in indices and stocks but has shown better Forex efficiency. The indicator has been shown to be more cost-effective when used in time frames from M5 to H4.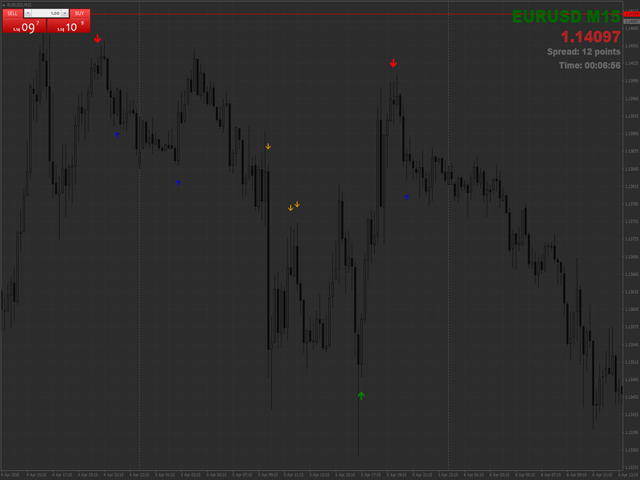 The main parameters of this indicator are:
Period: this will be the primary parameter and is responsible for the period of calculation of the indicator.
Alert: Enable/disable alert. If true – enabled, If false – disabled.
Email: Enable/disable sending emails. If true – enabled, false – disabled.
Push: enables/disables sending messages to the mobile terminal. If true – enabled, false – disabled.
Service Cost
This indicator is available for sale on the MQL market at a price of 34 USD. It is not possible to rent it due to its adjusted price, but the demo version is available for you to test and evaluate if it is useful to your trading style.
Conclusion
Perhaps the main feature of this indicator is that it is extremely simple to use and to understand, therefore it is suitable for all types of traders. Beginner traders will feel very comfortable with this indicator.
As we have commented in other reviews, if you already have a trend indicator, it is advisable to complement it with another different indicator, in order to optimize the input signals and try to make the inputs to the market as successful as possible.
We have not found user ratings about this indicator, we have only been able to observe a series of screenshots that the developer facilitates to visualize in various scenarios how the indicator behaves and in which points he launches the signals of purchase and sale, And the gauge really does it very well.