PZ Fractal Channel MT4 is an indicator created in August 2019 by developer Arturo López Pérez. Arturo López Pérez is a private investor and speculator with years of experience in the markets, software engineer, and founder of Point Zero Trading Solutions. It is a very active creator of products for the MQL community and has several free and paid tools.
PZ Fractal Channel MT4 is a very simple but very effective indicator for trading breakdowns of variable fractal periods. A fractal is a price formation within an odd number of bars, finding in the middle bar the higher or lower price pivot of the formation. These prices are as short-term support as well as resistance levels, which PZ Fractal Channel uses to form a pricing channel and teach the shoots.
Some features of this indicator are:
Easy to use and easy to understand.

Fractal shoots can start long tendencies.

The fractal channel is a great stopping method.

It's no painting and no repainting.

Implements alerts of all types, email, Smartphone, and PC.

Customizable colors and sizes.
The developer says that if we consider higher periods, this will lead to more reliable outbreaks, although these types of signals will appear less frequently. This indicator must be confirmed by a higher time-frame analysis. In general, you will want to increase the fractal period for shorter periods and reduce it for longer periods.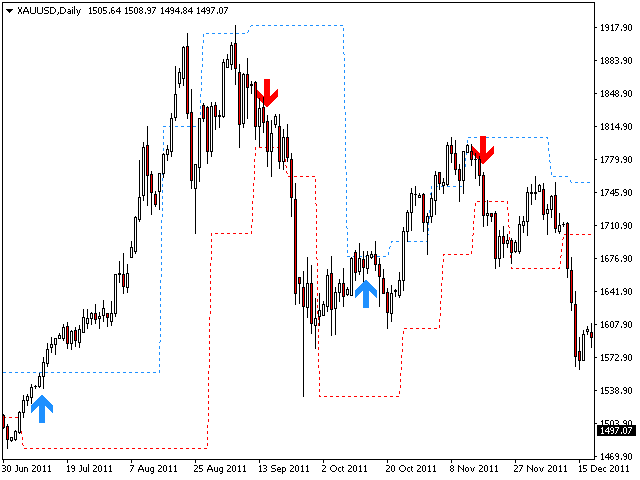 PZ Fractal Channel MT4 input parameters:
-Period: Number of bars from which fractals are calculated. It must always be an odd number.
-Shoots: Activate or deactivate the shoots.
-Colors: Customize arrow colors and size.
-Alerts: Enable or disable alerts of all types.
In short, we are talking about an indicator that takes into account the price movements in a given time-space in which fractals are calculated. Less experienced traders may not be familiar with fractals, so we advise you to study their performance beforehand so you can understand how this indicator works.
There are no previous comments or experiences with this indicator, there are no users who have advised or counted their experience with it. In any case, we are certainly talking about an ancillary indicator to others that we already have, because in itself it is not a reliable trading system. We always recommend using 3 or more indicators to calculate market inputs or outputs better.
PZ Fractal Channel MT4 is for sale on the MQL market at a price of 30 USD, not being available the rent, but the free demo version that will serve us to know the indicator, it's functioning better, and assess if it brings us anything to our trading style.