Pennants and Triangle Scanner can be found within the indicator section of the MQL5 marketplace, there is a link below to the exact indicator that we are looking at just in case there are others with similar names. Created by Jan Flodin and first uploaded on the 30th of May 2017, the indicator has received a number of updates, the most recent update was on the 21st of January 2020 and this brought the indicator up to version 2.0.
Overview
The Pennants and Triangles Scanner is an indicator that was designed to be used with MetaTrader 4, the indicator helps to identify high probability breakout patterns. It manages to do this by looking for strong, symmetrical pennants and triangles in the charts.
The patterns appear more often on lower timeframes but when using higher timeframes the probabilities are much higher when it does appear. The indicator will also include an inside bar scanner which can be used to help detect inside bar formation.
The key features of the indicator:
-The indicator can write the signals to a file that can be used by an Expert Advisor for auto trading.
-Can monitor all symbols visible in your Market Watch window at the same time. Apply the indicator to just one chart and instantly monitor the entire market.
-Monitors every timeframe, from M1 to MN, and sends you a real-time alert when a pennant, triangle, or inside bar formation is identified.
-The indicator includes an interactive panel.
-It can be configured to show buy/sell lines and TP/SL lines (based on ATR multiplier). The lines will be shown on the chart which you open by clicking on a signal in the panel.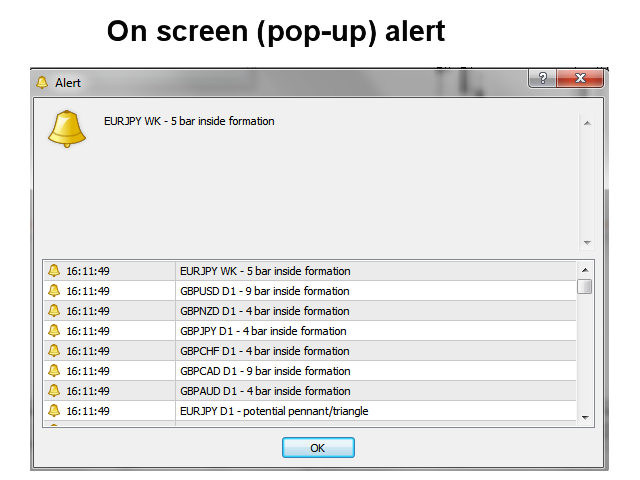 There are a lot of parameters available for the indicator to help alter it to suit your own trading requirements. These settings include things like the general settings for panel width, signal setting such as the number of signals to show in the panel, whether to write the signals to a file, to draw trading objects, maximum candles to use, offsets in points for buy/sell stops. There are also settings for alerts, objects, symbols and timeframes, ATR, inside bars, and pennant and triangles. Plenty of options to help get the indicator working exactly how you need it to.
Service Cost
The expert advisor can be purchased outright for $30 and this version will come with no limitations. If you do not want to buy it, you are able to rent it, this will cost you $10 per month to do. There is a free demo version available, this version will have some limitations but it is not known what they are, it is a good opportunity to test out the indicator though.
Conclusion
At the time of writing, there are 6 different reviews for the indicator which have given it an overall rating of 5 out of 5 stars.
"First of all thank you Jan for your excellent support to my questions and your kind assistance, regarding the indicator, and with it's latest update, I like the trading logic behind it, Well done… :)" – A 5-star review.
"One of the most powerful tools in trading and a great seller! I recommend downloading this book /google it, it's free/ – "Encyclopedia of Chart Patterns" by Thomas N. Bulkowski. Update: Great signals so far. Works great on indexes as well." – A 5-star review.
"Great Indicator!! I just purchased and made a nice little profit." – A 5-star review.
So the reviews ar every positive which is great to see, there are also over 20 comments, the creator of the indicator is replying to each one which shows that he is willing to keep providing support for the indicator and you can expect the same if purchased. We would highly recommend that you download and try out the indicator, just to make sure that it suits your needs and that you are able to get it functioning correctly before you make a purchase or rental.
This Forex service can be found at the following web address: https://www.mql5.com/en/market/product/23290