MagicSignls EA can be found on the MQL5 marketplace under the Experts category. We have provided a link below as there may be other expert advisors with similar names. The expert advisor was first uploaded by its creator Ola Said Abd Elghafar on the 28th of October 2015, it has had a number of updates, the most recent update for the advisor was on the 15th of December 2019 and this brought the expert advisors version up to version 6.8.
Overview
The MagicSignals EA is an expert advisor for use with MetaTrader 4, it uses its own algorithms to open trades, the system also comes with a money management system. The main input is the risk, once you put it in the EA will do the rest of the work for you.,
The main features of the expert advisor:
No Martingale or grid.
Always use stop loss to protect capital.
User-friendly.
Works for ALL years SINCE 1999 with one setting
Very good Risk/Reward ratio.
Works on all brokers.
Never need to optimize
Can be used on accounts as small as 100$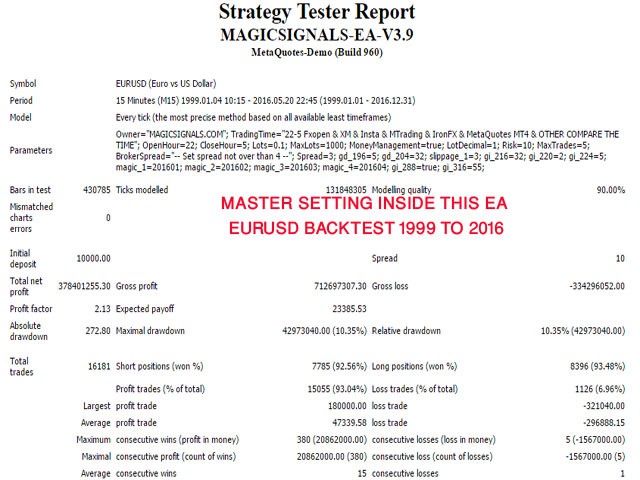 There are also some recommended parameters to use, you can, of course, change any of them to more suit your own style:
MaxLots = 1000
UseMM= TRUE
Risk = 10
BrokerSpread = Set spread not over than
Spread = 5.0
slippage_1 = 3
Service Cost
The MagicSignals EA is a rather expensive one, to purchase it outright it will cost you $30,000 which is a lot. There are options to rent it, but they are just as expensive, it will cost you $1,800 to rent it for one month, it will also cost you $3,000 for three moth,s $6,000 for six months or $10,000 for a one-year rental.
There is also a free demo version available but the site does not indicate what the limitations of this free verso nare so we do not know how beneficial the free version would be.
Conclusion
There are three reviews, however only one of them is an actual review and gives a rating, it has given the EA a rating of 5 out of 5.
"It's very good ea thanks for you" – A 5-star review.
So not a lot to go on with the reviews, the developer has been replying to comments, although there have not been any for a while so we are not sure if they are still giving good quality customer service. Due to the lower number of reviews and lack of recent comments, we would suggest trying out the free version. Also, you should contact the developer with any queries, due to its high price, you should ensure that it is right for you before making a purchase or rental.
This Forex service can be found at the following web address: https://www.mql5.com/en/market/product/12319