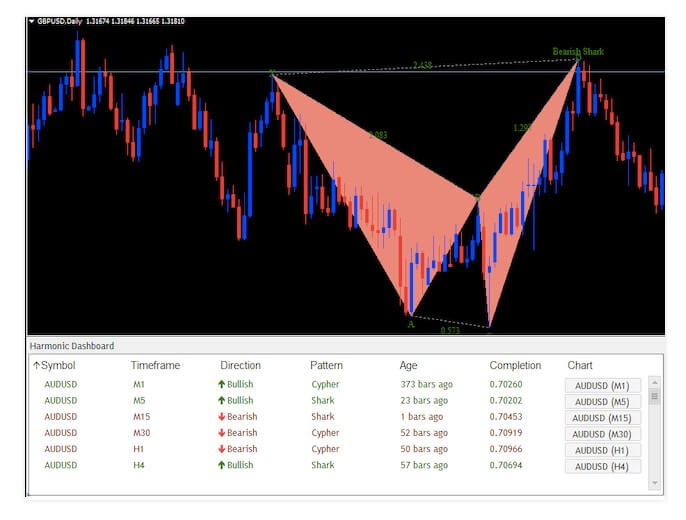 Harmonic Dashboard Ninja can be found within the indicators section of the MQL5 marketplace. T was created by Lorraine Pierce and was first uploaded to the marketplace on the 7th of March 2019, there have been no further updates to the software so it is still lat version 1.0.
Overview
Harmonic Dashboard Ninja is an indicator designed for the MetaTrader 4 platform. It was created to display all detected patterns within a single dashboard. It will look for all harmonic patterns including Gartley, Butterfly, Bat, Cypher, Crab, and Shark.
The EA will scan all currency pairs on all timeframes to look for the most effective harmonic price pattern. Once it has found a pattern you can click a button to bring up the chart, it will then give you the patterns and trade setups, it is then up to you to place the trade, as this is not an automated trading system.
There are also a number of parameters that can be altered to better suit your own requirements. Some of the options include the symbols to use, timeframes, what bits of information to display, max historical bars, colors of bars and lines, alert types, and more.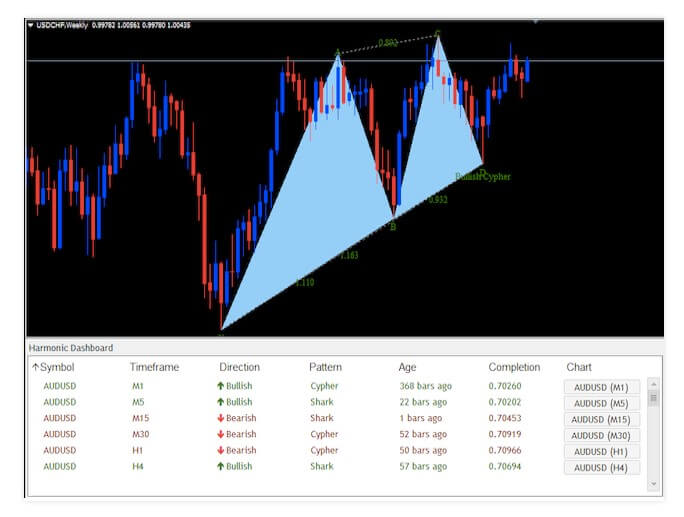 Service Cost
The indicator cannot be purchased outright, instead, there is only the option to rent it, this can be done on a monthly basis for $30 per month, you can also rent it for three months which will cost you $50, for six months it will cost $60 and for a year it will cost you $99, whichever option you take, you will have up to 10 activations of the indicator.
A free demo version is also available, this has some limitations to it though, they are not stated on the site so we are not sure exactly what the limitations are.
Conclusion
There is one review that is asking a question rather than giving a review, it does not have a rating so the indicator is still unrated. This makes it hard for us to know whether it is doing what it is meant to do and whether it is functioning properly. There is also only one comment in which the developer did not respond to. Due to there not being a lot for us to go on, we would suggest contacting the developer with any questions that you may have, this is an opportunity to ensure that it will do what you need it to, as well as ensuring that the creator of the indicator is still around to offer you some support should you decide to rent it.
This Forex Indicator is currently available in the MQL5 marketplace: https://www.mql5.com/en/market/product/36546