MA Alerts with Arrows can be found within the indicators section of the MQL5 marketplace, we have provided a link to it just in case there are others with similar names. The indicator was first uploaded on the 13th of March 2019 by its creator Yurij Izyumov. There haven't been any further updates to the current version, so it remains at version 1.0.
Overview
The MA Alerts with Arrows indicator was designed for the MetaTrader 4 trading platform, the indicator works by giving you signals about the intersection of two moving averaged, as well as giving you signals about price rollbacks.
Some of the main features of this indicator:
-To display or hide the moving averages and arrows themselves.
-To display together or separately signals on the intersection of MA and the price reverts to the moving average.
-To receive notifications about both crossing and touching the moving averages of each other.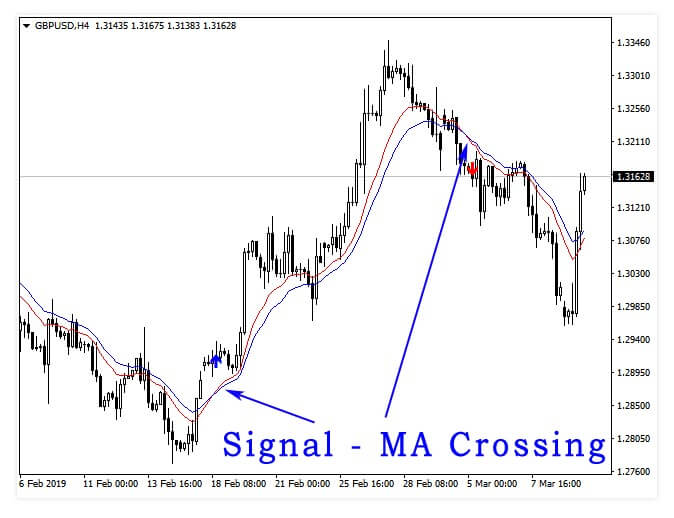 The kinds of alerts available:
Sound and text alerts (alert).
Push notification to the mobile terminal.
Email notification (message to your e-mail).
Visual alert (arrows on the chart).
There are also a number of parameters and settings available to change, some of them include the moving average time period, the color on the graph, which signals to have, to enable arrows, to enable alerts, to enable sounds, and more.
Service Cost
The indicator will currently cost you $30 to purchase it outright, there is also an option to rent it on a monthly basis, this will cost you $10 per month. There is a free version available, but we do not know what the limitations of the free version are.
Conclusion
There aren't any reviews or comments available for this indicator so it is impossible for us to know if it is performing how it is supposed to, due to this we would highly recommend that you download the free version to test out, also get in contact with the developer with any questions that you may have.
This Forex Indicator is currently available in the MQL5 marketplace: https://www.mql5.com/en/market/product/14280