Candle Pattern Finder can be found on the MQL5 marketplace under the indicators section, we have added a link below to the exact indicator that we are looking at. Pavel Zamoshnikov first uploaded this indicator to the MQL5 marketplace on the 25th of May 2015, it received a number of updates, the most recent update was on the 29th of March 2017 which took the indicator up to its current version of 1.21.
Overview
Candle Pattern Finder is an indicator for the MetaTrader 4 trading platform that can be used to find various different candle patterns.
It is able to find the following patterns:
Hammer / Shooting Star (with or without confirmation*)
Inverted Hammer / Hanging Man (with or without confirmation*)
Engulfing (high or low sensibility**)
Piercing Line / Dark Cloud Cover (high or low sensibility**)
Three White Soldiers / Identical Three Crows (high or low sensibility**)
Morning Star / Evening Star including Doji Star
Rising Three Methods / Falling Three Methods
Meeting Lines
Harami, including Harami Cross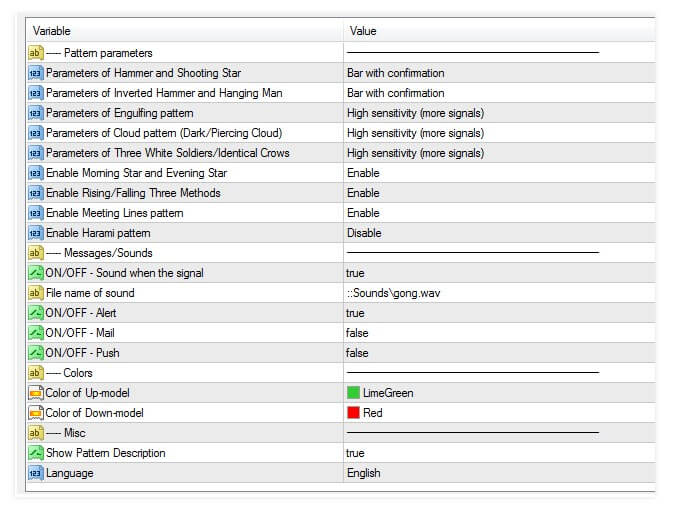 The main features of the Candle Pattern Finder indicator:
– The indicator implements virtually all candlestick patterns available for Forex from the book by G. Morris.
– The indicator is not tied to the size and shape of candlesticks since it uses the intellectual recognition technique, which is similar to human perception patterns are recognized so as a human eye would visually recognize them.
– You can choose to recognize separate candlestick patterns. Flexible settings for each pattern.
– Two languages are supported: English and Russian (the Language parameter). You can also add the names of the candlestick patterns, and in your mother tongue (send a private message to me).
– Sounds and message notifications of pattern formation. Emails and push notifications (parameters ON/OFF-Mail and ON/OFF-Push).
There are also plenty of parameters available to alter, some of them include parameters for different candlestick patters (Engulfing, Cloud, Hammer and Shooting Star, etc), notifications and alerts such as type and sounds, colors of arrows and lines, and other settings such as descriptions and language.
Service Cost
The indicator is one of the cheaper tones available, it can be purchased for $15 which will get you unlimited access to it, unlike any other indicators on the MQL5 marketplace, there is no option to rent it so buying it outright is your only option. There is a free demo version available, the free version is fully functional on the GBPUSD pair (history and signals in realtime) while on other instruments it can only use the history function going back 5 bars.
Conclusion
At the time of writing, there were 10 user reviews available, they have provided the indicator with an overall rating of 4.5 out of 5.
"This indicator has, in my opinion, the best value comparison to the price, you need to just set the setting properly! That is really important, because if not, it will show you too much signal, anyway believe you don't need as much. So just set the setting like ——; only with confirmation, and low sensitivity accurate signals! Cheers quys!" – A 5-star review.
"Just bought this product, does what it says on the box but really helps you learn your candles without being intrusive. Highly recommended." – A 5-star review.
"NOT good… NOT GOOD AT ALL." – A 1-star review.
The majority of the reviews are very positive, the one negative review isn't giving up a lot of information, even with all the positive reviews, we would suggest that you download and try out the free demo version, even with its limitations it will give you a better understanding of how the indicator works and also you will be able to make sure that it fulfills your needs prior to making a purchase.
This Forex Indicator is currently available in the MQL5 marketplace: https://www.mql5.com/en/market/product/9693