Dual Bermaui Deviation Percent is currently located don the MQL5 marketplace. First uploaded on the 7th of April 2019 but its creator Muhammad Elbermawi, it has received a number of different updates, its most recent update was on the 8th of December 2019 and is currently at version 4.0.
Overview
Dual Bermaui Deviation Percent is an indicator that can be used with the MetaTrader 4 trading platform. The indicator is made up of colored tape that will show trading signals that depend on two Bermaui Deviation Oscillators and two moving averages.
Some of the main features of the indicator:
The combination of two BD% with two different periods could help at catching the        different market cycles.
Using BD% as a trend filter is a great advantage because of BD% work as a filter          for low volatility movements in the market.
Signals appear at the first open after buy/sell conditions met.
Well-designed parameters to help the user easily navigate between them.
DBD% code is revised to make sure that it will not consume the user's PC memory.
DBD% arrows do not repaint or recalculate its results.
DBD% send emails and push notifications to mobile devices.
Easily switch between different symbols or time-frames.
Plot Standard Deviation or Linear Regression Channels to show Overbought and            Oversold areas.
Plot a grid of rounded numbers, which show the most important psychological              levels.
Plot Support and resistance levels that mirror supply and demand on the chart.
There is also a bunch of parameters and setting included, these are things like the candles, alerts of different events, arrow sizes, symbol sources, channel lengths, chart colors, and more.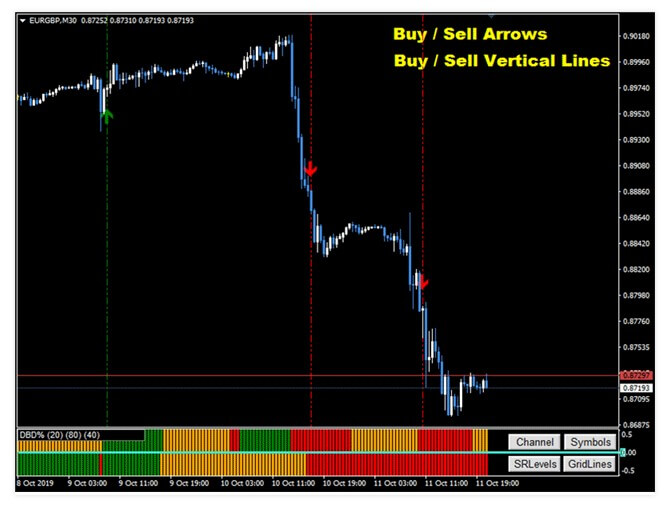 Service Cost
The Dual Bermaui Deviation Percent indicator can be purchased for $50, this will get you up to 1000 activations and no other limitations. There is also the option to rent the indicator that will cost you $10 per month or $30 for a three-month rental.
There is a free demo version available, but the details of it are not made clear, this is often an indication that it may only be used with the strategy tester within MT4 but we cannot say for sure.
Conclusion
There are 12 user reviews available, giving the indicator a rating of 5 out of 5.
"Another high-quality product from Muhammad….I think there is none similar to this outside. If you never use Muhammad's product before, try this one. There is a full function demo which limited to EU/H1." – A 5-star review.
"This is my third indicator that I have bought from Muhammad and like his other indicators they are very useful. His support has been fantastic and fast. Two thumbs up!!" – A 5-star review.
"This is the best indicator. very robust and safe. I LOVE IT" – A 5-star review.
So the reviews are all very positive which is a great sign, the developer has also been very active in the comments section of the site. They have been providing their own posts as well as replying to those left by people who have purchased the indicator. The most recent comments wee in 2020 which shows that it is still being actively supported.
This Forex Indicator is currently available in the MQL5 marketplace: https://www.mql5.com/en/market/product/37495