Growbrokers is a Forex broker registered in the United Kingdom that has to trade 32 currency pairs and 27 CFDs on Indexes and Commodities. The broker makes the popular MT4 platform available to its customers. We haven't found much information about this broker, except that the Company behind the trademark is called GROW BROKERS LTD, and is headquartered in Glasgow. GROW BROKERS LTD is registered in England and Scotland, but there is no FCA regulation or any other. Its website is available in English and Arabic.
ACCOUNT TYPES
Grow Brokers offers five types of accounts, 3 of them for retail investors and 2 for institutional investors. The broker claims that all accounts are without commissions. The spreads offered by Grow Brokers are fixed; this means that they will have no variations with the different volatilities of the financial markets. We also know that in the Mini account, it is possible to operate with micro lots, although, in the rest of the accounts, a higher payout is required. The broker has for all its clients the MT4 trading platform, a well-known platform of which we will comment more details in the following section.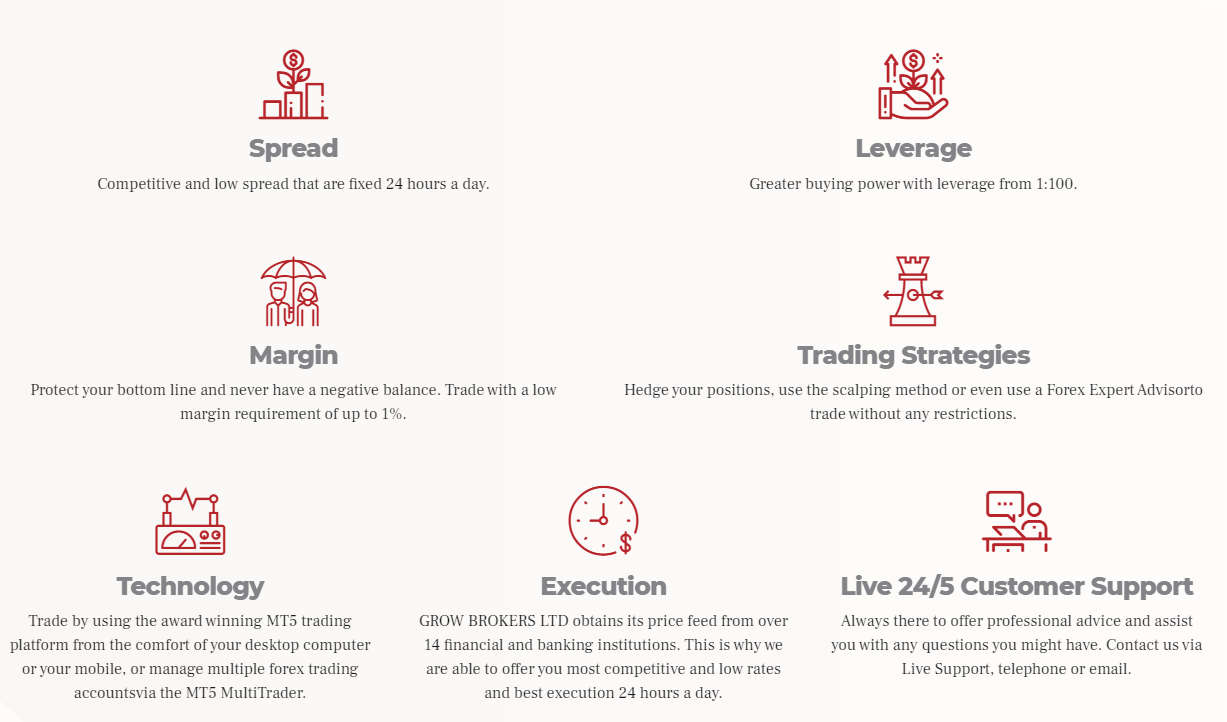 The Grow Brokers website is available in 2 languages, English and Arabic. That makes us think that it is a company oriented to provide its services to the Arab world. Perhaps, for this reason, the broker also offers Islamic accounts, the main feature of which is that they do not have swaps, that is, if the customer has open overnight transactions, the broker will not charge interest, positive or negative, on that loan financing.
PLATFORMS
Like most brokers, Grow Brokers offers its customers the popular Metatrader 4 (MT4) platform. This commercial platform is available in both the desktop version, so you can use it on your computer, as well as in mobile versions, compatible with iOS and Android, which you can use on devices such as smartphones and tablets.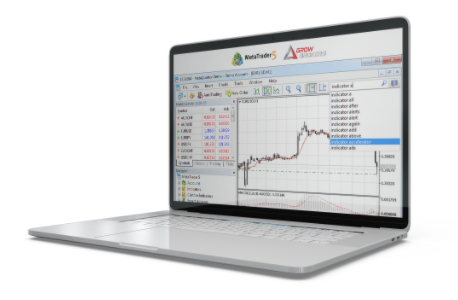 The MT4 platform has been in the market for more than 10 years and is the most popular platform among traders, being also the most used. Although the company Metaquotes has developed MT5 for a long time, there are still a minority of users who use it, with MT4 being the current preference. The characteristics that have made this platform the most used are: the ease in its use, the immense amount of technical indicators it has, the advanced graphics, and the possibility to automate your strategies through Eas (expert advisors).
There was one detail we didn't like. When we downloaded the platform to test it, we saw that, for example, the currency pair EUR / USD oscillated its price in the 0.7 pips environments. However, the broker announces that he has a fixed spread policy, so this inconsistency has worried us, as this may mean that the broker does not have a transparent pricing policy.
LEVERAGE
Grow Brokers offers different leverages depending on the account you have. For the Mini and Standard accounts, you have a leverage of 1:200, while for the Premium account, the leverage is 1:100. If you want to open a mini or standard account and want to trade with smaller leverage, just contact the customer service, they will be in charge of modifying that parameter. Remember that high leverages can make your profits very high, but also your losses. That is why it would be advisable for novice traders to start trading with lower leverages and when they have more experience to be able to raise them by taking a higher risk.
TRADE SIZES
Grow Brokers offers different trade sizes in their accounts. If we analyze the three accounts provided to retail investors, we see that:
The Mini account has a trade size from 0.01 lots (1 micro lot)

The Standard account has a minimum trade size of 0.05 lots (5 micro lots)

Premium account has a minimum trade size of 0.10 lots (1 mini lot)
For novice traders, it is advisable to start trading with micro lots to minimize the risk of their commercial accounts and to increase the lot sizes as they gain more experience and want to raise the risk level of their operations.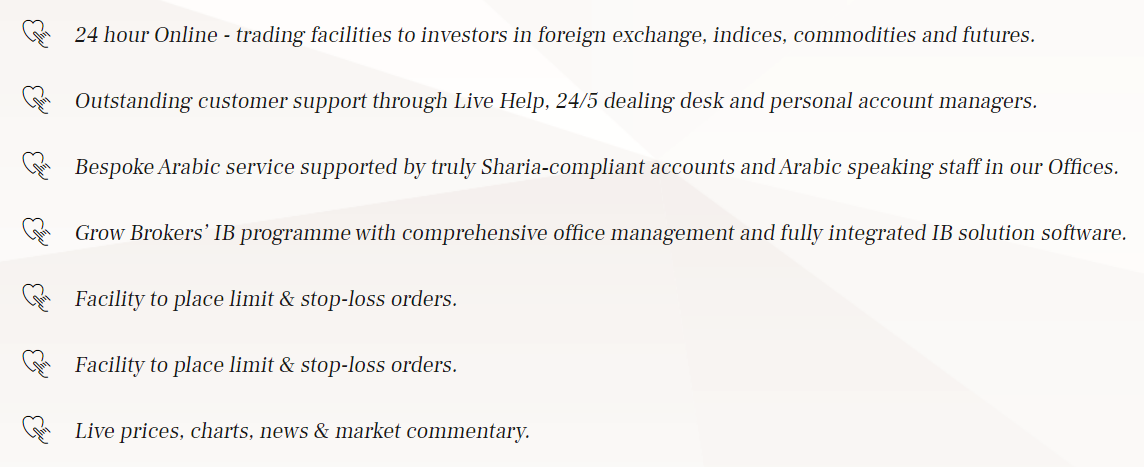 TRADING COSTS
The broker claims that his accounts have no commissions and that he does not apply swaps to any of his accounts. This means that the only expense that the trader will have to assume, is the spread, which is the difference between the purchase and sale price of a financial asset (Bid/Ask).
ASSETS
Grow Brokers has more than 30 currency pairs, several CFDs on indexes, and precious metals.
SPREADS
We're not sure of the exact spreads for each asset. We can only tell you that the broker advertises low, fixed spreads at all times. 
MINIMUM DEPOSIT
The minimum deposit is different for each of the accounts that Grow Brokers offers; here is a summary of the requirements:
Account Type – Minimum Deposit  
Mini –

500 USD

Standard

–

5000 USD

Premium

–

100,000 USD
We consider that a minimum deposit of 500 USD as a requirement for the most basic account (Mini), is a high amount. We can find in the market regulated brokers with better commercial conditions and minimum deposit requirements from 100 USD.
DEPOSIT METHODS & COSTS
Grow Brokers offers its clients the following payment methods: bank transfer,  credit or debit cards, and Paypal. This broker does not charge any deposit fees.
WITHDRAWAL METHODS & COSTS
Withdrawals can also be made by bank transfer, debit or credit card, and Paypal. Remember that withdrawals will always be made to the source from which the deposit originated. For example, you cannot deposit by bank transfer and request withdrawal to a Paypal account. This is because of anti-money laundering laws. The broker does not report on his website about the costs associated with withdrawals.
WITHDRAWAL PROCESSING & WAIT TIME
To make a withdrawal, you must first fill out a form that you have available on the broker's website, in the "services" section. The broker announces that the time to process withdrawals is 24 hours, then depending on the method used, it will take more or less time. For example, an international bank transfer takes between 2 and 5 days, while if you use Paypal the withdrawal is almost instantaneous.
BONUSES & PROMOTIONS
The website of Grow Brokers has a promotion to refer to third parties. This is about receiving a reward if you manage to make customers for the broker.
Here is the promotion currently available:
If you refer a friend to GROW BROKERS LTD and he opens a trading account, deposits, and trades with it, you can earn up to $350 in trade bonus. Also, we will also give your friend a commercial bonus of up to $300 to use in his trading account.
Fewer and fewer brokers offer such promotions, as they are banned in Europe.
EDUCATIONAL & TRADING TOOLS
Grow Brokers has an educational area, but it is quite weak in content. There is a forex articles section with only two small items, another forex trading tips section with ten little tips, a forex tutorial, and a gold and silver trading overview. On the other hand, it has an economic calendar that we do consider of interest because all traders must consult daily the most important events that will occur during the trading session.

CUSTOMER SERVICE
To contact customer service, we have basically 2 ways to do it. Telephone, and a contact form available on the web. Grow Brokers does not provide a live chat on their website. Their address, email, and phone number are:
Adress: GROW BROKERS LTD. HOUSE OF SHER 211WALLACE STREET. GLASGOW SCOTLAND G58NT. United Kingdom
Phones: UK: + 447405140888
Email: info@growbrokers.com
DEMO ACCOUNT
Grow Brokers offers a demo account with the MT4 platform, which we consider good news, as a Demo account helps the novice trader learn how to use the platform without risking his capital. On the other hand, as we have already commented before, the spreads that appear on the platform are different from those that the broker announces on his website, which gives us a certain mistrust.
COUNTRIES ACCEPTED
The broker does not mention anywhere on his website about citizens or jurisdictions that may have restricted the fact of opening an account with Grow Brokers. We advise all traders interested in opening an account with this broker to contact customer service to find out if they can open an account or not.
CONCLUSION
Grow Brokers is another foreign exchange broker and unregulated CFDs. It has the MT4 platform and is headquartered in the United Kingdom. The trading conditions the broker reports on his website are different from those listed on his MT4 demo account. We cannot recommend Grow Brokers, as no authority oversees their activities. It is always preferable to choose a broker duly authorized and supervised by the UK FCA, the Australian Securities and Investments Commission (ASIC), or the Cysec Cyprus.
Here are, in a few words, the advantages and disadvantages of this runner:
Advantages: No commissions per operation. No Swaps (night financing) charged on any of your accounts. You have the MT4 platform. Acceptable variety of available assets. Accepts Paypal as a deposit method.
Disadvantages: Unregulated broker. A high initial deposit is required. The spreads offered on the website are different from those shown on the Demo account.