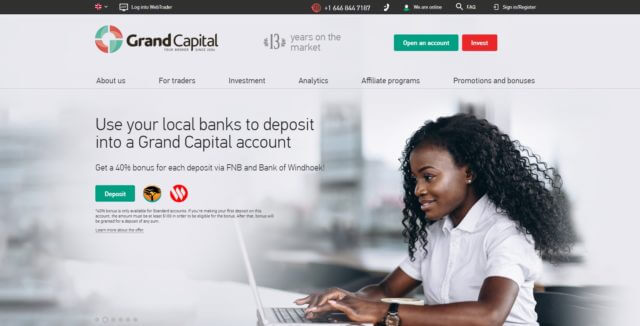 Grand Capital has been offering forex trading services for 13 years now. GC has received a number of prestigious awards, including Best Broker, Best Trading Technology, and Best Affiliate Program. These two facts alone may be more than enough to signify that this broker is reliable. Reliability alone is not enough, however, as each FX trader will have his or her own different needs whilst trading. In this Grand Capital review, we'll provide all of the information that one would need to know about the services provided.
Account Types
Grand Capital currently offers a total of six different account types. Each account is of course different, providing different trading conditions and different perks, as seen below. Note that there is a swap free account and this account can be opted for by those who are Shariah Law compliant.
Platforms
Grand Capital features two popular trading platforms – MT4 and MT5 platforms. In order to use the MetaTrader 5 platform, one would need to select the MT5 account type. All other account types are associated with the use of MT4 only.
It appears that only MT5 is available in app format, while only MT4 is available in WebTrader format. Both platforms are available as a Windows system download, while only MetaTrader 4 is available as a download for Mac systems.
Leverage
The maximum leverage ratio for all accounts is 1:2000, but note that leverage maximums vary with account type. The leverage when trading cryptocurrencies is 1:3, whereas it can climb as high as 1:500 when using a Micro account and then even higher, up to 1:2000 when using a Standard or Swap Free account. Leverage can also vary with account balance as well, as shown below. If you plan to trade using leverage and do select Grand Capital as your broker, do be sure to put a lot of thought into your account type selection.
Trade Sizes
By now, you're probably noticing a common theme, with that being that trade specifics vary greatly and differ by account type. Trade size is no different, as each of the six account tiers have their own set of rules. The good news is that Grand Capital does provide very detailed contract specifications for each account and each asset, and this information can easily be accessed on their website. We can tell you that micro lot trading is an option for all account types, with trades sizes as small as 0.01 lot being allowed.
Trading Costs
With the Standard and Swap Free account types, there is no commission charges on Forex trades. CFD contracts cost $15 each and CFD stock positions cost 0.1% of the total trade amount. With the MT5 and ECN accounts, there is a flat commission charge of $5 per trade. With the Crypto account, expect to pay 1.6% of the trade total on each contract. On accounts where swap fees do apply, the cost will be $7 per traded lot. Obviously, it will be possible to reduce or eliminate some of these costs through account selection, so here again, we caution you to choose your account type carefully.
Assets
Grand Capital provides several asset types, including stocks, indices, commodities, currency pairs, and cryptocurrencies. Want to know how many assets you'll be able to trade with? That's right, you need to look to the account type. We've tried to make it easier for you by breaking down the numbers by account type below.
Crypto: 18 assets
ECN: 38 assets
Micro: 66 assets
Standard: 330+ assets
Swap Free: 330+ assets
MT5: 330+ assets
Spreads
It seems best to use the same strategy as above to break down the spreads for you, as they also vary by account type. What we will say here is that the lowest possible spread varies from 0.4 pips to 1 pip. Grand Capital does not provide information on a site wide spread average, which is not surprising since every bit of trade-specific information varies by account type.
Crypto: Starting at 0.4 pips
ECN: Starting at 0.4 pips
Micro: Starting at 1 pip
Standard: Starting at 1 pip
Swap Free: Starting at 1 pip
MT5: Starting at 0.4 pips
Minimum Deposit
Minimum deposits range from $10 to $500. On four of the six account types, the minimum required deposit amount is $100. Below are the minimum deposit amounts for each of the accounts.
Crypto: $100
ECN: $500
Micro: $10
Standard: $100
Swap Free: $100
MT5: $100
Deposit Methods & Costs
Grand Capital scores highly in this area, offering to accept a wide range of deposit payment methods. There is one condition which must be mentioned here, however, and this is that U.S. clients must deposit and withdraw using one of the accepted cryptocurrencies. No other payment methods are open to U.S. residents. The reason for this is pretty clear, as it has become increasingly difficult for FX brokers to find payment processors who are willing to accept incoming deposits from the U.S. Hopefully this will change in the future as the laws regarding Forex trading become more clear in the United States.
As for everyone else, there will be plenty of payment options to choose from. These include, but are not limited to the following:
Bank Transfer
Visa & MasterCard
Bitcoin
Ecommpay
Ethereum
FasaPay
Neteller
PayOP
Payeer
Payza
Perfect Money
RBK Money
RP Card
Ripple
Skrill
Vload
Thunder X Pay
Tether
WebMoney
Yandex Money
advcash
help2pay
iPay
In addition to all of these, there are a number of local transfer agents payment options, including:
ForexRebateChanger (Indonesia)
Fxniaga (Indonesia)
Grand Capital Myanmar
Grand Capital Philippines
Grand Capital Singapore
My Local Depositor (Malaysia)
Nigerian Exchanger
Sentraegold (Indonesia)
On all but a small number of these payment methods, Grand Capital waives any fees. We recommend that you visit their payments area to view a complete breakdown of every accepted deposit method, any costs, and an estimate of how long it will take each method to arrive and be posted to your account for use.
Withdrawal Methods & Costs
All of the deposit methods mentioned above are also available for withdrawals. There are a few payment options that are free, but most do carry some type of fee. Even so, across the board, the withdrawal fees appear to be quite reasonable. Although we cannot state this for certain, it appears that Grand Capital is simply passing along the base fee that each payment provider charges them for processing. Some brokers are willing to completely absorb these costs, while others are not.
Withdrawal Processing & Wait Time
On average, withdrawals should arrive within three business days. However, there are payment options that will ensure that your funds arrive sooner than that, such as cryptocurrencies. A complete breakdown of withdrawal methods, costs, and wait times are provided on the broker's website. We recommend that you refer to this information before making a deposit, as deposited funds must be withdrawn using the same method that was used to make the payment.
Bonuses & Promotions
As of the time that this Grand Capital review was being completed, the broker was offering an amazing four different trading contests. One of these contests was for real account holders, while the other three were open to those who use their demo accounts. As for bonuses, there were plenty of those offers available as well, including a 40% deposit bonus for those who wanted to have extra funds added to their account. GC receives two big thumbs up in this area. While not everyone likes the terms and conditions that come with bonuses, it's rare to find a broker that offers so many contests and giveaways.
Educational & Trading Tools
On the broker's website, you find a FX terms glossary, ready-made investment portfolios, RAMM accounts, an economic calendar, trade calculator, analytic reviews, and online quotes. Grand Capital has partnered with outside sources to be able to offer several trading robots as well. To access these, you'll need to complete registration form that is separate from the general account registration. Both MT4 and MT5 offer their own specific trading tools, which can be accessed at any time.
Customer Service
Customer support is provided via social media (Facebook, Instagram, etc.), Live Chat, email, and phone. The support offices can be phoned directly, or you can opt to request a callback. To speak with a live agent by phone, call: +1 646 844 7187. Support is offered 24-hours a day, 5-days a week (Monday through Friday). Should you prefer email contact, choose the email address from the list below that best fits the question or problem that you wish to discuss.
Client Service: info@grandcapital.net
Technical Department: techsupport@grandcapital.net
Financial Department: clients@grandcapital.net
Partnership Department: partner.global@grandcapital.net
Analytical: analyst@grandcapital.net
Marketing and PR: ad@grandcapital.net
Demo Accounts
Demo accounts are available and each provides a few options for you to choose from. For starters, you'll be able to select from three demo account types including: Standard, MT5, or ECN. You'll also be able to select a leverage ratio from settings which range from 1:1 to 1:500. Lastly, you'll be able to choose the amount of mock funds that you'd like to start out with. Each of these options are intended to help provide a trading experience that resembles as closely as possible actual Forex trading.
Countries Accepted
The question on the minds of most is, does Grand Capital accept U.S. traders? The answer is yes, but if you've skipped past the rest of this review, we'll mention here again that U.S. based clients must deposit and withdraw using one of the accepted cryptocurrencies and therefore cannot use their credit card, debit card, or bank account to fund their trading account. The website actually states the following: "This information is intended for investors outside of the United States who are not the US/Japanese citizens and residents." Even so, we were able to open a new account from our U.S. offices.
Conclusion
It's easy to see how the level of one's satisfaction with this broker could easily be tied to them choosing the right account type. Six account types may prove to be a bit much for some, while others may appreciate having the ability to make a more personalized selection. Everything (and we do mean everything) varies by account type, and each has its positives and negatives. On the whole though, Grand Capital appears to be an established, trustworthy Forex broker, and we see no reason whatsoever why they should not at least be given some consideration by those who are in search of a brokerage to call their own.