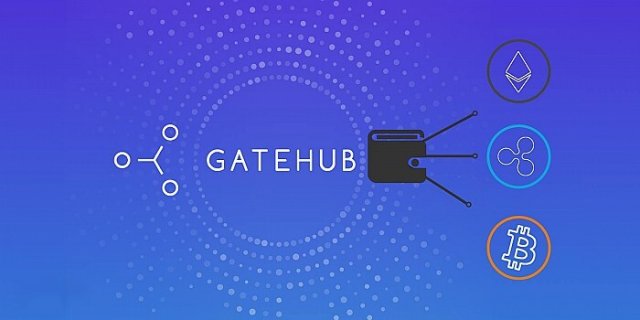 Gatehub wallet started off in 2014 as a Ripple-specific web-based wallet. In the past five years, however, it has morphed into the more popular Gatehub platform we know today. It not only supports more coins and functionalities but also introduced the Gatehub mobile and desktop apps. 
Gatehub Limited, a UK-based fintech company, created the wallet on the XRP Ledger Protocol. And according to their website, the wallet is designed to provide crypto enthusiasts with true value. But how safe is the wallet? What are some of its key features? Is it easy to use, and what are its pros and cons?
We answer this and more in this Gatehub wallet review.
GateHub wallet key features: 
Highly versatile wallet: Also known as the No. 1 XRP Ledger wallet, Gatehub is highly versatile. It is currently available as a web wallet and desktop app. According to their website, however, the Gatehub mobile wallet app is coming soon. So is the revolutionary Gatehub card. 
In-built trading platform: The Gatehub wallet also integrates an inbuilt trading platform. It is highly intuitive and easy to use for both expert and beginner traders. Here, you get to trade all the supported currencies as well as over 100 IOUs hosted on the XRP ledger network. 
Diverse payment options: Gatehub wallet also supports a wide range of payment options. You can, for instance, fund your wallet using both Fiat or Crypto. You can also leverage such other payment methods as Web Monetization, PayID, SEPA, Wire transfer, and other blockchain-based payment options on XRP Ledger. 
Analytics: Analytics is one of the most unique operational features on the Gatehub wallet. It helps you monitor your portfolio and track your net worth in real-time. 
Cashflow monitor: Gatehub wallet also features the Cashflow monitor that lets you see track your expenses. It shows you when you spent and received funds into your account. This goes a long way in helping you make sound financial decisions. 
GateHub wallet security features: 
Password: You will be required to set a strong password to secure your Gatehub wallet when registering your user account. 
Two-factor authentication: All of Gatehub wallet accounts must have the two-factor authentication enabled. This provides additional protection and goes a long way in guarding against remote wallet access. 
Open-sourced: The Gatehub wallet is developed using open-sourced technology. This implies that blockchain experts and internet security experts have prodded the wallet for possible loopholes and found it safe to use. 
Enterprise-level encryption: Gatehub wallet employs AES encryption. This is enterprise-level encryption that Gatehub uses to encrypt all data stored within the wallet, from personal information to the private keys. 
Device verification: Gatehub wallet will also whitelist common devices used to access your wallet. Every time you use a new device or a login with a new IP address, the platform subjects you to additional verification procedures. 
Network forensics: The Gatehub platform, in conjunction with several other blockchain-based networks, maintains a list of all fraudulent crypto addresses. Gatehub wallets will, in effect, warn you every time you wish to send cash to these wallets. 
Ripple wallet Gatehub wallets are also multi-signature. Each transaction is three-prong and requires authorization from three sets of keys: the user key, Gatehub wallet key, and backup key. This ensures that no one party can initiate the transaction without involving the other.
GateHub Wallet Setup and activation
Step 1: On the official Gatehub Wallet website, click the "Sign Up" tab.
Step 2: Proceed to enter your registration details (email address and password) and agree to the wallet's terms of use. 
Step 3: The site will then provide you with a 32-character recovery key that you can use to reset the wallet password. Write it down on a piece of paper and store it safely or choose to download the digital copy.
Step 4: You will then need to verify the email address provided and activate the wallet. Check your email and click on the "Activate Account" button.
Step 5: Log in to your wallet and decide on the type of account you wish to register (individual or company).
Step 6: Complete registration by providing additional personal details like your phone number, name, and uploading a photo of yourself. 
Step 7: The account is now active, and you can proceed to add/receive crypto.
How to add/receive crypto into GateHub wallet 
Step 1: Log in to your Gatehub wallet, and on the user dashboard, click on the "Wallet" icon.
Step 2: Click on the 'Deposit/Receive' icon to reveal the wallet address. 
Step 3: Copy the address and send it to the party, sending you cryptos.
Step 4: Wait for the cryptos to reflect on your wallet.
How to send crypto on GateHub wallet
Step 1: Log in to your Gatehub crypto vault account and click on the wallet.
Step 2: Click on the 'Send Payment' icon.
Step 3: Enter your password.
Step 4: Select the crypto you wish to send and the key in the recipient's wallet address plus the amounts you wish to send.
Step 5: Ensure that these details are correct and click 'Confirm.'
GateHub wallet ease of use:
Registering an account on Gatehub is easy and relatively straightforward. It is also highly intuitive and easy to use for both expert and beginner crypto enthusiasts. It also features some of the most important features that include the inbuilt trader, portfolio tracker, and personalized analytics. 
Supported cryptocurrencies and countries
While Gatehub started as an XRP-specific wallet, it has since expanded its scope and currently supports eight cryptocurrencies (Ripple, Bitcoin, Dash, Ethereum Classic, Ethreum, Xaurum, Augur, and Quantum). It also supports hundreds of fiat currencies. 
GateHub wallet cost and fees
Registering a user account on the Gatehub wallet is free. But Gatehub adopts a rather complex pricing structure, especially when it comes to the exchange of Ripple. For instance, when sending Ripple, you will be charged with 0.2%. On the other hand, Bitcoin-to-Ripple conversion attracts 0.2%, while all other conversions attract a 0.3% fee. 
Comparing GateHub wallet with other crypto wallets
GateHub wallet vs. Freewallet
Gatehub Wallet and Freewallet have several common features. They are both custodial wallets, they are free to acquire, and have some of the most intuitive interfaces. Nevertheless, unlike the Gatehub wallet that only supports eight cryptos, Freewallet supports more than 100 cryptocurrencies. Plus, Freewallet avails both single and multi-currency wallets.
One may also consider Gatehub wallet's pricing model rather complex when compared to the dynamic fee structure adopted by Freewallet. Though custodial, Gatehub wallet, and Freewallet have different approaches to storing client private keys. While Freewallet holds user keys in their servers, Gatehub holds its user's private keys in highly encrypted third-party servers. 
What are the pros and cons of GateHub wallet
Pros:
The highly intuitive nature of the Gatehub wallet makes it one of the most user-friendly crypto vaults.

Gatehub wallet supports both crypto and fiat currencies.

The wallet is highly versatile and available as a web interface, desktop, and mobile app.

It also employs a series of highly effective security features, including 2FA and network forensics.

Gatehub wallet features a wide range of features that include analytics, portfolio tracker, and in-built trader.
Cons:
Gatehub wallet will only support a few cryptos.
Gatehub wallet has had a low reputation after the 2017 hack.
While it supports multiple payment options, these don't include debit and credit cards.
The wallet has a relatively complex pricing structure.
Verdict? Is it safe or a scam?
In 2017, Gatehub wallet was hacked, and more than 23.2 million Ripple coins ($9.5 million) were stolen. Since then, Gatehub Wallet has continually worked towards embracing more solid security measures. It has, for instance, embraced 2FA, open-sourced the wallet's technology, partnered with anti-fraud organizations to identify fraudulent wallet addresses, and introduced device verification measures. These have gone a long way in making Gatehub one of the most secure wallets. But its reputation is still at its lowest, especially after it failed to compensate its clients for the coins lost.