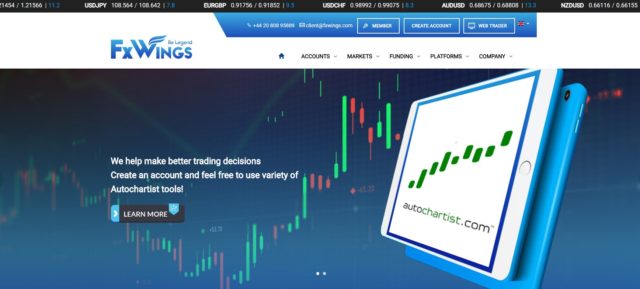 FX Wings is a newer forex and CFD broker, established in 2019, and located in the UK. The company's regulation by the SIC and its London location proves that they are a trustworthy option, but that doesn't mean one should simply invest with them without finding out all the facts. If you're interested in having access to specialized accounts, you'll be impressed by this broker's four separate account options. However, there are advantages and disadvantages to each account type, so there is a lot to take into consideration. If you're thinking that this broker may be for you, we urge you to continue reading.
Account Types
There are four account types available through FX Wings, with options being Standard, Advanced, ECN Pro, and Premium. While the Standard and Advanced accounts share the same maximum leverage caps, the accounts don't have much else in common. Each comes with different deposit requirements, spreads, minimum and maximum trade sizes, margin call and stop-loss levels, and trading costs. Selecting the best account type is crucial for success, so it's important to take all of these details into consideration. Below, you'll find a quick overview of each account type.
Standard Account
Minimum Deposit: $1,000
Maximum Leverage: 1:500
Minimum Spread: from 2.5 pips
Advanced Account
Minimum Deposit: $5,000
Maximum Leverage: 1:500
Minimum Spread: from 2 pips
ECN Pro Account
Minimum Deposit: $10,000
Maximum Leverage: 1:200
Spread: from 1.5 pips
Premium Account
Minimum Deposit: $30,000
Maximum Leverage: 1:100
Spread: from 0 pips
Platform
FX Wings exclusively features the popular MetaTrader 4 platform as its sole trading platform. MT4 is the benchmark of all trading platforms, preferred by the majority of traders, and is, therefore, the most commonly offered platform among forex brokers. Some attribute MT4's popularity to its user-friendly and highly-customizable user-interface, others enjoy the wide range of analytical functions, MultiTerminal features, trading signals, and variety of built-in tools that you won't find elsewhere. The developers of MT4 also designed the platform to be extremely accessible, with download available via PC and through the App Store or Google Play for mobile. If you're not interested in downloading the program, you can also access WebTrader, which is a browser-based version. While you may still be on the fence about this broker, you'll have to consider their chosen trading platform to be on the positive side of things.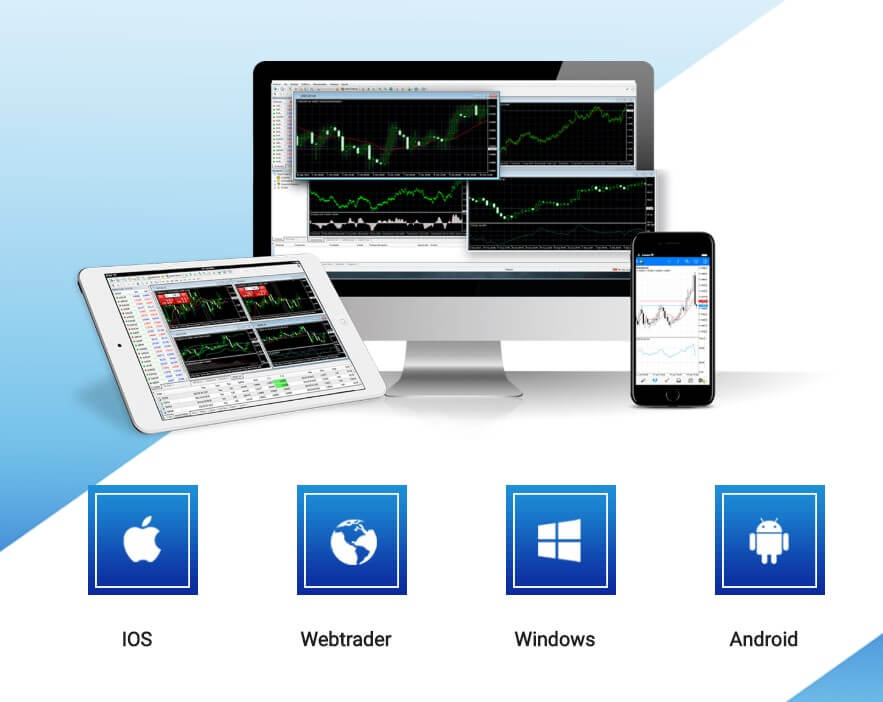 Leverage
FX Wings offers an impressive leverage of up to 1:500 on the Standard and Advanced account types. Note that it can be difficult to find options this high elsewhere, especially with other regulated brokers. Not surprisingly, the leverage options here are more limited for the ECN Pro and Premium account types, most likely due to the higher deposit minimums that those account types require. For the ECN Pro account, the leverage goes as high as 1:200. This is still higher than average and should be satisfying for many traders. The Premium account, which requires a $30,000 minimum deposit, only offers average leverage up to 1:100. Even though the options for better accounts are more limited, the majority of traders will be more than happy with these options. Keep in mind that operating with higher leverage goes hand in hand with higher risk, so beginners should steer clear of the higher leverage options offered by this broker until they have had the chance to gain more experience.
Trade Sizes
The minimum allowed trade size on all account types is 0.01, or one micro lot. Meanwhile, the maximum trade sizes differ more significantly. For the Standard and Advanced account types, the maximum lot size is 20 lots. The ECN Pro account allows for a maximum lot size of 50 lots and the Premium account offers a maximum lot size of 100 lots. The Standard and Advanced accounts also share separate margin calls and stop loss levels. You can view those levels below.
Margin Call/Stop Loss Levels
Standard & Advanced: 100% margin call/50% stop loss
ECN Pro: 120% margin call/80% stop loss
Premium: 150% margin call/100% stop loss
Trading Costs
The Standard, Advanced, and ECN Pro accounts do not charge any type of commission fees. This is certainly one of the advantages of choosing these account types, but the drawback would be that each of these accounts charges higher spreads to make up for the lack of commission charges. Of the three, the ECN Pro account has the best spread offers. Spreads on the Standard and Advanced account types start at 2 pips and up. The Premium account offers more attractive spreads that start from 0 pips, but you'll be paying commission fees of $5 per lot in return. These fees aren't extremely high, so this makes the Premium account worth serious consideration if you can afford the fees. In addition to these charges, swap fees, otherwise known as overnight interest charges, are also applicable for all account types.
Assets
Twenty-five currency pairs, commodities, including gold and silver, indices, and 47 global equities are among the assets that make up FX Wings' portfolio. Their selection of currency pairs offers many popular options, like the EURUSD. It's also nice to see that precious metals are available. The available equities include many popular companies, with options like Apple, Twitter, Amazon, and Disney, just to name a few. Overall, we would say that the asset offers are somewhat average, but the wider selection of equities that the company offers tips the scale more towards being above average.

Spreads
The spreads offered by this broker vary widely and should, therefore, play a crucial role when deciding which type of account to open. The very best spreads are reserved for the Premium account type and start from 0 pips, although this is the only account type that charges commission. Meanwhile, spreads on the ECN Pro account start at an average of 1.5 pips. In our opinion, it is unfortunate that one would need to deposit at least $10,000 to access average spread options. The Advanced account offers spreads starting from 2 pips, and the Standard account's spreads start from 2.5 pips. The spreads on both of these account types are less than attractive. One should note that no commission fees would be charged on these accounts, which somewhat makes up for the higher than average spreads.
Minimum Deposit
Deposit minimums with FX Wings range from $1,000 to $30,000. Considering that the industry minimum is typically between $100 and $250, we must say that the $1,000 minimum required for this broker's Standard account is steep. Minimums climb from there, with $5,000 required to open an Advanced account, a $10,000 minimum requirement for the ECN Pro account, and a substantial $30,000 minimum requirement to open a Premium account. These higher than average deposit minimums may be enough to turn away beginner traders and may leave traders that don't have enough capital with no choice but to seek another broker. These deposit minimums may also limit the account options one could realistically open, so you may have no choice but to open an account with higher spreads if you cannot afford the ECN Pro or Premium account.

Deposit Methods & Costs
Available deposit methods include Visa, MasterCard, JCB, Perfect Money, WebMoney, FasaPay, Neteller, and Skrill. FX Wings does not charge fees from their end, but their website does mention that processors may charge fees. Sadly, the website doesn't go into further detail about those fees. Make sure that you've uploaded your ID and proof of address documents before making a deposit because withdrawals will be blocked if your account hasn't been approved.
Withdrawal Methods & Costs
The website does mention that the processors charge for withdrawals, but it doesn't go into further detail. After we reached out to support, we learned that there is a fee of 2% + 1000 VND per withdrawal. If you aren't familiar with Vietnamese dollar values, you should know that the 1000 VND fee simply translates to .43 cents in USD. Therefore, if you were to make a $100 withdrawal, the fees would be equal to $2.43. Since many other brokers charge higher percentages, we can safely say that the withdrawal fees with this broker are pretty reasonable, although there are fee-free withdrawal options out there. In compliance with AML regulation, your withdrawal must be returned via the same method you used for payment, so be sure to take that into consideration when depositing.
Withdrawal Processing & Wait Time
Withdrawals via Visa, MasterCard, and JCB should be credited to your account instantly and all other methods will be credited within 5 minutes. This category is one of FX Wing's strong suits since other brokers can typically take days and more than a week in some instances to return withdrawals. In the case of Visa/MasterCard withdrawals, we've seen waiting times up to 8 working days. Fortunately, you won't have to wait longer than 5 minutes to receive your funds with this broker.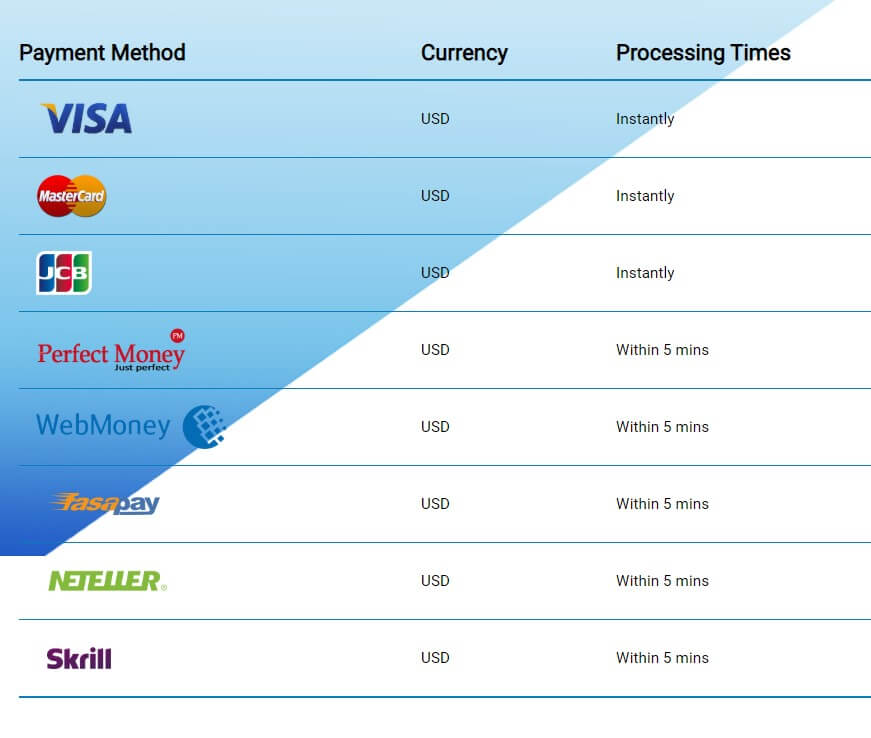 Bonuses & Promotions
Currently, there are no ongoing bonuses or promotions available with this broker. Other brokers do offer these types of opportunities on occasion, but it is not something that you should always expect to see. Of course, it's always nice to see these available, but you shouldn't make a decision based on a single bonus opportunity. It's possible that this broker could offer some type of promotion in the future, so be sure to check their website for updates.
Educational & Trading Tools
Sadly, FX Wings does not seem to understand the importance of educating their clients. We make this assumption based on the fact that they do not offer anything in the ways of education on their website. The website does offer a live price feed, but you won't find any helpful trading tools available. This is no reason not to choose them as a broker, but is less convenient for those that may still be learning as they go. If you need educational resources, you'll have to look beyond this broker and search the web for content.
Demo Account
Demo accounts have become a staple of education within the forex world, so it is very disappointing to see that FX Wings does not offer them. Opening a practice account can help beginners get on their feet, and provides others the opportunity to test the market while growing familiar with the MT4 platform. Some brokers even offer specialized demo accounts that allow traders to test out demo versions of the real accounts offered. Since FX Wings offers four different account types, it could have been an excellent advantage for them to offer specialized demo accounts. Unfortunately, FX Wings does not seem to see the importance of offering these account types, so these options are not available to their clients.
Customer Service
FX Wings offers a 5-star support team that is available via LiveChat, phone, email, or through their website's contact form. Support staff typical replies within four minutes on LiveChat, so you should not find yourself waiting long for a reply. While the website doesn't mention what hours that support are active, we received a quick response from their staff when we opened a chat late at night. Including the addition of the direct phone number on the website, contacting this broker is very convenient. If you were to compare their contact options and staff availability to others, you would find that this broker is offering top-notch service in this category. Below, you'll find their listed contact methods.
Phone: +44 20 808 95889
Email: client@fxwings.com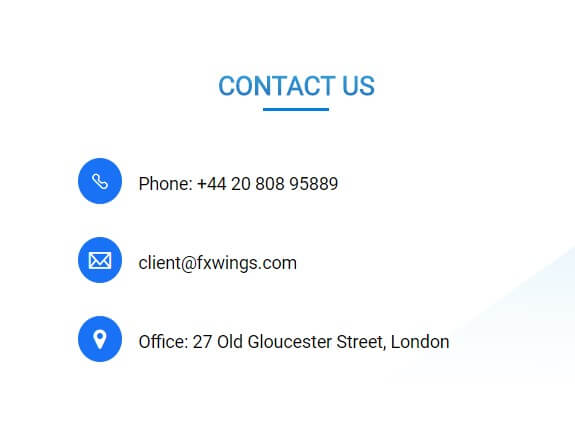 Countries Accepted
We're happy to report that FX Wings is a regulated broker that is openly accepting of clients from the United States and all other locations. Finding a regulated option that isn't more restrictive can be difficult, so you may want to add this broker to your potential list if you often find your country is banned from many brokers, based on that fact.
Conclusion
Let's start with the advantages of choosing FX wings as your broker. First, they offer extremely high leverage options on their Standard and Advanced account types, a wide variety of deposit methods, three commission-free account types, spreads starting from 0 pips on their Premium account, withdrawals that are available within 5 minutes, customer support is readily available, there are low withdrawal fees, a variety of available assets, and they are a regulated broker that accepts US clients. Qualities that fall into the average category would be the leverage on the ECN Pro and Premium account types and the spread on the ECN Pro account.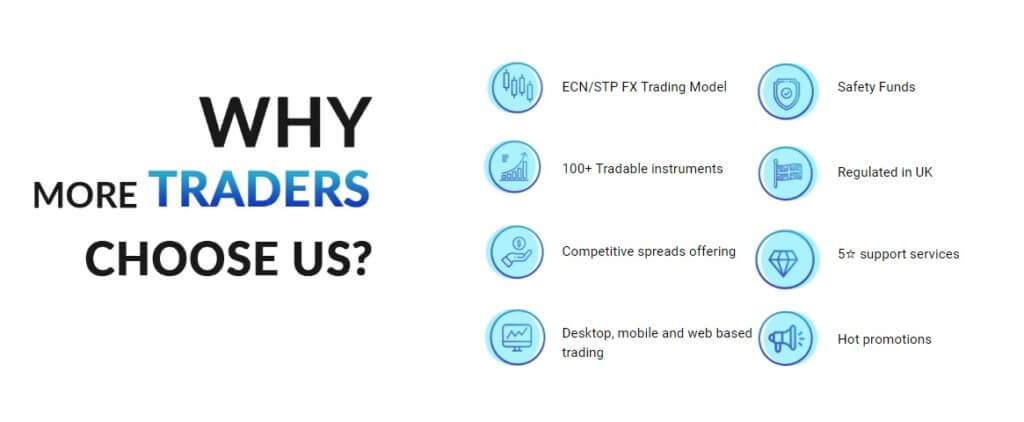 To finish our conclusion, we will remind our readers of the negative qualities. To start, the $1,000 to $30,000 deposit minimums may be impossible to meet for some clients, the spread is higher than average on the Standard and Advanced accounts, their website lacks educational resources, including the ability to open a demo account, and there are no ongoing bonuses. If you choose the right account type, then you could certainly come out on top with this broker. However, if you cannot meet the large deposit requirements, you'll have no choice but to look elsewhere.