Fxmasterbot is an automated and manual trading robot that uses a unique algorithm developed by a team of experts with 20+ years of experience in the field. Since the software's launch in December of 2017, Fxmasterbot has kept its service updated to adhere to recent regulations. The software is free and worth consideration if you're looking to join the masses that are switching over to automated trading methods.
Overview
The service offers a customizable experience by allowing traders to tweak several settings that affect the algorithm behind it. You can set stop loss and take profit limits, signal strength, set the daily stop-loss limit, and take steps that could lead to a more profitable outcome, such as setting the limit on the number of consist trades that can be executed in a row, or how many trades you'd like to execute in a day.
There are also three separate account types to choose from, including a Novice, Expert, and Master account. What makes Fxmasterbot stand out is the ability to trade manually or automatically. If auto trading is turned on, then the bot will place trades immediately without requiring authorization. Through manual trading, the trader would need to accept every signal they want to trade.
The service offers traders the ability to trade with multiple different brokers. You can choose just one, or trade with several of them instead. 24option, iTrader, OTCapital, EuropeFX, and FPmarkets are among the options, and some of those are even regulated. Autotrading and manual trading are integrated on the same platform for convenience, but a mobile app isn't available, so traders will have to resort to using their browsers instead.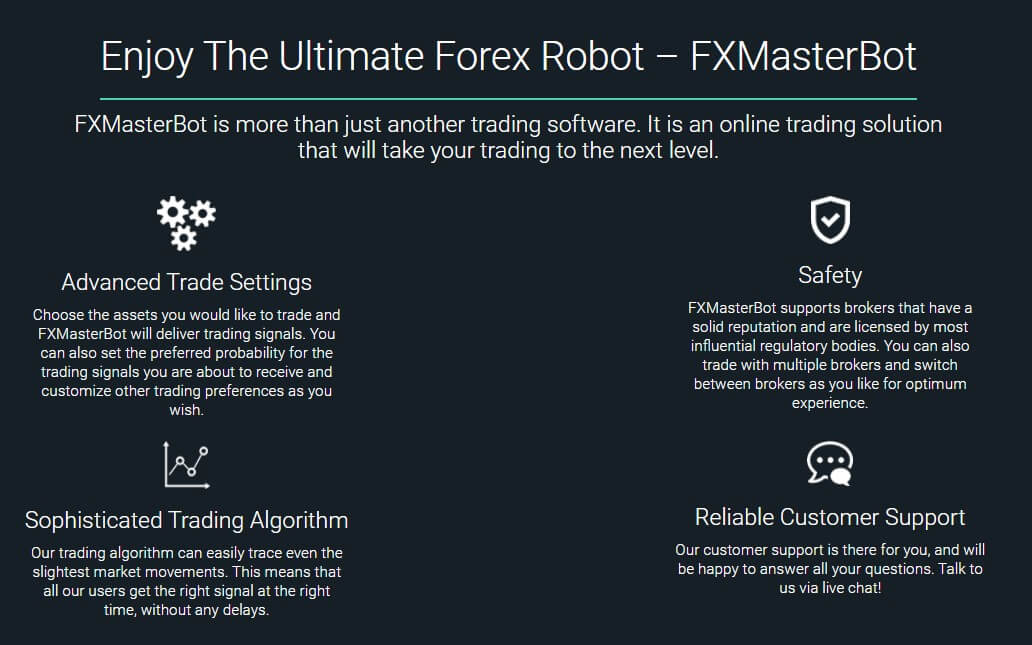 There are 3 currency pairs available for trading on the Novice account, the Expert account raises the offer to 9 currency pairs, and the Master account features 17 currency pairs. The Master account also comes with some added benefits like an unlimited number of open positions, prioritization with support staff, and access to more advanced settings.
Note that traders in the United States cannot use the service and the website will block IP addresses coming from the country. Several other providers are willing to work with these clients, despite strict regulation laws.
Service Cost
Fxmasterbot offers three trading accounts with a minimum deposit of $200 on their Novice account. There is a $25 minimum per trade, so the bot will be able to place up to 8 trades with the entry-level deposit. This should be a good starting amount to test the waters with, but even more important is the fact that the actual software doesn't charge any fees.
That means there are zero monthly, quarterly, or yearly charges for trading with the bot, which lets traders put all their money into trading without paying those out of pocket costs. If you want to open an Expert or Master account, you'll need to make a larger $500 investment into your trading account.
Traders can also register for a free demo with $1,500 worth of virtual funds that can be used to practice. Demo accounts are a good sign that the service is legit since many scammers don't want to show you an upfront look at their return rates or allow you to test their service.
Conclusion
Fxmasterbot allows traders to become more engaged in the trading process with customizable settings, multiple account types, several different partners, and manual trading. Your profit-return rate will depend greatly on the way that you work with those settings, so a bit of knowledge can go a long way here. The ability to manually select trades and set limits that can stop the account balance from being depleted are some of the highlights here that make this robot stand out from the crowd.
Taking a look at user reviews is an excellent way to get an idea of how successful any particular robot has been for other traders. Fxmasterbot has barely received feedback from actual users online, but the software has been included in multiple reviews on various websites. Most of the professional reviews speak fondly of the platform and give it 4 to 5 stars in most areas. The only downside is that traders don't know which of these websites might be working with the company, but it isn't likely that this is the case for all of them.
This Forex service can be found at the following web address: https://fxmasterbot.com