Gunbot is a crypto trading robot that places automatic trades based on a computer-generated algorithm. The software was created by a man named Gunther De Niro and launched in December of 2016. The current version of the software is Gunbot 18:3:9 for Windows, Linux, Mac, and ARM.
Overview
Gunbot was designed to be an easy to use automated trading bot that follows a simple procedure – buying cryptocurrency at a lower price and selling at a higher rate, thus earning profits for users with a minimal effort on their part. Gunbot is fairly effective at analyzing markets and making profitable trades and the service places a great deal of importance on trading strategies. Gunbot comes with several precoded strategies and even allows users to combine some of them. If you're of more of a beginner status, you can select from a simple pre-set trading strategy, or you can build your own strategy.
There are some limitations though, the cheapest account only offers "emotionless" trading strategies, while accounts that cost 0.05 BTC and up offer all of the trading strategies. Gunbot can trade Bitcoin, Ethereum, Litecoin, and multiple other cryptocurrencies. You can choose from multiple trading indicators like candlesticks and the EMA, plus more. Since the software is automatic, you could allow Gunbot to run any time day or night, but the potential to make huge profits is rather limited based on the fact that this is a cryptocurrency-based trading robot.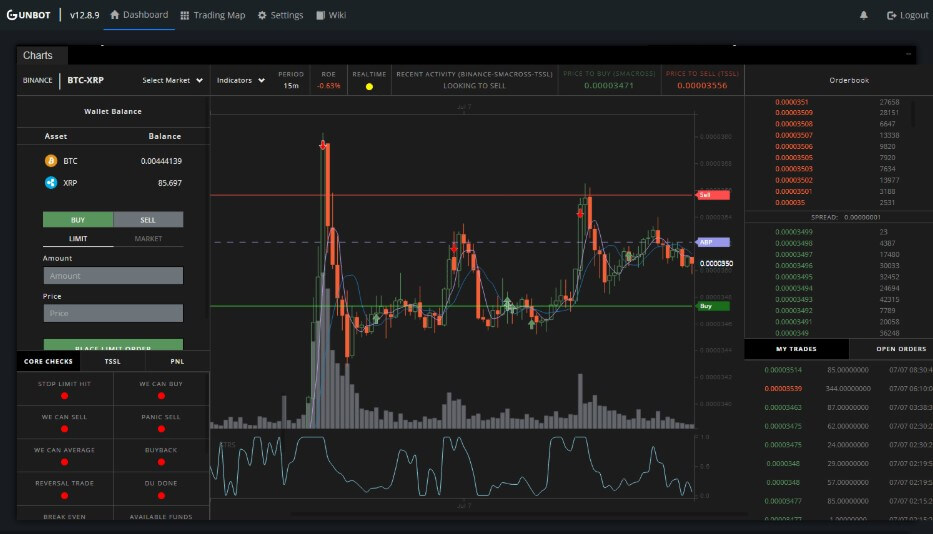 Traders can trade on the Poloniex trading exchange and other similar exchanges without installing additional programs. The software works on Windows, Linux, and Mac computers. Gunbot also stores data locally so that others won't be able to view information about how you trade, but one issue that may arise with the download-based software is the 10GB of ram that is needed to complete the installation. This would likely only affect you if you're running the software on an older computer.
Service Cost
The software charges a one-time license fee with free updates for life. Prices are currently being advertised at a 50% discount off their regular rate. No word on whether this is just a marketing tactic, or if the sale will expire in the future. Take a look at each account's current price below.
Starter Account: 0.02 BTC
Gunbot Account: 0.05 BTC
Gunbot Pro Account: 0.075 BTC
Gunbot Ultimate Account: 0.125 BTC
Bitcoin is always fluctuating, but the entry-level deposit falls into a $100 USD range on the Starter account thanks to the sale, give or take a few dollars. This is cheaper than the account's regular $200 price, so now could be a good time to jump on the offer. There is also a BackTesting add-on for 0.0125 BTC and a TradingView add-on for a one-time payment of 0.0499 BTC. Of course, there are other providers out there that offer free services. Gunbot doesn't currently offer a free demo account. Overall, the registration process is confusing, so the addition of demos could be especially helpful.
Conclusion
Gunbot shows some signs of being a legitimate trading robot that manages to earn a small profit for traders. Since the cryptocurrency market is known for being highly volatile, the robot can only make a profit during times when the market is stable. The software is complicated in some ways and seems to be better suited for traders that have more advanced knowledge trading with cryptocurrencies, as registration can be complicated and there are some technical aspects to think about.
After taking a look at feedback from others that have tried Gunbot, we learned that other traders were also struggling with figuring out how to set up their account and get started. However, many of them mentioned that the service has excellent support staff who are willing to walk traders through the confusing process. Once traders got everything set up and running, they documented that they did start to make profits using the bot. If you aren't easily frustrated, then it's worth investing some time into the bot.
This Forex service can be found at the following web address: https://www.gunbot.com