Spider Grid EA is an automated trading system that trades in all time frames, in all currency pairs, and other financial assets. The EA was created in 2016 by a developer named Mikhail Paramuzov.
The user must choose the financial asset and the time frame they want to use. The EA uses a four-tier signal confirmation system, which allows it to filter false market entry signals. 3 technical indicators are also used for trade. After receiving a market entry signal, the EA opens a market execution order, and at the same time, a take profit is established to close it.
Overview
The Spider Grid EA uses martingale, although to reduce risk it is possible to decrease or increase the martingale multiplier automatically. In addition, you can automate the change of way anywhere, expanding, or decreasing. The market is always unpredictable, so most of the time open orders wait to be closed, and can be from several hours several days, even weeks. In these situations, the EA does not expect the missing command grid to close, it processes all signals and transactions in both directions.
The main input parameters of Spider Grid EA are:
TF – Temporary Framework Expert Advisor
Rsiuperiod – the period of the RSI indicator
Mfuperiod – the MFI indicator period
Cciuperiod – the period of the CCI indicator
Count bars – The number of bars, this is the signal to open a position, which must be confirmed on these bars.
Max orders – Maximum number of orders
First lots – Initial order batch
Lot proc  from balance is a good function of the initial batch in % of the tank, if 0-disabled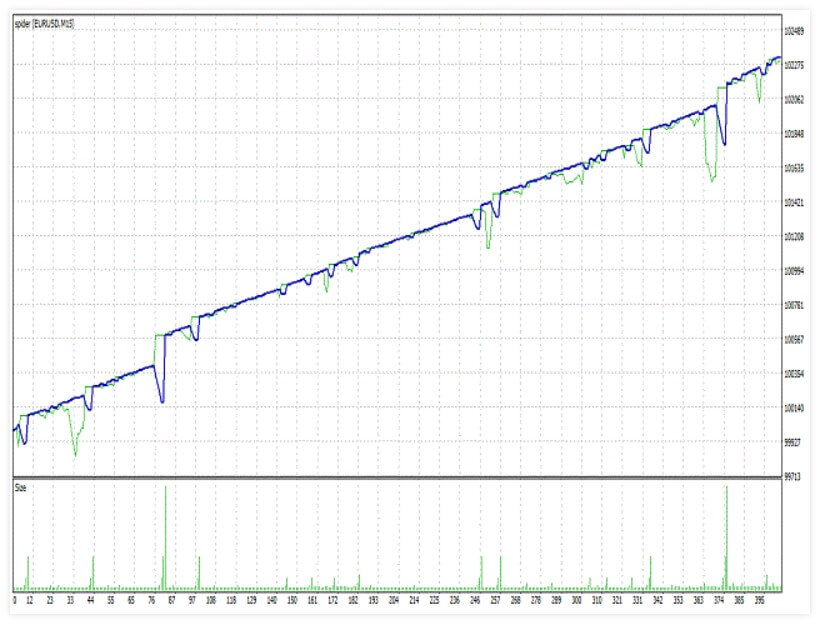 Martin – Martingale
Martingale Plus – Change value of Martingale for each next order. If the value is positive, Martingale increases, if the value is negative, decreases, if 0-deactivated
Grid step – Step in the command grid
Grid step plus – Automatic step-change in grid commands. If the evaluation is positive, the step increases, and if the vaprayer is negative, decreases, if 0-disabled
Tp_pips – Take advantage in points
Sl_pips – Stop loss in points
Trail_sl_start – Final stop in points
Trail_sl_pips – Final stopping distance, valued at the points.
One cycle – When enabled, the EA stops opening new order series after closing the purchase and sales grid. Restart the EA to return it to normal mode.
Magic – Number of magic
Service Cost
If you are interested in this type of EA, note that it is available for purchase on the MQL market for a price of $30 USD. It also has a demo version so you can try it for free before buying it.
Conclusion
Make sure you use a VPS and a low latency broker to make optimal use of this EA. Spider Grid, as we have commented, uses the Martingale system. We are not very much in favor of using automated systems that use this system because of its high risk. We are sure that there are better alternatives in the market, although the truth is that, among its users, it has very good ratings, and we have not found any adverse criticism of this EA.