Fundamental Analysis For Novices Building Permits
Welcome to the Fundamental analysis video for novices. In this session, we will be looking at building permits.
So, what are building permits?
Before residential house construction, or business premises can be built, or remodeling projects can commence on such properties, permits have to be granted from an officially approved local government agency to allow contractors to proceed with the work. This allows for standards to be maintained and improved and allows for Governments to keep tabs on what is happening for statistical analysis of their economies.
The actual building permit itself will allow for the structural integrity of the framework, water and sewage lines, fire and gas connectivity, fire protection, zoning, and sanitation.
The granting of building permits varies from country to country because not all home construction and renovation projects require a building permit. However, typically, projects which require major constructional changes and certainly new build projects require building permits.
Building permits within an economy are important indicators of growth or stagnation in particular segments of the economy. An upturn in commercial building permits is a good indication that businesses are expanding. An upturn in home construction is a good indicator that employment is going well and that people are moving homes, buying new homes, and renovating. In other words, there is a need for new homes. These are positive signs that economies are doing well. Conversely, the opposite is true.
There is a knock-on effect with regard to financing, employment, and manufacturing
and supply of associated materials. And so building permits are seen as an important barometer to the financial health of a nation and are carefully observed by economists, analysts and traders.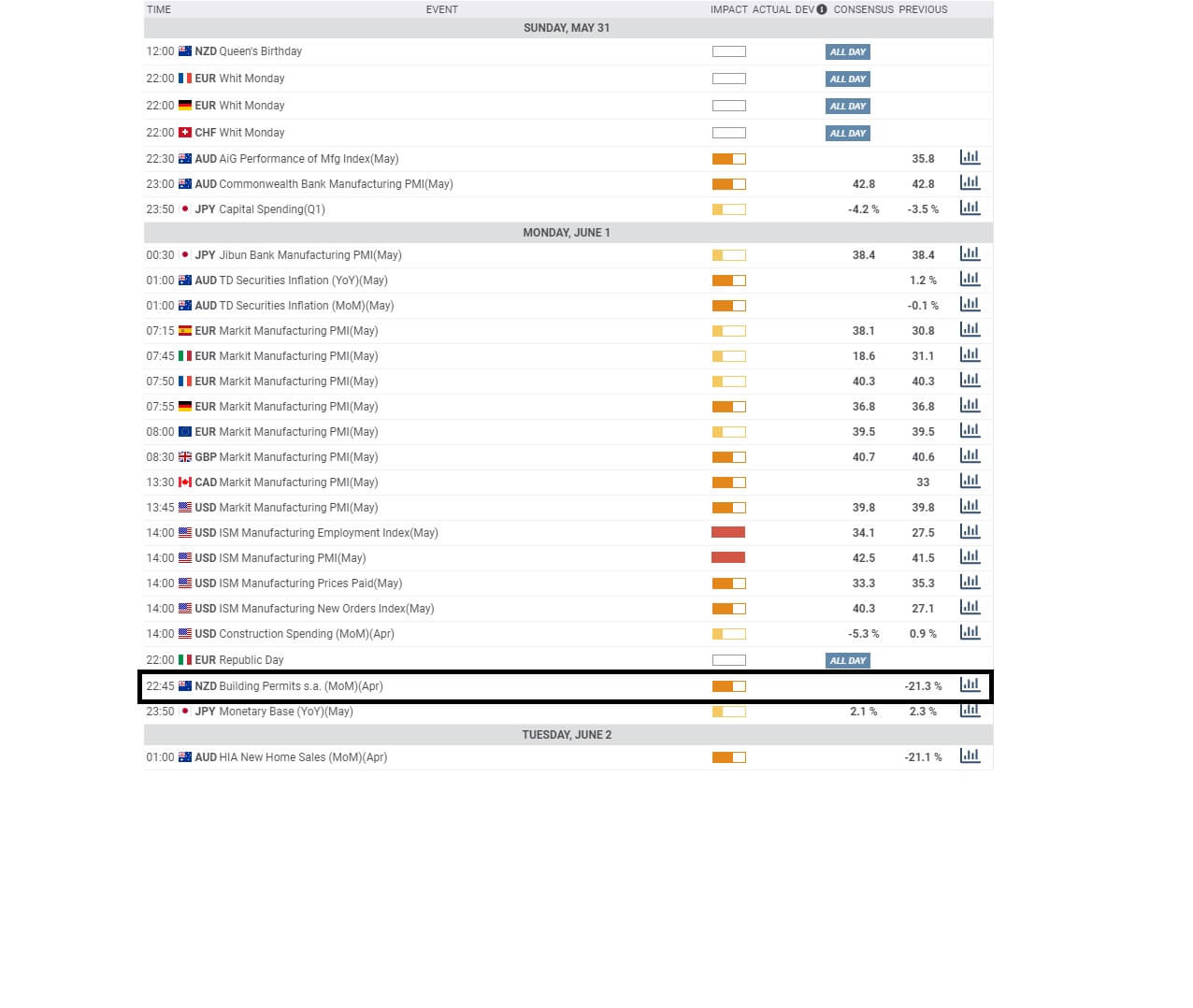 Each month countries such as New Zealand, in this example, on our economic calendar, releases statistics for their building permits. The information is scheduled for release during the usual business hours of the country in question, and typically in the mornings, and is subject to an embargo.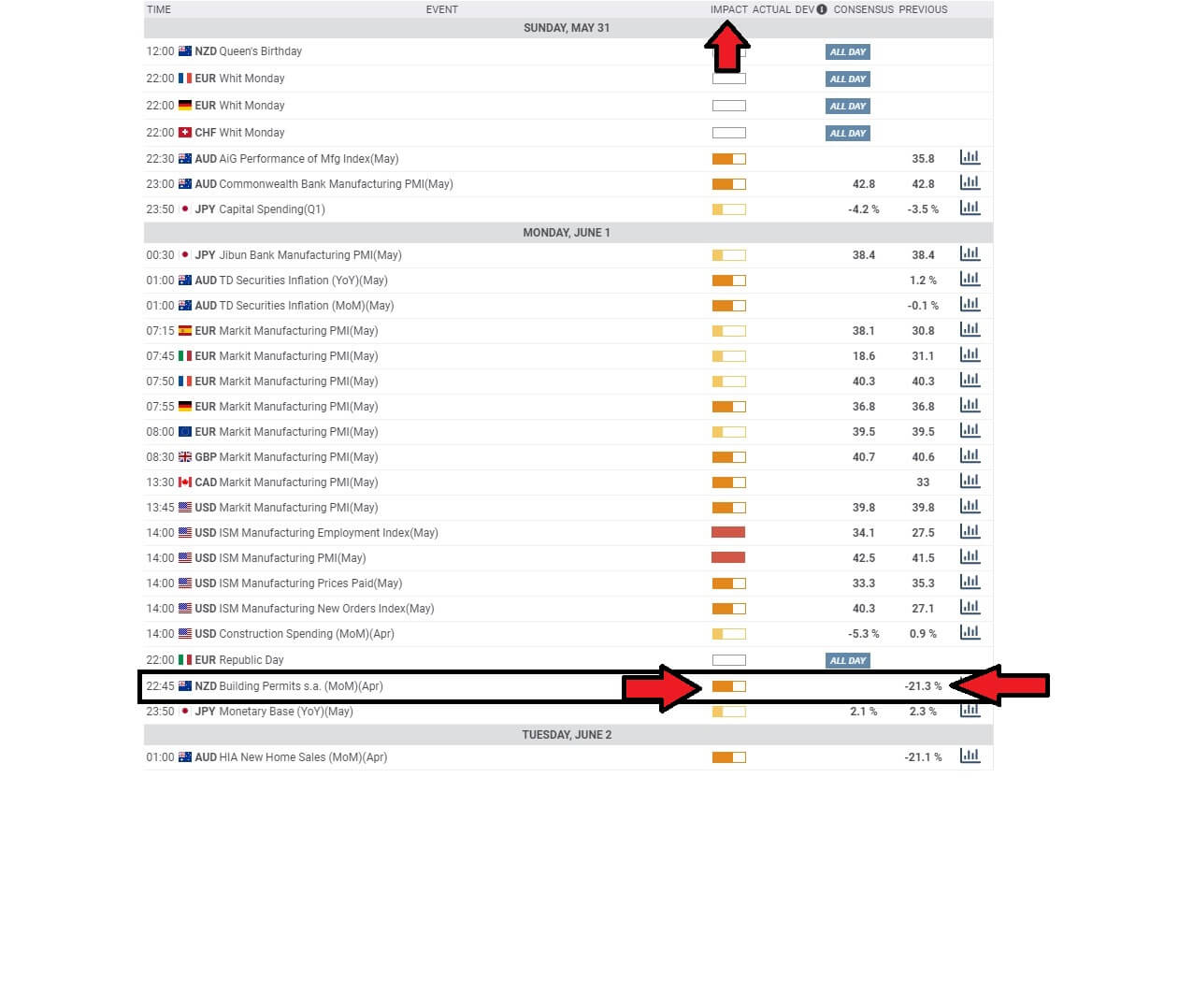 Let's take a closer look at the New Zealand permits which are due for release on Monday the 1st of June, we have been inserted red arrows to show you the impact significance of the release, where an updated month on month building permits data for the month of April is due, and where the previous figure for March came in at – 21.3%.
So how to trade using building permits data release?
The larger the economy, the more significant the building permits data release is taken. So let's take a look at the USA, where the Building Permits report is released by the U.S. Census Bureau on the 18th working day of each month, having conducted a survey of 9,000 permit issuers before publishing their findings into the financial markets. The Census Bureau has been gathering this data since the 1960s.
Typically, a growing number of permits above previous months' data release is seen to be bullish for an economy, and numbers that are lower than the previous months' data release are seen to be bearing.

Keep an eye out for the consensus figure which will be updated prior to the release,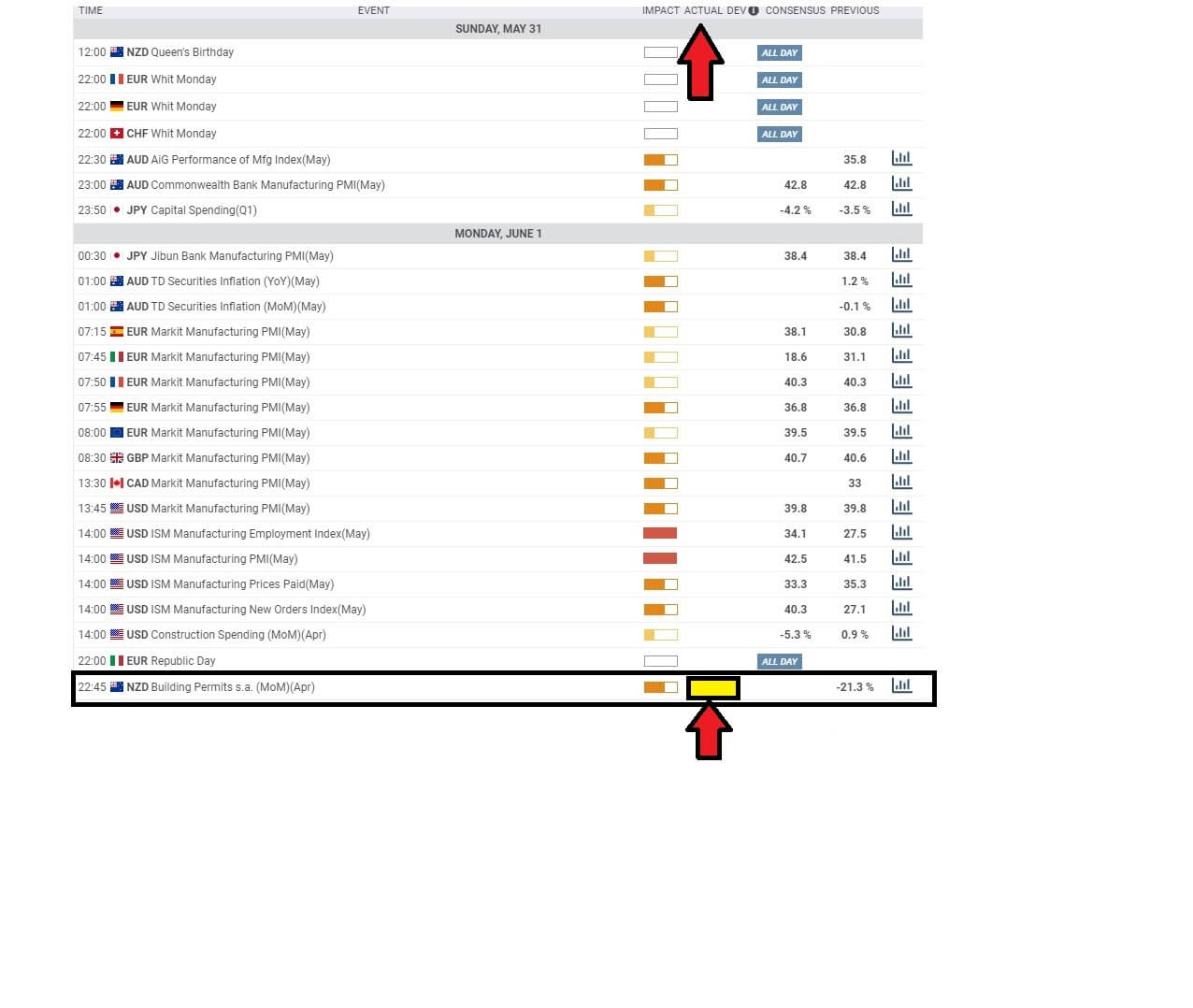 And then compare it to the actual number after the release. Markets hate shocks, and therefore if the number is markedly lower than that of the consensus, where professional analysts and economists have been carefully monitoring events in order to draw their conclusions, you might expect a negative effect on the value of that particular country's currency against other counterparts. But, if the data is higher than expected, then you might see that particular country's currency gain in strength against other counterparts being traded.