FX Procent (FRESHCENT) is a trademark of the Freshforex company; in fact, if you try to register an account, you will be transferred directly to the Freshforex website. Although an offshore broker, Freshforex has more than 14 years of experience in the Forex market and has earned a reasonably favorable reputation within the forex community.
FRESHCENT is owned and operated by Riston Capital Ltd., an international business company of San Vicente (IBC). Companies in this offshore zone only have to follow a simple and economical registration procedure with the FSA. It should be noted that any financial authority does not supervise foreign exchange brokers registered with SVG and that their clients do not enjoy the guarantees of a European or Australian regulator, for example.
By comparison, brokers regulated by reputable financial authorities (in the EU, Australia or the U.S. are required to follow strict financial and ethical discipline, and to maintain a transparent account of all transactions involving client funds. That is why we advise our readers to do trading with duly authorized brokers, and if they are offshore, be well informed to know that they are also reliable.
The FX Procent website is available in English and Russian.
ACCOUNT TYPES
We start from the idea that this broker offers a single account that we are going to call "Standard", and whose basic characteristics would be a $20 minimum deposit, fixed leverage of 2 pips, and a maximum leverage of 1:1000. FX Procent seems to offer only one type of account (cent). Your customers can choose to trade on the MT4 or MT5 platform, and they can use very high leverage rates.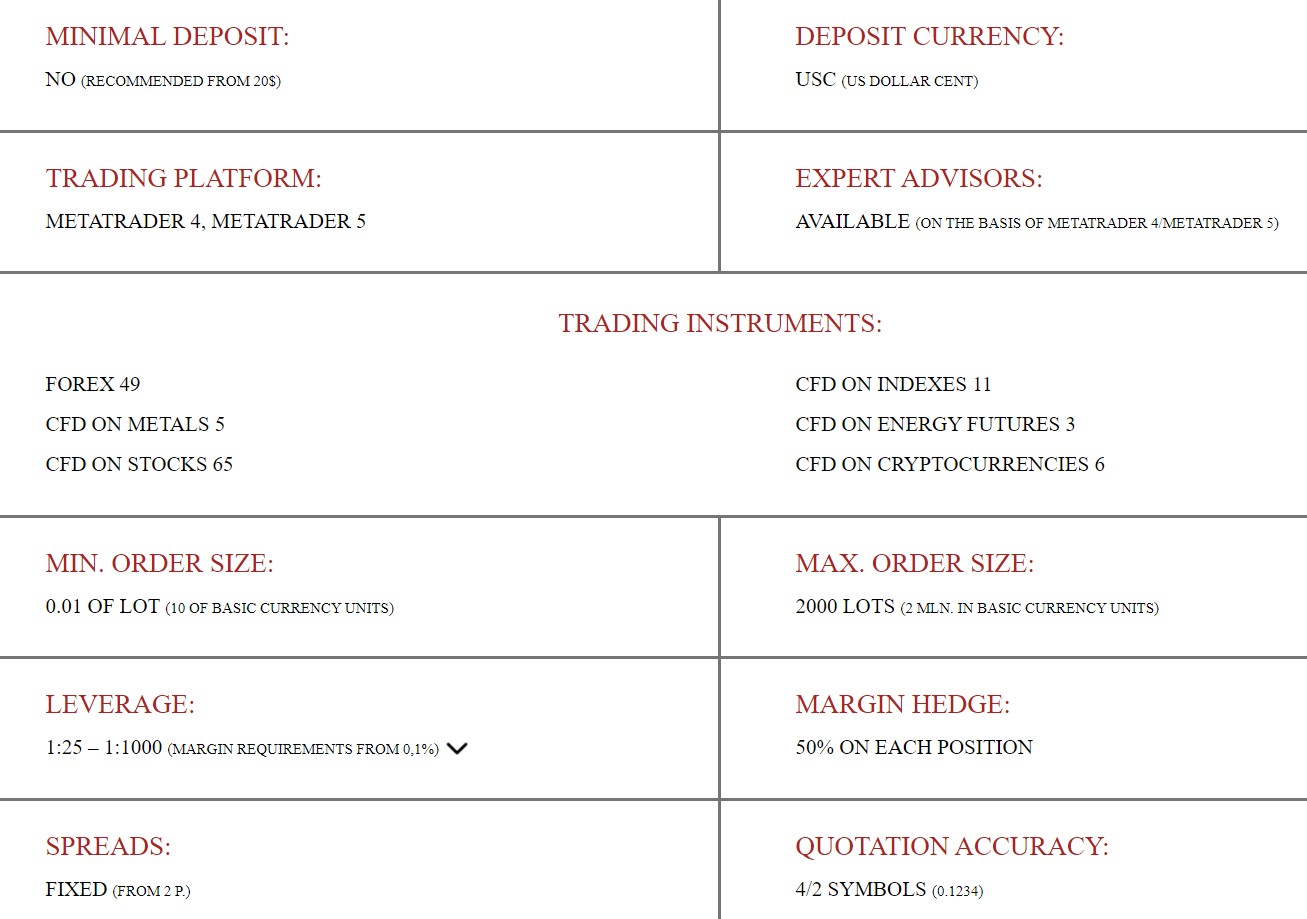 It looks like FRESHCENT is the Riston Capital brand specializing in nickel bills. In short, these are accounts where the deposit, gains, and losses, are measured in cents, rather than dollars. These types of accounts are more suitable for traders exploring automated trading, using Myfxbook and Metatrader market systems, or those traders who are encoding bots.
PLATFORMS
We have the good news of knowing that this broker is compatible with MT4 and MT5 platforms. FX Procent has in its commercial offer the platforms Metatrader4 and Metatrader5, which are two of the most popular and well-known forex platforms.
MT4 provides all the needs a trader may need: a secure business environment, a wide range of technical indicators, a sophisticated advanced graphics system, a variety of Expert Advisors (Eas) for automated trading, and extensive back-testing options for traders to analyze their trading strategies.
The Metatrader 5 platform is compatible with most MT4 features and offers more time frames, advanced built-in event management, and improved debugging tools. It also allows users to trade in derivatives and stocks traded on the stock exchange, all from the same account.
LEVERAGE
FRESHCENT customers are offered relatively high leverage rates. You can choose between a leverage level of 1: 25, up to 1: 1.000. In reality, professional operators rarely use leverage above 1: 100, and even this leverage is sometimes considered a high-risk investment. However, leverage as high as 1: 1000 is considered a plus, as it will be sufficient for the needs of all types of traders.  The downside of using high leverage is that it can be risky, and if you don't have a lot of experience in trading, you could lose your investments in a matter of seconds.
TRADE SIZES
The mínimum order size is 0.01 of a lot (10 OF BASIC CURRENCY UNITS). The brokers say that there are no restrictions on the máximum order volume.
TRADING COSTS
The highest cost is in the spread, as this broker applies fixed spreads of at least 2 pips in the most liquid currency pairs. On the positive side, we have that FRESHCENT does not apply any commission to trade. The other cost we have to take into account is the Swap or Overnight Financing, which is any position held overnight, which will incur a maintenance cost (interest). This amount can be negative or positive depending on the instrument and the direction of the position, and its amount is fixed by the central banks of the base currency of the open position.
ASSETS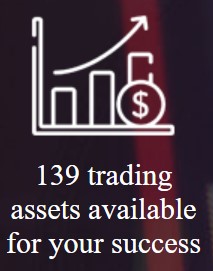 With FX Procent we can trade a good number of assets. We will not list them all but segment them by asset types and quantity available for each of them, in this way, you get an idea of the offer of this broker.
49 currency pairs in FOREX

5 CFDs ON METALS

66 CFDs ON STOCKS

11 CFDs ON INDEXES

3 CFDs ON ENERGY FUTURES

6 Cfds ON CRYPTOCURRENCIES
SPREADS
Spreads with FRESHCENT are 2 pips in more significant pairs, which is a little high spread for any trader who wants to deposit a significant amount of money. By comparison, most currency brokers offer spreads within the range of 1.0 – 1.5 pips in the EUR / USD pair.
MINIMUM DEPOSIT
Customers of FX Procent are not required to deposit a certain minimum amount to open an account; however, the initial investment recommended by the broker is $20, an amount that anyone can afford to spend. The truth is that 20 USD is an amount in which any sudden movement of the market will mean a margin call (if the move was against us), or directly lose all capital. Remember that the currency of the accounts is the USC (US DOLLAR CENT).
DEPOSIT METHODS & COSTS
FRESHCENT has a wide variety of methods for customers to make deposits. In the following table, the deposit methods, the accepted currencies, the associated costs (free deposits), and the waiting time are detailed: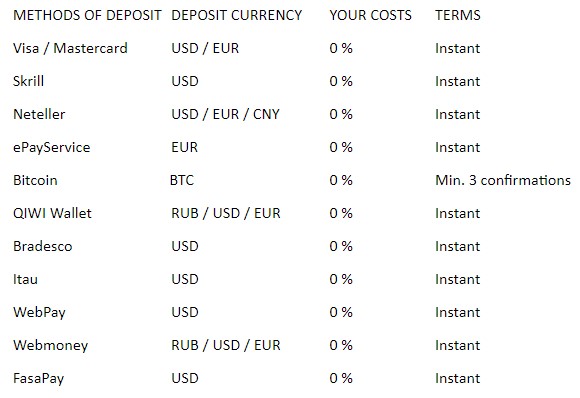 WITHDRAWAL METHODS & COSTS & WAIT TIME
The broker also facilitates the task at the retreats, as he has a good variety of them. Below is a chart with available withdrawal methods, accepted currencies, withdrawal costs, and estimated waiting time until you can see the money in your account.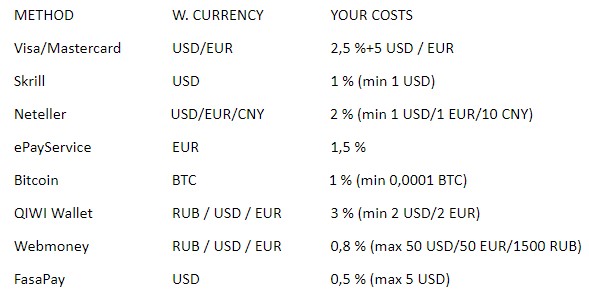 BONUSES & PROMOTIONS
FX Procent currently has 2 current promotions. The first promotion is a gift bonus of 100 cents USD (1 USD), 100% WITHDRAWABLE, and 100% TRADABLE. This offer is available only for new customers. The other promotion consists of a Cashback for the trades, be they winners or losers. Specifically, the broker reimburses 20 cents for each trade loser and 10 cents for each trade winner.
EDUCATIONAL & TRADING TOOLS
FX Procent has an educational area with a lot of exciting content. It has a bookstore with different articles; we point out below which are:
Quotation on the Forex market

Popularity of pairs over the week

Margin trading on the Forex market

Knowing Foreign Currency (Forex) Best Business Ever

Internet Trading: What Is It?

How to Trade in Forex

Foreign Exchange Market Definition

Financial Instruments: forward contracts, options trading, etc.

Common Myths in Forex Trading

Characteristics of a good trader

Basic fundamentals of trading on the Forex market

Trader's way

Forex Currency Pair | Key Forex Terms

Forex Support and Resistance

Forex Market Trading Hours

Types of Forex Charts and Graphs
CUSTOMER SERVICE
It's incredible, but we couldn't find a phone, an email, from FRESHCENT. There seems to be no customer service available, which is unusual. There is also no contact form or live chat on the website. We have not found any way to contact this broker. All we know is his postal address: St. Vincent and the Grenadines, Kingstown, Beachmont, P.O. Box 1510, Suite 305, Griffith Corporate Centre.
DEMO ACCOUNT
We regret to report that this broker does not provide a demo account, which we consider to be bad news and a negative point for FX Procent.
COUNTRIES ACCEPTED
Financial services provided by Riston Capital LTD. Services described on their website are not available in Iraq, North Korea, the UK, and the USA.
CONCLUSION
FRESHCENT is an offshore currency broker specializing in nickel accounts and part of the Freshforex group, which operates mainly in Russia and Asia. Although Freshforex is a well-known name in the trading world, we advise traders to be extremely cautious in dealing with offshore brokers as a general rule. The clients of these brokers basically don't have much protection in case something goes wrong.
However, traders can target better trading options. For example, there are many brokers, which we have already analyzed in other reviews, duly regulated in Australia or Cyprus, and which offer even better trading conditions.
We did not like the broker not to specify what types of accounts he can offer, it seems that he only offers one type of account, and we have taken this into account. We also didn't like the trading costs, which are priced by the fixed spread that this broker applies; even without having commissions, trading with FX Procent is more expensive than with most brokers. And the other 2 things we didn't like were, not finding customer service data to contact the broker, not even having an email address is something that had never happened to me… On the other hand, the absence of a demo account is another negative point for this broker.
On the positive side, we find that FRESHCENT has available the 2 most popular platforms in the market and that they have all the necessary tools for any trader. Leverage is another point in favor, although leverage of 1: 1.000 is excessive, the ability to choose between a leverage range of 1: 25 to 1: 1.000, is something that few brokers offer, and perhaps some traders will demand it. The amount of assets available is entirely acceptable and sufficient for most customers, and the broker's requirement for no minimum deposit is also a positive point as it will be possible to start trading with little capital and risk little money.
We appreciate the amount of deposit and withdrawal methods offered by this broker, they are quite numerous, and few brokers offer so many options. Current and proposed promotions do not seem attractive enough, not as the main reason to open an account. What we do value positively is the educational area, which has the right amount of content of interest.
Finally, we summarize the advantages and disadvantages that we have observed in FX Procent:
Advantages:
The broker is part of the Freshforex group, which has a certain prestige

It has the MT4 and MT5 platforms

Leverage available up to 1:1000

They do not require a particular initial deposit

A lot of financial assets available to trade

Many varieties of deposit and withdrawal methods

A good educational area with exciting content
Disadvantages:
Regulation can be improved

Fixed spreads somewhat high

There is no (or we have not found) any customer service

Absence of demo account

The promotions are unattractive