DowJones Supertrend H1 is an automated system created in August 2019 by developer Marek Kupka. This EA has been specially developed to trade the DOW JONES (US30) in H1 timeframe. Everything is checked and ready to be used immediately in a real account. There is even a real account trading with this EA on the Darwinex website, which is a positive point as we can know beforehand how the EA works before purchasing it.
This Expert Advisor is based on the breakout of the pivot line. It uses pending STOP commands with fix stop loss and ATR take profit. For more benefits, there is also a final benefit feature always. At 9:00 pm the EA closes trade every Friday to avoid any gaps that may occur in the opening of markets on Monday after certain news or events.
You have to adjust these times to your broker's time, as the preset values in the EA are only for UTC+1. For each candle the pending orders are modified to adapt the market behavior. Everything is already configured for the H1 time frame. You just need to set the lot size depending on the amount of capital in relation to the expected risk.
This EA has been tested in over 12 years of history in M1 FUTURES DATA and verified in REAL TICK DATA broker with 99% modeling quality. There is no need to configure the parameters, all settings are already optimized and adjusted, so the user only needs to modify the time of your broker, nothing more.
Some features of this EA are:
IS/OOS tests. Slip test. Test in another market to verify the edge.
Test on shorter and shorter timeframes. Robustness tests, Monte Carlo Simulations of Randomize Trade Order. Randomly jumping trades. Randomize strategy parameters. Randomize history data – volatility changes. Sensitivity for propagation and sliding. Walk ahead matrix – verify how the strategy is adaptable to a wide range of market conditions.
The recommendation that the developer makes, and that we think is correct, is the diversification of several EA s that function with different assets and different time spaces. This way the strategy portfolio works better together.
For the use of any EA, it is always recommended a broker with small latency and slip, for better performance. In using Dow Jones Supertrend H1 there is no need to use a large account, it works perfectly with small accounts.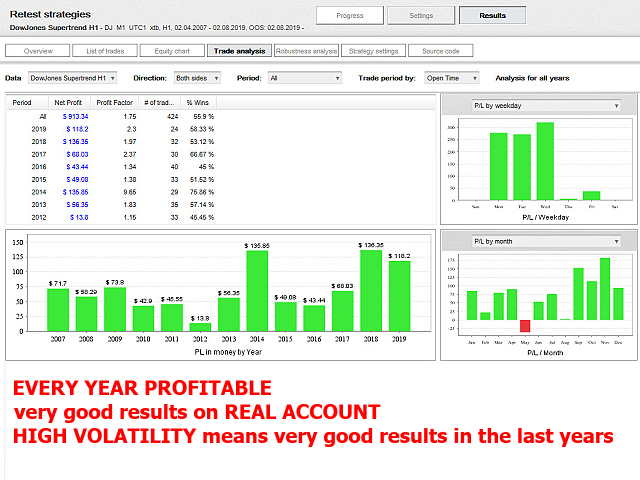 Characteristics of this EA:
Every operation is protected by Stop Loss

No martingale, no grid, no scalp, no cover, no latency, no arbitration

No excessive consumption of CPU resources

Easy to use configuration

All settings are optimized

Long-term strategy

If the user has any doubts, customer service is available
Settings:
Batches = 0.01 – set the size of the current batch, adjusted by the size of its capital.
Magicnumber = 2163 – Trade ID.
Custom Comment = DOW JONES Supertrend H1 – custom comment in the story.
Email notification on trade = false – if you open an operation, you will be sent an email; you need to set up an SMTP server on Metatrader 4.
Showing Fopanel = true – enable or disable the information panel in the chart.
In short, we are talking about an EA that has only been on the market for a short time and that does not at the moment have comments from users who have already tested its operation. Readers can check the profitability of this developer's strategies on the Darwinex page by searching for the user "hankeys".
It is also possible to test this EA by downloading the demo version that is available on the MQL market, and if you want to buy it, its price is 99 USD.