Fibonacci Of Yesterday EA is an automated system created in March 2020 by developer Thushara Dissanayake. Thushara Dissanayake is a prolific creator of trading tools that has many references in the MQL market. Those who are interested in exploring this forex service further may do so using the link that we have provided at the bottom of this review.
Overview
The Fibonacci Of Yesterday Expert Advisor is specially designed to automate the most popular Fibonacci strategy that is based on the high and low of the day before. Basically, it places an order between 50% and 38.2% levels. However, you can adjust everything for your own style. The most important Fibonacci levels are included and you can turn each Fibonacci level on/off.
Fibonacci Strategy Of Yesterday EA requires that you wait until all major news is published, so we avoid possible slippages. At that point, you should be able to identify the trend, up or down. If the market is up, draw Fibonacci levels from high oscillating to low oscillating or if the market is down from low oscillation to high oscillation. Place an order between 50% and 38.2% levels with a loss of stop at 23.6% level of retracement.
Features of Fibonacci Of Yesterday EA
Modern drag system
Adequate risk management system
Fast activity
Notification alerts
Easy to use configuration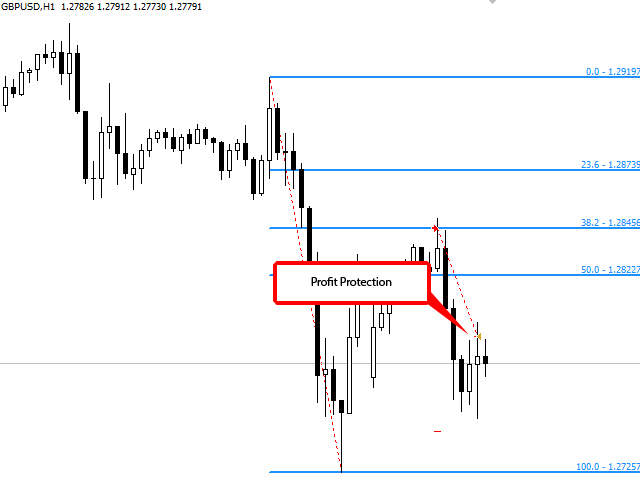 The parameters of this EA are clearly defined and include the following:
Batch Management – enable/disable the batch management system
Maximum risk – maximum risk of the total margin in %
Decrease factor – number of consecutive operations losses to reduce batch size
Stop Trailing – number of pips in benefit to activate the stop of trailing (pips)
Final step – stop loss by moving by [x] pips
Stop Loss – stop loss
Take Profit – take profit (pips)
Allow purchase orders – enable/disable purchase orders
Allow sales orders – enable/ disable sales orders
Magic number – number for each symbol window and type of trade in which the EA runs simultaneously
Parameters of the Fibonacci
Fib level filters are available
Level 0.0%-200.0% – Enable/Disable each Fibonacci level
Additional Touch Level Mode – Open operations when touched before several tubes of a Fibonacci level
Distance for additional level – distance for additional level per pips
Graphical parameters include:
Line Style – Fibonacci line style
Line width – Fibonacci line width
Color Line – Fibonacci color line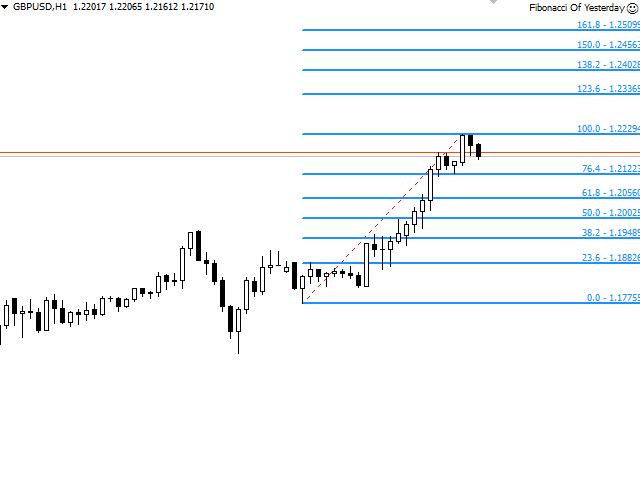 Important: The recommended time frames are 30 minutes and 1 hour. The default setting is not optimized for the maximum gain rate, and the user will have to make the adjustments to make the tool profitable.
In short, we are talking about a system that uses Fibonacci as the basis for its operation. This robot is not suitable for all types of traders, as the tool leaves many parameters open so that it is the user who optimizes the operation and makes the system more or less profitable. therefore it may not be the most suitable EA for novice traders.
As in any EA, it is always advisable to use dedicated VPS or virtual servers to stay permanently connected to the robot. If we do not have a server, we are forced to have our computer on 24/7. Another recommended option is to have an ECN account in a reliable broker with low latency so that our orders are executed in the shortest time possible.
Conclusion
We highly recommend before investing in the purchase of the EA that you download the free demo version to know the operation better and familiarize ourselves with all the functionalities that are programmable by the user, and if possible, find out the profitability of the robot even in a demo account. Fibonacci Of Yesterday EA is available for sale on the MQL market at a price of 30 USD, and it is also possible to rent it for 10 USD per month.
This Forex service can be found at the following web address: