VJ Sniper is a trading indicator that was created by author Vijayaratna Kumar Boda and launched on the mql5 website in August of 2015. Most recently, the product was updated to version 4.0 in March of 2019.
Overview
VJ Sniper provides buy signals for uptrends and sell signals for downtrends on the MetaTrader 4 trading platform. It is based on the close of the previous candle so that traders can enter at the beginning of the candle in order to avoid waiting for the closing of the candle.
Here are a few more facts about the indicator:
Works on any timeframe except M1 – M30, H1, H4 are recommended
Contains 3 trend bands & signal arrows
Best used with Forex instruments
Automatically drawn support & resistance line lets traders choose the best signal
Does not repaint on low volatile instruments, rarely repaints on high volatile instruments
The developer doesn't try to lure in traders with promises of amazing results, he is very straightforward about the fact that this product reduces false signals as much as possible and bases its signals off of high profitability. He also explains that it is best to use this indicator in combination with other products, especially Price Action & Candlestick strategies for the best results.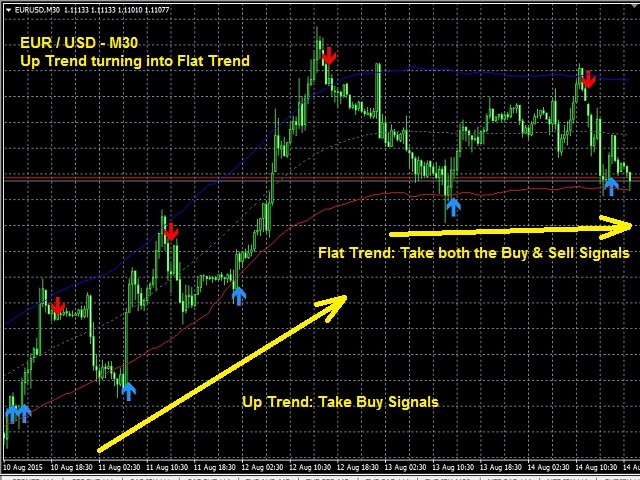 Service Cost
There are two options available for those wishing to acquire the indicator:
Rent for $22 USD for one month
Purchase for $66 USD
This indicator should be used in combination with other products, so you'll need to consider the total cost of your investment. A free demo version is also available.
Conclusion
VJ Sniper is an indicator that provides early buy/sell signals based on the closing of the previous candle and high probability uptrends and downtrends in the market. It works best with low volatile instruments and certain timeframes, and in combination with other products. This product has received mostly 5-star ratings, but there are a few one-star reviews in the mix. For example:
"This indicator is 10 times better than Bollinger bands. It gives you more precision and you can determine support and resistance levels way better. For the price this indicator costs it's almost free." -PES
"This has to be the best indicator I have ever come across. When used with MACD crossover (if possible) then it works amazing well." -John
"This one repaints a lot. The arrows and the channel!!! Stay away" -Stephane
Most of the one-star comments, like the one above, mention repainting as the primary issue. The best way to avoid this would be to stick with low volatile instruments. Still, even with a handful of bad reviews, the indicator has still managed to earn a 4 ½ star rating. This could certainly be a useful product when it is put in the hands of a trader who practices effective risk-management while avoiding certain instruments.
This Forex service can be found at the following web address: https://www.mql5.com/en/market/product/11256