FFx Basket Scanner is an indicator that was uploaded to the mql5 marketplace in August of 2017. It was developed by Eric Venturi-Bloxs, who has created multiple tools for MT4 and MT5. The indicator has not been updated from its original version.
Overview
This indicator was created to scan all pairs and timeframes in order to paint a clearer picture of which currencies should be traded or avoided. A couple of ways that traders can use it would be to watch for currencies to go into the "extreme zone" (which would give traders confidence to move forward with the trade) or to compare two currencies to find the best single pairs to trade.
Traders can select up to 5 indicators from the 16 available, and select any combination of up to 9 timeframes. Users can also change input levels controlling whether the calculation should be done at the close of the candle or in real-time, horizontal/vertical shift numbers, alert settings, etc.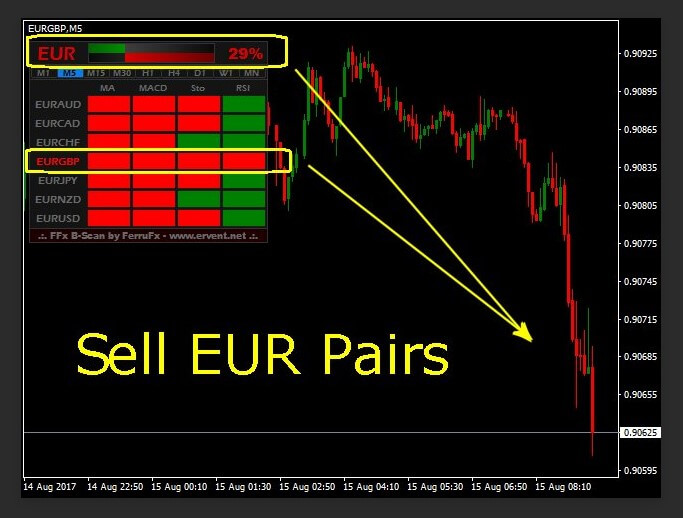 Service Cost
The author only allows users to purchase the indicator (with 5 activations) for $30 USD. Similar products sell for the same price, but other developers often allow traders to rent their products for a shorter time at a lower rate. Fortunately, the developer does offer a free demo version that could be useful for testing.
Conclusion
The FFx Basket Scanner is an indicator that was created to help traders clearly see which trades to make by comparing currencies and watching for the price to enter outlined "extreme zones". It has received a 5-star rating from users, but reviews are scare and some comments tell us that users had a hard time figuring things out. Still, some users have good things to say.
For example:
"This is one of the indicators that I use, works well at picking out winning pairs with my own incorporated strategy!" -Tim
"Absolutely superb." -dimitror
Traders will simply need to figure out if this indicator could be helpful enough to pay the $30 software fee. As always, indicators can help traders to make more informed decisions, but they cannot guarantee traders will profit, as this depends on their own knowledge and strategy.