The Interactive Stop Loss is an expert advisor that is found on the MQL5 market, there may be other expert advisors or indicators with a similar name so we have provided a link below to make sure you know exactly which one we are looking at. The expert advisor was first uploaded on the 7th of May 2015, there have not been any further updates, so the current version of this expert advisor is 1.0.
Overview
The Interactive Stop Loss is an expert advisor created to be used with the MetaTrader 4 trading platform. The expert advisor is designed to create an invisible stop-loss that the brokers can not see, it was designed this way to prevent brokers from potentially triggering unwanted stop losses. The way the interactive stop loss works is by closing the trade once the price crosses the line rather than just the buy or sell figure. The expert advisor will work on all trading instruments and on any time frame.
There are a number of parameters that can be changed:
Symbol – symbols traded by the EA
Values: CURRENT – a current symbol of the chart, ALL – all symbols of the terminal
MAGIC – magic number of the EA's orders
Value: -1 – orders with any magic number
Slippage – allowed slippage to close orders
Interactive – enables an interactive stop-loss mode
Close_mode – mode of closing orders by an interactive stop loss
Values: CLOSE – the EA closes the order after the candle is closed beyond the interactive stop loss line
CROSS – orders are closed after the price crosses the interactive stop loss line
sl_name_begin – prefix to name interactive stop loss lines automatically
sl_line_color – color interactive stop loss lines
x_btn and y_btn – distance to the upper right corner of the button panel from the beginning of the chart by х and у correspondingly
Alert – enable/disable alerts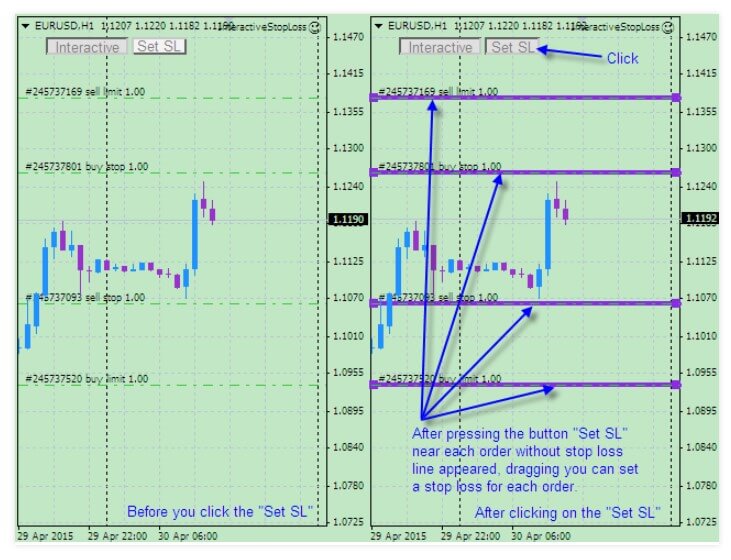 Service Cost
This expert advisor can be purchase outright for $19, there is no option torent it, most likely due to its lower price. There is also a free version available, this will have some limitations to it but we do not know what they are, it is also a chance to try out the expert advisor before purchasing. It seems that the free version is able to backtest only rather than actually function properly for you.
Conclusion
There aren't actually any reviews available, however, there are a number of comments which have peoples' opinions in them, the creator also seems to be quite responsive and is replying to comments in a prompt manner.
"This is a fantastic product." – User Comment
As there are no reviews, we do not have a good understanding of whether or not the expert advisor is doing what it is meant to, due to this we would highly recommend that you download and try the free version, this was you can make sure that it is working how you need it to and that are you able to successfully get it set up, do this prior to making a purchase.
This Forex Indicator is currently available in the MQL5 marketplace: https://www.mql5.com/en/market/product/9233