Copyist MT4 Universal is currently located on the MQL5 marketplace, we have provided a link to it below just in case there is another expert advisor with a similar name. Ihar Dubadzelau first uploaded the expert advisor on the 6th of August 2014, it has had a number of different updates, the most recent update was on the 2nd of June 2015 and is currently at version 2.20.
Overview
Copyist MT4 Universal is an expert advisor for the MetaTrader 4 platform, it was designed as a universal trade copier, the EA runs as both a provider and a receiver of trades, it uses multiple different algorithms which the aim to provide the fastest copying speeds possible.
The expert advisor has two modes, the receiver mode asl known as slave account s will receive the copy signal from another account and execute the same trade or trade using the selected settings. The sender account (known as a master account) will send a signal to all slaves that are attached to the system.
Plenty of settings and parameters to alter, these will slightly change the functionality of the expert advisor, some of them include which mode to use, account numbers, timers, prefix and suffice options, lot types (fixed, balance, or equity-based), lot multiplications, take profit levels, stop loss levels and more.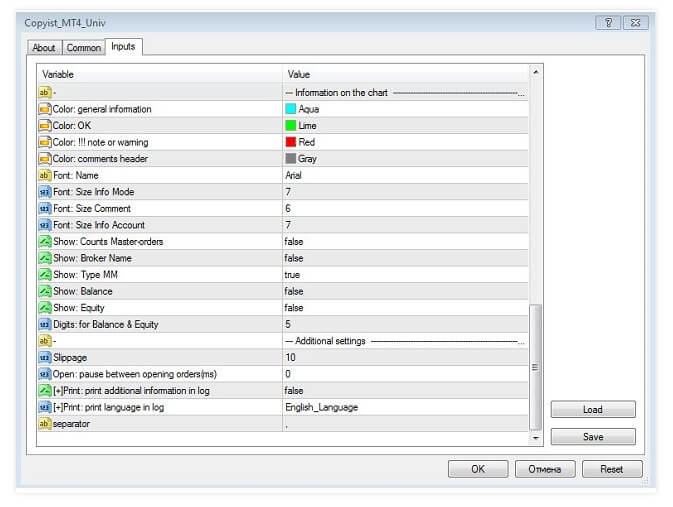 Service Cost
You have the option to purchase this expert advisor outright with no limitations for $10, many expert advisors on the MQL5 marketplace allow you to rent them, but this is not the case with this expert advisor so you can only purchase it. There is a free demo version, but the limitations are not known to us but it is often still worth downloading and trying it out.
Conclusion
At the time of writing, there are 41 different user reviews and ratings, they have given the expert advisor an overall rating of 4 out of 5.
"Until author responds to paying clients about serious EA issues that can obliterate your account, I wouldn't purchase this software… the risk is too great… worthless software if it doesn't do the job with 100% user confidence… do not support this author if he doesn't support previous clients." – A 1-star review.
"I use Copyist MT4 Universal at my real accounts. After reading the comments and testing it on my demo accounts with several setups, everything is very clear. Nothing is missing. This is the only copier that fulfills my all necessities. Thanks to Ihar Dubadzelau for his extremely robust expert. My advice is not to waste money and time with others. Buy this one and study all settings seriously before using it at your real accounts." – A 5-star review.
"Excellent product – it has everything the regular users need! Igor (the author) also provided excellent and timely support by Skype. Thank you Igor!" – A 5-star review.
The majority of the review are positive but some of the more recent ones are talking about the seller no longer responding or helping, the comment section also does not have many replies from the creator so it seems like they may no longer be actively supporting the expert advisor. Due to this, we would suggest sending ina query to see if you get a reply, you could also try the free version to make sure that it does what it needs to do, if you creator is no longer responding then it may be better to find one that is being actively supported.
This Forex service is currently available in the MQL5 marketplace: https://www.mql5.com/en/market/product/5417