SuperTrend Scanner can be found on the MQL5 marketplace, there may be others with similar names so we have provided a link to the indicator that we are looking at below. The indicator was uploaded by FXsolutions, on the 27th of April 2018, it was last updated on the 6th of October 2018 and is currently at version 1.6.
Overview
The SuperTrend Scanner is an indicator for the MetaTrader 4 trading platform, the scanner helps to show the tend values for up to 30 instruments over 8 different timeframes. It can then send out alerts as soon as a trend changed.
There are multiple ways to use the scanner, the creator has suggested two of them as:
-With this scanner, you can trade a top-down approach easily. If two higher time frames e.g. W1 and D1 are already showing green values (upward trend) but the H4 time frame shows a red value (downward trend) then you can press the H4 button to get alerted when the value of the H4 time frame changes to the green value. These signals can be good trend continuation entries.
-You can also use this scanner for entry signals into MACD divergences. E.g. a bullish divergence exist on H4 but the SuperTrend values of the time frame H4 and H1 are still showing red values, then you can get alerts at the moment when the H4 or H1 value changes to green. These signals can be good entries in the direction of the divergence.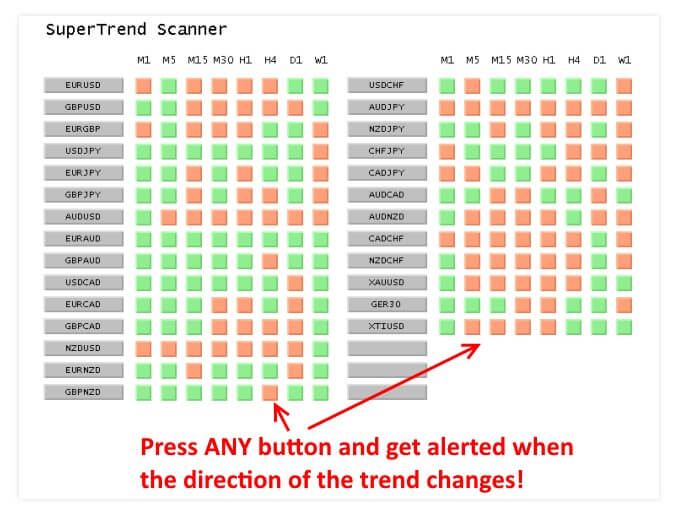 There are also some parameters available to alter, these include things like the ATR period, the trend multiplier, how to receive alerts (MT4, email, or push), template names, how often to check, and more.
Service Cost
The indicator will currently cost you $59 to purchase it outright without any added limitations. There is also the option to rent the indicator, you can do this over a one year period which will cost you $48 for the year.
A free demo version but the developer suggests downloading their free indicator that will show you the same results, it is slightly more limited and won't have all the same functions but it can be used to make sure that it suits your needs.
Conclusion
There are currently 9 user reviews fro the SuperTrend Scanner, they are giving the indicator an overall rating of 5 out of 5.
"Good tool to see which pairs are trending at glance before drilling down to have a look to see if any trades are setting up, an excellent tool for time-saving, also good tool see when big money is at play the normal dump and pump I can take advantage on a good move quick 20-30 pips. Overall I like it a lot." – A 5-star rating.
"I am a part-time trader. This indicator sends me an alert on my phone. This allowed me to improve my entry points. I also use it in combination with the Strong Trend With Magic Entries. This allowed me to increase my profits over the long term and more than any other indicator I've tried. Good job Mike and thank you again for sharing your knowledge." – A 5-star review.
"The scanner helps to find the breakthroughs in all-time units. This works very well in higher time units so far so you can concentrate on more important things. Thank you for that." – A 5-star review.
So the reviews are all very positive which shows that the indicator is doing what it is meant to be doing, there are also a few comments within the comment section of the site, the creator has replied to those comments that require his input which is good to see. Even with things being so positive, we would still recommend that you try the free version, also send any queries you have to the developer so you can be sure that the indicator will be the right one for you before you make a purchase or rental.
This Forex service is currently available in the MQL5 marketplace: https://www.mql5.com/en/market/product/29146