The Robot Trader Forex company has created another expert advisor called Falcor Forex Robot. The team is proud that their EA Falcor helps traders regain control of real-time graphics with untimely indicators and price action.
They claim that this Forex robot has been designed using advanced trading logic, so we will do a complete overhaul and know if this trading system meets our expectations in terms of results, strategy, and customer feedback. Traders can contact customer support by creating a Kayako ticket.
Overview
According to the website, there are six reasons why a trader should be interested in the Falcor Forex Robot. All transactions are fully automatic; there are no lagging indicators, exchanges occur 24 hours a day, settings are done in just 5 minutes, it is easy to use, and it is compatible with multiple currency pairs.
The Falcor Forex robot strategy uses "price action to find operations while they act". The Robot Trader Forex team believes that most automated systems also spend a lot of time analyzing historical data to find trading opportunities. At the same time, with this robot they prefer to base their commercial configurations on what the price is doing right now.
Product Details
No detailed strategy information is provided. Robot price: 99 USD (currently reduced by 50%). Strategy: Price action. Currency pairs used: AUDCAD, CADJPY, NZDCAD, EURJPY, EURUSD, NZDJPY, USDSGY, GBPUSD, GBPJPY, EURAUD, USDCHF, EURCHF, GBPCHF, and CADCHF.
For 99 USD, the Falcor Forex Robot comes with a single license that can be used exclusively in MT4. This provider does not appear to have upgraded any of its systems to MT5.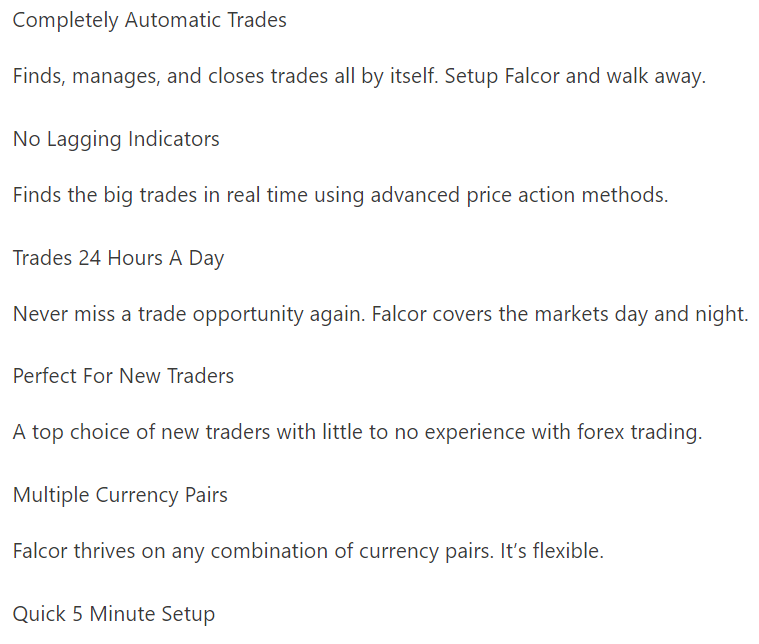 User Reviews
There are many reviews on the Internet, and they got a 2.4 out of 5 in FPA. Moreover, we have not been able to find detailed information from users about this robot, as it is one of the least popular options that developers offer.
Commercial Results
The creators provide statements with promises of profits ranging from $30,000 to $115,000 per month, but none of these statements they provide are verified. They could easily connect their robot to Myfxbook and show us that the data is real, but they don't perform this practice. For this reason, and because the results are quite scandalous, we simply do not believe that the results are real. Almost all the robots on the market now use some kind of service to share statements and verify their operations.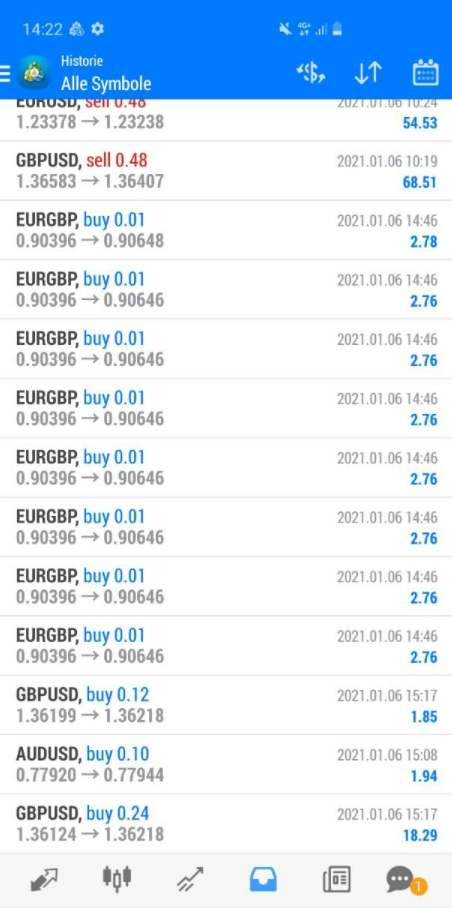 Conclusion
While the website looks professional, the Falcor Forex Robot does not meet our expectations when it comes to strategy, business results, and customer feedback. We may review the site periodically to see if any adjustments were made, and update our review accordingly. We do not currently consider it a recommended robot.